Regular updates about the animals.
The story in brief as narrated by Darshana Muzumdar.
Facebook
Instagram
My friend's family in Punjab, India, just closed their small dairy farm with
15 animals (buffaloes, cows, and calf, combined)
. The elderly couple didn't want to continue their dairy farm for several health-related reasons. They didn't want to send these animals to slaughterhouses and other dairy farms and decided to sell the animals to be taken to a Gaushala (cow rescue shelter). Several animal rights activists in India have come forward to
give them a second chance at life with their bodily autonomy
, free from any harm. These animals will not be used for any purposes but
will lead the rest of their lives at a Gaushala near Ahmednagar, Maharashtra, India
. The Jain community partly runs this cow shelter.
The project has been successful largely because of the support of the Non-governmental (and non-profit) organisation, Ahimsa Land Foundation. They were instrumental in arranging for their transport to the Gaushala and continue to support the maintenance of these animals.
Regular posts about the buffaloes and the cows can be found on their
Facebook
page, and
Instagram
handle.
My friend's family, whose only income was this dairy farm, is
planning to move towards organic plant farming
, and this money would also help them in this venture.
The following are the expenditures that we have paid in part for now and are hoping to recover back through this crowd funding to be able to support future rescue operations.
1.
₹ 760,000 (approximately € 9,240)
- Cost required to take the cattle from the dairy farm and for their sustenance in the coming months.
2.
₹ 4,84,000 (approximately € 5,885)
- Cost required to build a permanent shed for these 15 animals in the cattle-shelter in Ahmednagar (A first estimate is attached and later the detailed bill will be included citing the material cost, labour cost, etc.). The contractor's company is Topwell Engineering, The Complete Solutions, based in Karegaon, Pune, Maharashtra, India.
3.
₹ 1,90,000 (approximately € 2,310)
- Transportation cost for two trucks to bring the animals from Punjab to Ahmednagar. The transport company is Surya Transport Company, based in Jind, Haryana, India. Each truck cost us ₹ 95,000.
4.
₹ 1,10,750 (approximately € 1,347)
- Cost to sustain the animals for the last 4 months in Punjab while we were looking for shelters.
5.
₹ 9,000 (approximately € 110)
- Cost incurred to receive fit-to-travel certificates for these 15 animals, in Punjab.
6.
₹ 30,000 (approximately € 365)
- Cost to support the volunteers from the cattle-shelter to travel from Maharashtra to Punjab, in order to safely bring the animals back.
In total, we spent
₹ 1583750 (approximately € 19260)
.
I will post any other updates.
About me: I am
Shankha Banerjee
, a particle physicist and
Fellow at
CERN
, Switzerland. I have been an animal rights activist since the last several years.
About my friend whose family runs the dairy farm:
Gurpreet Singh Chahal
, a particle physicist with the CMS experiment at CERN and based at the
Institute for Particle Physics Phenomenology
, University of Durham
, United Kingdom.
About one of my fellow activists helping with the rescue:
Darshana Muzumdar
, one of the most prominent animal rights activists in India and the founder of the NGO
Ahimsa Land Foundation
.
Shilpi Jain
, a particle physicist at the
Rutherford Appleton Laboratory
, in the United Kingdom, based at CERN, is an animal rights advocate who found this shelter who are taking the animals in. She works with the CMS experiment at CERN.
P.S. We have also set up a
Gofundme
page for those who want to support from outside India. Once we reach the total amount combining the two platforms, we will close both the fundraisers.
Pictures of animals en route from Punjab to Maharashtra. Here, they are seen resting at the various stops during the six-day journey.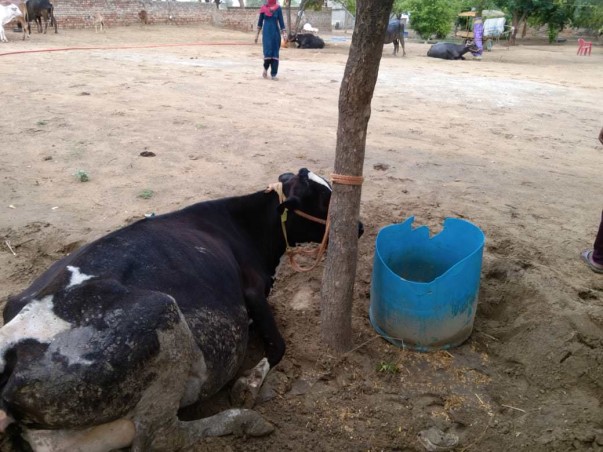 Bills and receipts.
Building shed: