Hello, my name is Siddharth Srivastav. I am a final year Computer Science and Engineering (CSE) undergraduate of Harcourt Butler Technological Institute (HBTI), Kanpur, India. I have been selected for MIT Global Entrepreneurship Bootcamp which starts with a one-week training at Seoul, South Korea and culminates with a reunion at MIT after 3 months of mentorship. I am one of the 60 students from all over the world who have been selected for this Bootcamp. I will be working with mentors from Massachusetts Institute of Technology (MIT) and with other budding entrepreneurs on a project that will be meaningful for the society and hopefully change the world.
http://bootcamp.mit.edu/#/apply/seoul
Attending MIT Bootcamp will be truly transformational for my life and is indeed a once-in-a-lifetime opportunity for me. Since my life's philosophy is to either create value or enable value creation for the society, this Bootcamp becomes really important for me to attend. The only barrier between me and this opportunity is its fees i.e. $ 6000. Any financial help will be deeply appreciated.
Who am I
"I think I have cracked the formula for anti-gravity, Papa": this is what I (a second grader) said, 2 months after I realized the revolutionary benefits of such a technology for the space industry as explained by my dad. Of course, I was wrong but I was right as well. I was right in the sense that I was unconsciously developing a core philosophy for my life. I feel that my life is all about inventions. Inventions not only terms of technology but in terms of value and benefits. My dream is to invent a better reality for this world. During sophomore year, I challenged myself to find out my 'why.' I tried to connect the dots i.e. all that I did and all that happened to me. In the end, I slowly started to figure out the bigger picture. I codified my purpose as
"to create/enable a lot of value for a lot of people that fundamentally changes how they live in a better way."
My Past Efforts
Got selected in MIT Media Labs India Initiative Program (Design Innovation Workshop) among 275 students from India and created a web platform with a team in one week for cultivating the culture of meetups among nation's undergrads.
Doing User Research
Awarded excellent grade by National Institute of Technology – Meghalaya, for completing a research paper under Professor Manjish Pal: "A new algorithm for friend recommender systems – a personality based approach."
Snapshot of my research paper
Won second prize at Microsoft Imagine Cup-India for a help-networking platform: Sworlite. Was also able to secure a small seed fund for the same through a competition.
Winning Moments

Developing a smart band and android based system to detect potential pathfinders during networking events with the help of shake-hands. To state simply, your phone will vibrate as soon as you will shake your hand with a person who can help you find new, relevant opportunities.
Uchcharan – An app that helps kids to improve articulation of tough words by using Pavlov's behavioural model.
Participated in 4 national Robotics competitions: was placed 1st in 3 of them and 4th in 1 while cleared national round of other 2 international robotics competitions.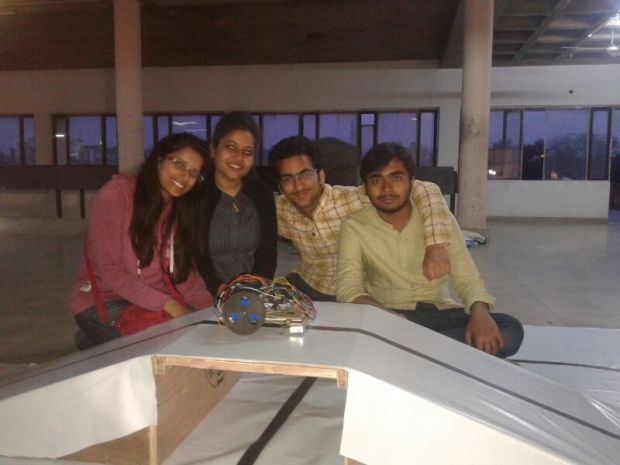 My Volunteering efforts:
Women in Tech initiative by Microsoft: Motivated girl students to publish apps and become entrepreneurs.
Incord Talks: Initiated and conducted a TED-Talk-like event that gave a podium for connecting undergraduates of Kanpur to scientists of global level. Conducted 4 talks.
ActiveX: Coordinating platform for final year students to give back their experience to juniors.
Please help me

MIT Global Entrepreneurship Bootcamp comes as a unique opportunity for me to change the world. I will be working with people who have inspired me to pursue entrepreneurship over the course of 3 edX courses by MIT. Please help me in attending the Bootcamp by contributing financially towards the total amount of 6000 $.

MIT Global Entrepreneurship Bootcamp video https://www.youtube.com/watch?v=ROCrFiNaNYM