Campaign Title: Deficiency Free India: Equal Access to Nutrition

Hi there,
I, Siddhant Pant, am a volunteer at Hamari Pahchan NGO and have come to lend a helping hand in alleviating hunger in India by providing equal ingression to nutrition for all. I would take a minute to appreciate the people who have put up their philanthropic acts to accord their beliefs in the cause of eradication of hunger. Presently, India runs at a median line of 40% wastage, costing over Rs. 92000 crores in the bin. To alleviate hunger, wastage, and cost, we as an organization request you to donate a distinct amount that will be utilized towards the welfare of the people famishing with hunger.
The utilization of funds will go under the following reserves, which will have three types of Pulses, Rice, Atta, Eggs, Tea, Sanitary Pads, Soap, Shampoo, Cloth, and Utensil Washing Powder for each family. These commodities will meet the needs and eliminate hunger.
The amount donated will go towards the reserves and commodities that will be provided to the people striving hard to make a living for themselves. In these times of hardship, especially after the pandemic, we would love your support and assistance with the donation.
Disclaimer: The donation to Hamari Pahchan NGO entitles to Tax Exemption under section 80G of the Income Tax Act.
AVAIL TAX EXEMPTION!
HELP US FIGHT HUNGER!
Hamari Pahchan NGO has come up with an initiative to fight hunger, as a part of our hunger project we aim to provide food to the ones in need. We need your support to make sure that no one goes to bed with an empty stomach.

DONATE TODAY!
Ration for 1 family includes:
Three types of Pulses, Rice, Atta, Eggs, Tea, Sanitary Pads, Soap, Shampoo, Cloth, and Utensil Washing Powder.
COOKED FOOD :
1. Cooked meal for 1 person for 1 time: Rs.50/-
2. Cooked meal for 10 people for 1 time: Rs. 500/-
3. Cooked meal for 100 people for 1 time: Rs. 5000/-
RAW FOOD MATERIAL :
1. Basic necessities for 1 family: Rs.2199/-
2. Basic necessities for 10 families: Rs.21990/-
3. Basic necessities for 35 families: Rs.76965/-
Poverty and hunger are some of the deep rooted issues that our society has been dealing with for quite some time now. In fact, approximately 190 million Indians go to bed hungry every day!

In last year's global hunger index, India ranked 101st out of the 116 countries, lower than before. The current scenario gives us little hope of improvement, in fact as per the studies we might as well slip amongst the worst performers with regard to food security.
Hamari Pahchan has come up with an initiative to address this issue at the ground level. We have a dedicated team devoted to the hunger project, in order to make sure that no stomach goes to bed empty.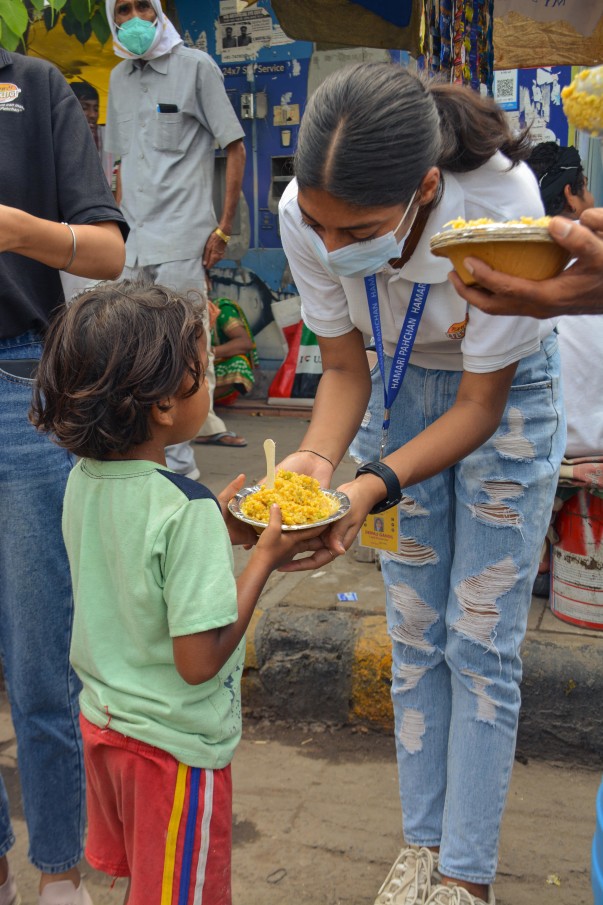 According to a report by the International Food Policy Research Institute, it has been predicted that the Food Production of India could drop by 16% as a consequence of which
hunger may increase by 23% by the year 2023
.
Hence, we must do something right away!
I am Srishti, a final year student working with Hamari Pahchan. I have been working for this cause relentlessly with the help of this organisation. I aspire to reach my goal
'complete eradication of hunger'
with your humble support. Contribute to donate ration or meals to the unprivileged people who might need food right now.
No amount is big or small, it's the contribution that matters! You can donate for a one-time meal i.e. Rs.50/-
Donation to Hamari Pahchan NGO entitles you to Tax Exemption under Section 80G of the Income Tax Act.

Thank you! Check out our social media accounts:
Website
,
Facebook
,
Twitter
,
Youtube
,
Instagram
.