Hi, Shivani this side I hope most of you are aware about the recent incident happened in Maharashtra . A 17year old girl alleged died by suicide as she did not have a mobile phone to attend the online classes. Her parents financial condition did not let them permit to buy her one.

How can we let our students to this ?

What is not letting them continue Thier online education ?

Reason as we know the scarcity of capital because of utter poverty

We know that we have found a way to continue our studies during this time in an online mode but this issue has not been resolved for many of the underprivileged children who don't even have a smartphone. Is it Thier fault that even if they want to study but they can't? Of course No. The way we aspire to do something in our life in a similar way they also want to do something especially when Thier parents are not having financial stability. We all can help them to curb this hurdle so that they can continue their education in an online mode by making a donation whatever we can or by providing them gadgets , textbooks, pens, etc This is an urgent need as we can't afford more loss to Their education And let's contribute a little for Their dreams. Also if you can't contribute you can definitely Donate your old gadgets.

This is our plan of action :

1 laptop cost Rs. 25000

1 tablet cost Rs. 10000

1 computer cost Rs 25000

1 mobile van cost Rs. 500000

"No Gadgets No Education"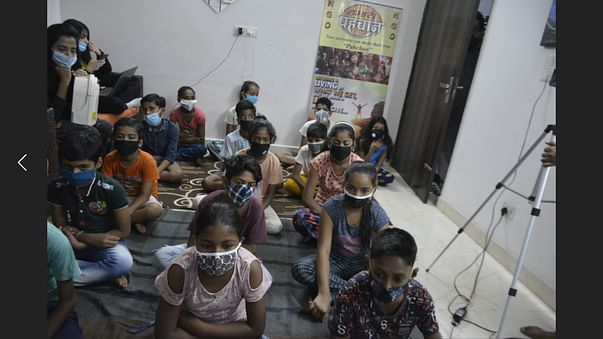 YOU CAN DONATE ANY OTHER AMOUNT ON
Paytm: 9911173557
Gpay: 9654777077
Or you can donate through website as well
www.hamaripahchan.org
I am requesting that you all take action. Every child's fundamental right is to have access to basic education and knowledge of oneself and society. We hope to maintain and broaden the scope of this belief through this project. We might not be able to sponsor a student's phone or laptop on our own, but even if each of us contributes a small amount of Rs.1000 or Rs.500, 100. We can help these students achieve educational stability. With your support, these students will be able to attend classes on a regular basis and will be prepared to take responsibility for a more educated India. By doing our part, we are not only assisting a student in obtaining an education, but we are also encouraging and contributing to our country's bright future.
You can follow them on social media:-