Hello guyz.......
This is Shatakshi Singh....
First of all, if anyone of you is thinking it's a waste of time, u should immediately leave from here. It might seem rude but if a person take it as a waste of time that person is the only waste on this earth.
And yeah, if you find it rude or something like that just to tell you, it's reality.
Nowadays, everyone is just engaged in themselves. No one, literally no one is even thinking about what's happening all around. Even if someone thinks they are suppressed.
Anyways, not writing more about this selfish world coz if I would start writing then it will seem endless. So, coming on the point.
I would here like to tell about Hamari Pehchan and its one of the best initiative, project Gadgetshala.
...........
Just to remind u that there's still time, we can refine ourselves and make ourselves useful.
With every passing day, this world is getting uncharitable. Such a insensitive world which is ignoring the needy people, the ones with help of whom we are surviving.
In this mean world, Hamari Pehchan is such a team which is helping people in their tough times. And as their name suggests, they are helping others to make their own identity.
They are initiating so many programs which are actually helpful!
Without gadgets studies of many students have interrupted. The people below poverty line actually can't afford to buy a gadget for their children and let them do online class. In some states, like Bihar, in government schools their is no online classes going on due to this reason only. Many children want to study and break their chain of being poor. We can't just say them that they are poor that's why they are not studying. After all, Right to Education is one of our fundamental rights. But not exactly available for all.
So, in order to overcome this, team Hamari pehchan have initiated a project namely 'GADGETSHALA'.
With moving Gadgetshala (computer vans) Hamari Pehchan is ensuring the availability of gadgets for all and making them reach to online classes. They are working really hard to achieve their target and make India a nation where all people are educated.
They have
distributed textbooks, notebooks, and other stationery essentials to the needy.
...........
During this pandemic, the need for your help is even more required because there is a sudden increase in number of children not having access to education. There are no proper facilities for the same. Now they have come forward with
an urgent need for action because those students can't afford more loss to their academics.
Looking forward to making the facility of internet and virtual education available to every
child residing in slum areas or being deprived of basic education.
.........
Their plan of action is to establish
1. Internet facilities
2. Smart gadgets like mobile phones, laptops, and computers.
3. A mobile van to make this " GADGETSHALA" accessible in various areas.
4. Your valuable time to teach these children.
...........
1 Laptop costs around Rs. 25,000.
1 Tablet costs around Rs. 10,000.
1 Computer costs around Rs. 25000
1 Mobile Van costs around Rs. 5,00,00
They are aiming to provide a full library to these students equipped with gadgets.

Just requesting you all take action for the benefit of our own country. If each of us contributes a small amount of Rs.1000 or Rs.500 or Rs.100 it won't be less than gold for them. We can help these students achieve educational stability. With your support, these students will be able to attend classes on a regular basis.
I will be very thankful to you for your kindness and patience for reading this and further if you would donate, will be thankful for whole life.
............
Gauri is a 14-year-old girl. She aspires to be a manager and learn how to use technology.
Sapna is a 17-year-old girl. She wants to learn leadership skills in order to pursue a career in
management, so she wants to understand how technology works.
Nihal is a 12-year-old boy. He's having trouble getting his classwork and homework because
he doesn't have access to a phone at home. He wants to be an engineer when he grows up.
Such lofty goals at such a young age.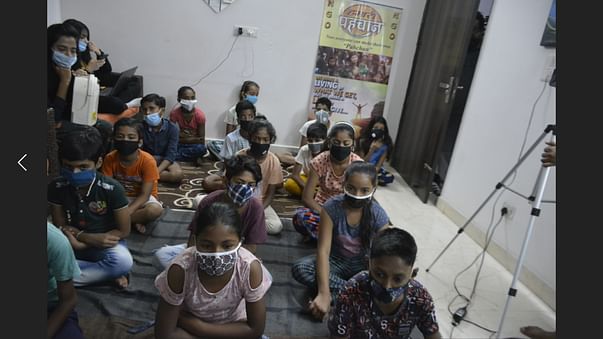 What's holding them back?The answer is a scarcity of capital due to poverty.