Education is the most essential aspect in one's life, especially to children.
It not only determines the viewpoints and thoughts they grow up with but also is the key to unlock their future potential.
Before the pandemic, hundreds around the world did not receive proper education but amidst the pandemic, this problem has spread to greater heights with children who were able to receive education, being stripped of the right to avail it now, due to the fact that everything has shifted online. This problem is directed to society as these children are a part of our future and without their intellectual development, the world will not be able to witness the future light of dawn.
As I realize how blessed we are to have technology at our hands, I also realize that there is an urgent need to help those who will be responsible for the planet alongside my peers and I.
I want to help these children by getting the message across and building awareness on the problem and its solution, project Gadgetshala. If each person capable of donating atleast a few hundred rupees, does so, then collectively we can help bring down the walls that stand between these children and their education. As society serves us in various aspects, its our time to give back to the community and give the unprivileged an opportunity to fulfill their aspirations as well. Please support this project and join hands with us to create a better future for everyone!✨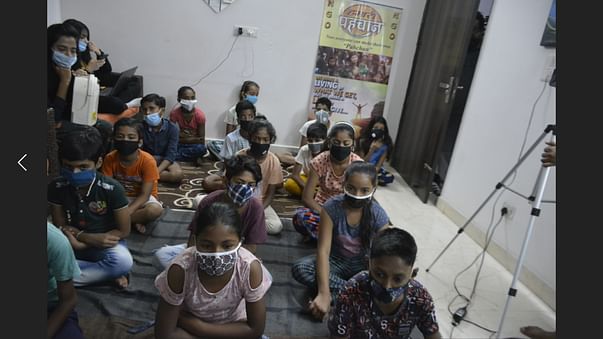 What's holding these children back? The answer is a scarcity of capital due to poverty.
Through the means of " GADGETSHALA ", we intend to shift to a mode of online learning, accessible through gadgets such as mobile phones, tablets, and laptops. Furthermore, we have distributed textbooks, notebooks, and other stationery essentials, doing our best to ensure all have accessibility to elementary levels of education. With online lectures and online sessions,
we have the plan to move towards an online accessible environment.
In conclusion to the same we are of the idea that from the beginning till now, our team is able to educate and make more than 11215 children's future bright.
IMPACT WE ARE PLANNING
We used to teach hundreds of students on a regular basis. Since March 2021 the problem
related to child's education is increasing. Underprivileged students are not able to attend their
online classes. There are no proper facilities for the same. Now we have come forward with
an urgent need for action because those students can't afford more loss to their academics.
Looking forward to making the facility of internet and virtual education available to every
child residing in slum areas or being deprived of basic education.

We have enabled a few areas with internet facilities. Our plan of action is to establish
1. Internet facilities
2. Smart gadgets like mobile phones, laptops, and computers.
3. A mobile van to make this " GADGETSHALA" accessible in various areas.
4. Your valuable time to teach these children.
1 Laptop costs around Rs. 25,000.
1 Tablet costs around Rs. 10,000.
1 Computer costs around Rs. 25000
1 Mobile Van costs around Rs. 5,00,000
We are aiming to provide a full library to these students equipped with gadgets.
तकरीबन 1— 1.5 साल से

ूल वह कॉलेज बंद है।

ब
त सारेछा
ऐसेह
िजनके पास ऑनलाइन

ास लेनेका कोई मा

म नहींहै। कुछ छा
ऐसेह

िजनके पास इंटरनेट ए

ेस भी नही ंहै।
ऐसे कई कारण है िजसकी वजह से आज सरकारी

ूल की छा

अपनी पढ़ाई से िबछड़ते जा रहे ह
।

इन ब
ों के भिव

के साथ और

खलवाड़ ना हो इसीिलए हमारी पहचान एनजीओ बना रही हैएक

I am requesting that you all take action. Every child's fundamental right is to have access to
basic education and knowledge of oneself and society. We hope to maintain and broaden the
scope of this belief through this project. We might not be able to sponsor a student's phone or
laptop on our own, but even if each of us contributes a small amount of Rs.1000 or Rs.500,
100. We can help these students achieve educational stability. With your support, these
students will be able to attend classes on a regular basis and will be prepared to take
responsibility for a more educated India.
By doing our part, we are not only assisting a student in obtaining an education, but we are
also encouraging and contributing to our country's bright future.