India has set a worldwide record nobody wants. The country has topped the number of global daily Coronavirus cases. Today, as you read this Bengaluru Urban is the worst hit district in the country with the highest active Coronavirus caseload of over 1.5 lakhs.
The surging count is weighing down heavy on the existing medical infrastructure in the city. The hospital ICUs and beds are full, forcing Covid-19 patients to rely on Oxygen support at home. The situation is out of control and the city is crying for help. There is an urgent need for Oxygen Cylinders, Ambulance Service, Medical Aid and 24/7 Helpline Support for Bed Allocation, Plasma, Covid-19 Deceased Burial Service, etc. The United Foundation has been active in Relief Aid since the pandemic began in March last year. Read on to know how you can support!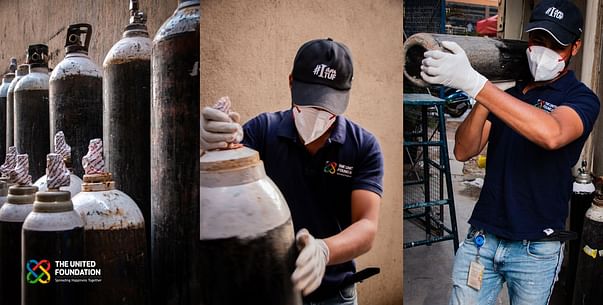 THE UNITED FOUNDATION

The United Foundation, a group of young spirited individuals driven by passion for compassion, is making tireless efforts to serve those in crisis. The team believes in not just hard work, but 'heart' work too! The same vigor has pushed these lads to soldier ahead with relief work ever since the Coronavirus Pandemic broke out in March, 2020.TUF is a not-for-profit trust that was established in 2008 as an initiative and later registered as an NGO (HLS-4-00221-2016-17). Based in the city of Bengaluru, Karnataka, the organization is 12A and 80G compliant. It also engages students and young professionals in leadership roles and internship opportunities aiming towards transformation and development of urban slums. Today, the team boasts of hundreds' of volunteers across the city and beyond the borders.
Some of the key initiatives include –
Ants2Giants: Free Tuition Centers
Bread basket: Monthly Ration Kit Distribution
Gift A Home: Reconstruction of dilapidated homes
Educational Scholarships for students from 'Below Poverty Line'
Emergency Relief Aid: Nepal Earthquake (2015), Chennai Floods, Kerala Floods (2019)
Kind Friends For Kidneys: Awareness & Fundraising with HBS Hospital for Dialysis Patients in financial crisis
Project Woolies: Winter Drive
Periodic Initiatives round the year: Hygiene Kits for Old Age Homes, Support in Setting up Libraries, Seminars & Workshops in Urban Slums on Menstrual Hygiene, Suicide Prevention, Spoken English, etc
RELIEF WORK DURING COVID-19 PANDEMIC
'Mercy Mission'
a coalition and collaboration of 20+ NGO's that came into being in March, 2020. Realizing the enormity of the challenges that lay ahead due to the onslaught of COVID, a group of NGO's operating in Bengaluru across various fields and activities decided to pool in their resources and work together to take the COVID fight head-on. It's an honor to have the support of - Azim Premji Philanthropic Initiatives (APPI), organizations like Central Muslim Association (CMA), Crescent Association, Zomato Feeding India and others, who strengthened our hands tremendously.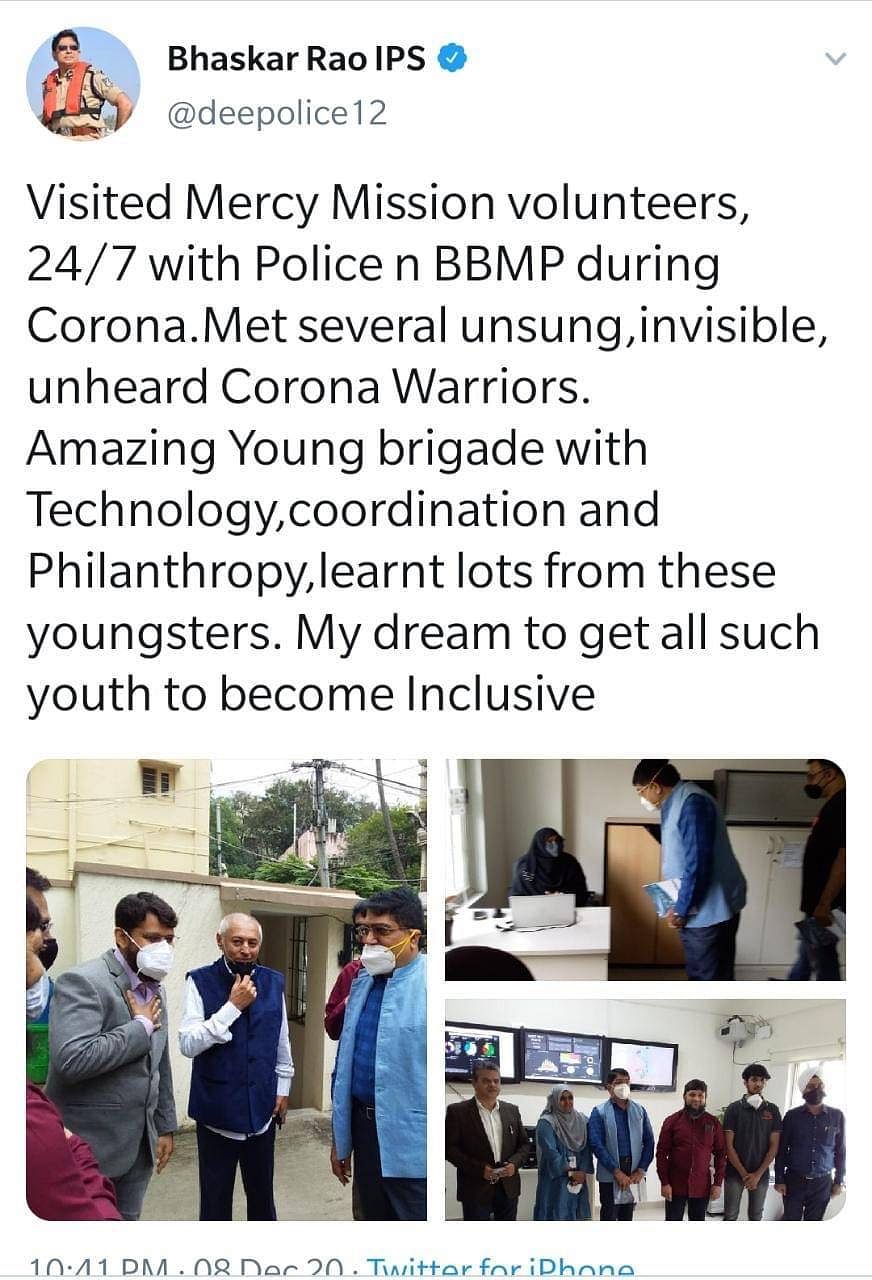 The United Foundation has been a key player in the Mercy Mission Initiatives. Our volunteers have led, managed and sustained the initiatives in an impeccable manner till date.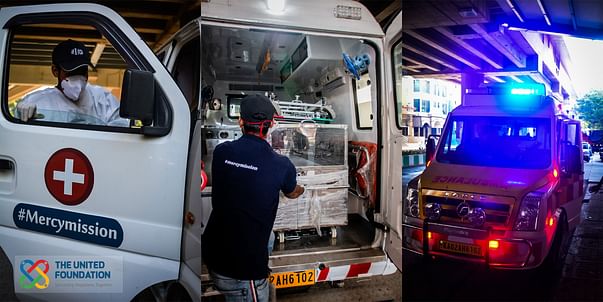 Below is a quick glance of the initiatives run by Mercy Mission in 2020 –
Mercy Oxygen Center: 9 oxygen centers opened and operated across the city in which provided 1600+ O2 cylinders free of charge and over 750 patients have been helped.
Mercy Ambulances: Purchased and coordinated a fleet of 6 ambulances equipped with O2 to transport patients free of cost.
Mercy Angels: With a team of 4 helpline agents & 30+ ground volunteers, MM has completed 580 last journeys of COVID deceased and 47 Non-Covid last journeys done during the 3 months lockdown in 2020.
Mercy Online Clinic: A free Mercy Clinic Mobile App to give sound medical advice, right information and to reduce the fear psychosis among people.
Mercy Plasma: In collaboration with BMST, a leading blood bank, MM commenced coordinating plasma donations and recipients in Bengaluru.
Mercy Medicines and Equipment: During the lockdown, MM received 500+ calls on its helpline seeking medicines. 628 prescriptions worth ₹3 lakhs were given free.
Covid Hospital: One of the MM NGOs, HBS Hospital, became a dedicated COVID facility with 56 beds since 4th July, 2020. It is also providing dialysis to COVID patients. Infrastructure of the hospital was significantly upgraded with support from APPI and other donors.
Mercy Sahay: To address the stress and mental health issues which increased during the pandemic, MM joined hands with Sochara and launched a helpline providing free counselling support in English, Kannada and Hindi.
Mercy Kits: MM distributed 73,007 dry ration kits worth approx. ₹7.5 cr spread across 300+ localities in Bengaluru & 25+ towns across Karnataka. Additionally 10,090 kits donated by Zomato Feeding India, Rotary Mid-Town etc. were distributed.
Mercy Kitchens: Operated 33 Mercy Kitchens across Bengaluru. They cooked and distributed 14.5 lakh food packets with an estimated value of ₹2.6 cr. The team additionally facilitated distribution of 12.3 lakh food packets given by donors such as Wipro, Atria, BBMP, Compass, Prestige, etc.
Mercy Shramik Seva: 1.32 lakh passengers in 107 Shramik trains departing from Bengaluru in May, April, June 2020 were served with 2.85 lakh meals & essentials kits. This activity was funded the APPI, with in-kind support from Pepsi, thinking forks and me & Unibic.
Mercy Booths: Launched over 39 Field Booths in over 35 vulnerable areas across Bengaluru that screened body temperature, SPO2 levels, Blood Pressure etc. and provide on ground support and help to remove stigma around COVID.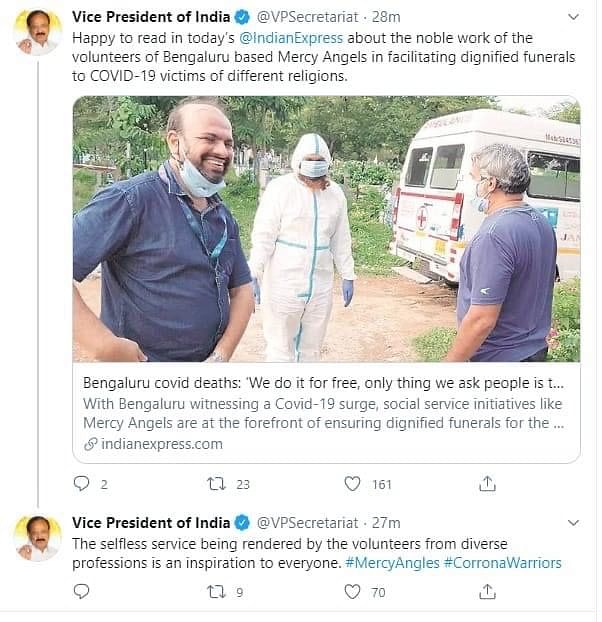 BENGALURU NEEDS YOUR HELP!
The city is rattled by the scary explosion of cases. Ever since the second wave of Coronavirus started the Mercy Helpline and Mercy Medical Initiatives like Oxygen Center, Covid-19 Deceased Burial Service, Mercy Plasma, etc have received an overwhelming amount of daily requests. We, at The United Foundation are striving to cater to the needs of most during these desperate times. Our office in Bengaluru is also one of the Oxygen Centers. Adding more Ambulances, Oxygen Cylinders and increasing the support offered through the Mercy Helpline is critical today.
Dear Reader, We seek your support in this urgent cause. As we fight this deadly pandemic, no doubt we are all filled with empathy and compassion for our brethren. It's now time we show it with our actions.
"Unless someone like you cares a whole awful lot, nothing is going to get better. It's not."
- The Lorax by Dr. Seuss
IF NOT NOW. THEN WHEN?
IF NOT YOU. THEN WHO?
Website:
https://tufindia.in/
Facebook:
https://www.facebook.com/tufindia/
Instagram:
https://www.instagram.com/tufindia/?hl=en