Help me save the homeless dogs.

My name is Hirni Bhowmick. I am a caregiver to more than 50 dogs in and around my neighborhood. I daily feed them a nutritious meal, treat them when they are sick or injured, have vaccinated a few, sterilized over 24 dogs. Along with that I try to make people aware of the problems of street animals and help in adoption of orphaned or homeless dogs or cats. I use drools adult dog food for feeding and need about 4-5 bags every month each costing me 1200INR. I must sterilize 40 more dogs of chandannagar to save them from unwanted pregnencies, fatal sickness and cruelties of dog haters. I have a helper for my work who I pay ₹60/day i.e. ₹1800/month. I live in a small town in India where except a handful of vets, paravets and one or two clinics, no shelter or facilities with necessary equipments is present implying that all the sterilization and critical cases must be sent to far away NGOs requiring a lot of money. I earn my living from my part time teaching job two hours away from my house which alone cannot support all this. To put it directly, the lives of 50+ voiceless souls is dependent on your one act of kindness.
These are few cases I have worked on in the past: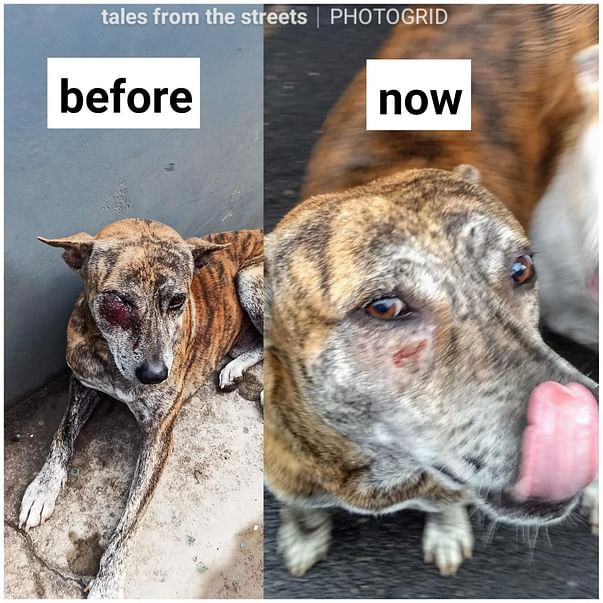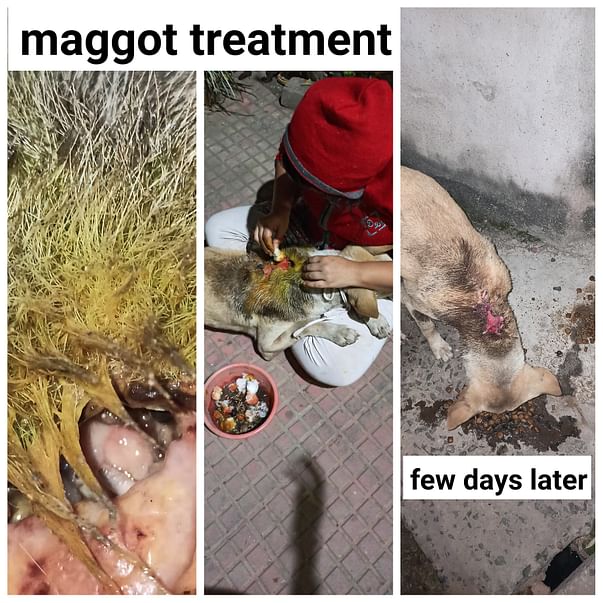 Some stills from feeding rounds: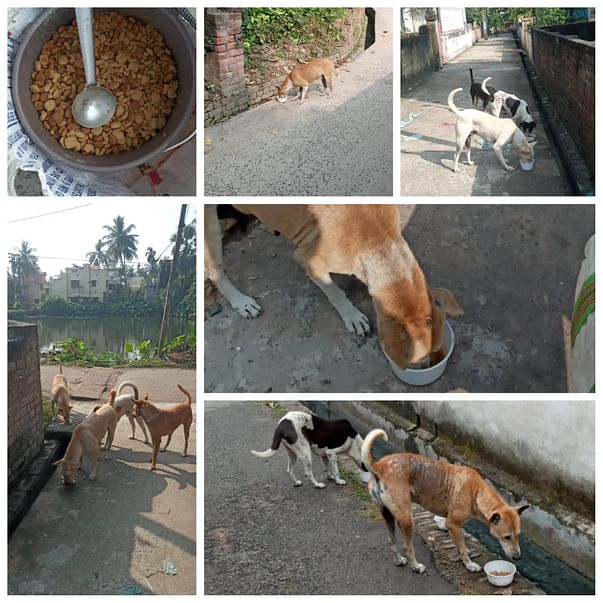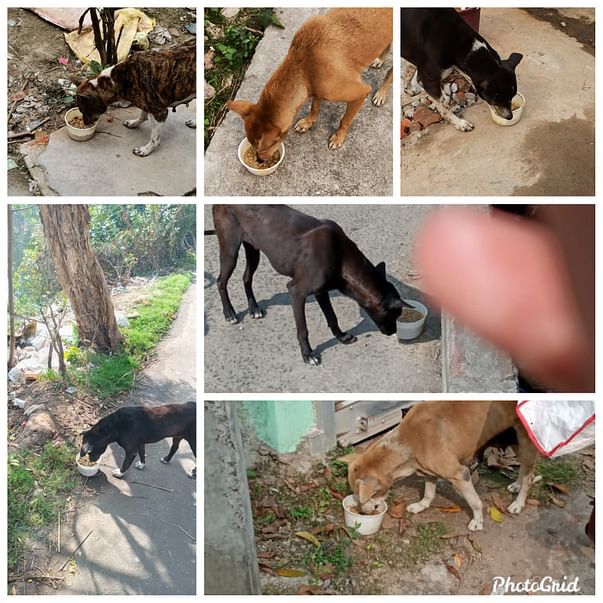 Homeless dogs are often fall prey to fatal diseases if not vaccinated on time. Other very real problem they face is that of birth control.Since dogs themselves cannot be educated about safe sex and birth control, they mate every year during the breeding season and multiply in large numbers.
Because of this many dogs develop sexually transmitted diseases like CTVT, females die during and post childbirth. The pups born soon die due to worms, malnutrition, road accidents, diseases such as parvo, distemper, rabies and so on.
The above picture is of Bhulu, she was only two years old and had developed Canine transmissible venereal tumor. She gave birth to four pups last year with tremendous pain. Not one of them could make it. Later Bhulu contacted canine distemper and even though she miraculously survived, it made her severly weak. Her short life of struggle ended last year.
The overpopulation also results in lack of food which in turn leads to dog fights. For these in many areas dogs face human cruelty as well. Another reason for dog fights is the competition among males for mate. Below is Mowgli, who suffered a head injury due to dog fight and we were able to save him just in time.
Mowgli's head was infested with maggots who were centimeters away from his brain. This year too a lot of male dogs I'm encountering are already injured. Like Veera below.
Help me save the dogs i look after from the clutches of these struggles.
Here is the details of expenditure:

This time I am sterilizing 40 dogs from an NGO named Mother's Heart who is charging ₹2500 per dog including their pick up, drop, operation and post operative care. The cost is higher than their usual rate because they have to travel more than 60km each side.
So the overall charges for sterilization is 40×2500= 100,000INR.
The cost of monthly feeding is:
5 bags of 10kg dog food=5×1200=6000INR
My helper's salary= 1800INR
For 13 months that cost will be:
(1800×13) + (6000×13)= 101,400INR
Please note: the new target is added to the previously raised amount of ₹53696/- that has been spent on the then requirements already.

So the final cost is: ₹201,400/-
Your one contribution will save many lives. Please help.