'We cannot help everyone but everyone can help someone.'

'हम हर किसी की मदद नहीं कर सकते लेकिन हर कोई किसी की मदद कर सकता है'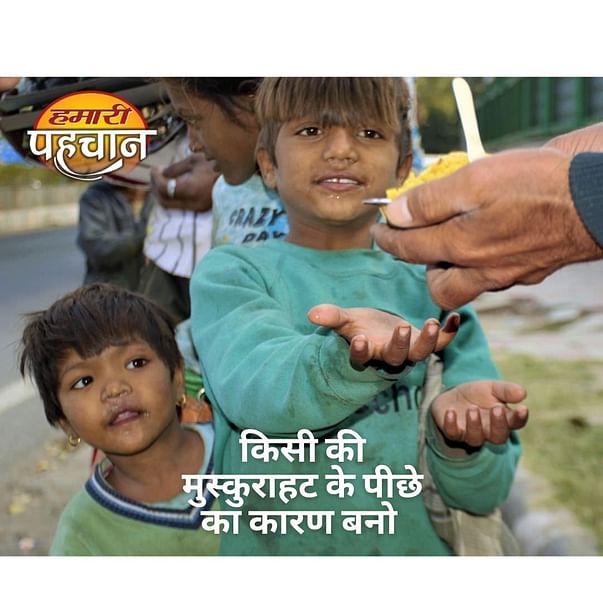 The Indian subcontinent is still suffering from the harsh conditions of malnutrition. Large sections of society have remained prisoners to the clutches of malnutrition holding generation under its shadow.
According to the World Food Programme, millions suffer from acute hunger largely due to man-made conflicts, climate change and economic downturns. Due to such problems, we are not in track to solve the second U.N sustainable development goal (U.N SGD) which was to eleminate world hunger by 2030.
In india, roughly 15 % of the population suffer from accute malnutrition. This number sums up to 199 million individuals who do not get adequate nutrition for daily sustainance. Women account for 60% of the under nourished and 30% of all new borns die due to lack of nutrition.
After grappling with the dire situation, I Sameer, a Volunteer at Hamari Pahchan NGO has taken up this initiative because with only one solution in sight, that it we as world citizens work together to solve this problem and i want you all to donate as much as possible, this would enable hamari pehchan to reach a larger target group
To meet the daily subsistence needs of those who cannot do it themselves, I urge you all to donate .

Basic necessities for 1 family: Rs.2199/-
Basic necessities for 10 families: Rs.21990/-
Basic necessities for 35 families: Rs.76965/-

Ration for 1 family includes:
( Three types of Pulses, Rice, Atta, Eggs, Tea, Sanitary Pads, Soap, Shampoo, Cloth and Utensils washing powder)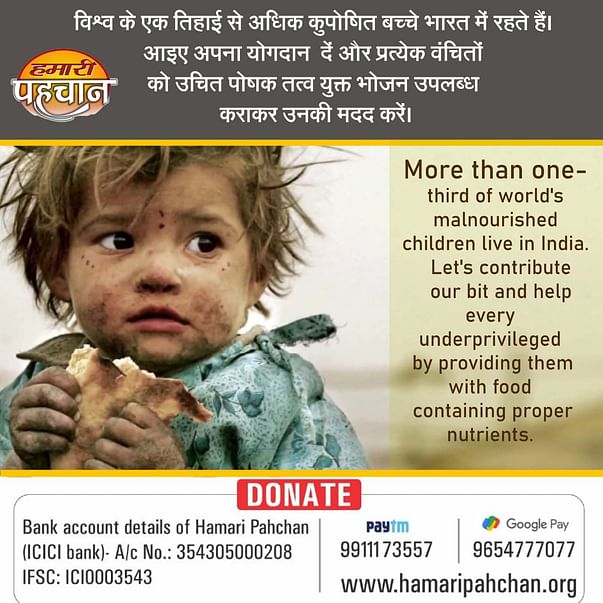 No amount is big or small, it's the contribution that matters! You can donate for a one time meal i.e. Rs.50/-
If you have any queries then reach out to me: sameerseshadri@gmail.com