The coronavirus pandemic has caused great distress across India. Besides the tragic toll on human life, the livelihoods of people have taken a huge hit. The loss of incomeand financial uncertainty, especially among the daily wage workers and migrants in cities as well as small farmers in rural areas, is increasing by the day.
Seeing these concerning conditions, the Thinksharp Foundation has launched this campaign as an emergency response to this pandemic - to provide an economic socio-safety net to these vulnerable classes of our country. With your support we will directly help these families by providing:
Basic medical equipment, like masks and sanitizers, alongside relevant information about the virus, so that the families are better prepared to protect themselves and prevent further transmission.
Grocery kits as well as hygiene kits to sustain low- or no-income households, which are suffering due to the limited employment opportunities.
Further funding to help arrange and maintain provisions for medical emergencies in poor communities.
Educational gadgets like tablets equipped with preloaded material, for students without access to such devices.
In addition to above, the funds will also be utilized to provideoxygen concentrators, cylinders and medicines to a few hospitals in rural areas of Maharashtra.
Some of our past COVID-19 relief activities during first wave of the pandemic.
Provided 40 tablets along with educational content to learn online. This benefited to 110 children from Z.P School Ghore Budruk and Z.P School Malyan,Dhanau.
Distributed grocery and direct financial aid of INR 1.5 lakh to 50 families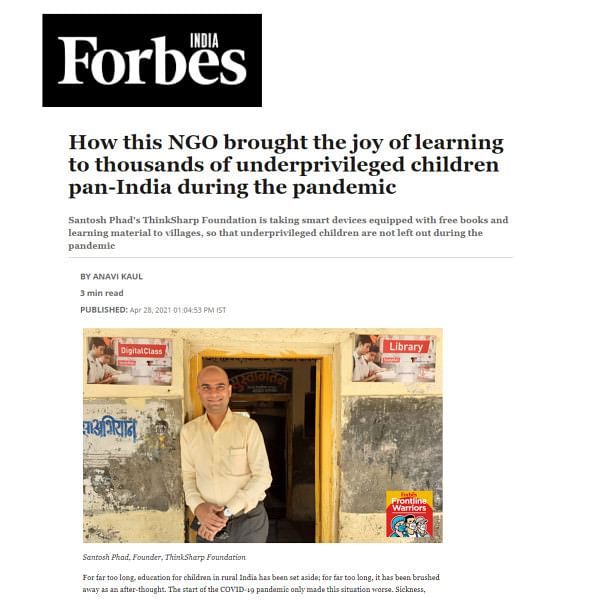 Your support can help these families recollect the broken pieces of their life, after havoc wreaked by this pandemic.
To know more about our work https://thinksharpfoundation.org/