Feeling the rugged road under my bare feet, bearing the growl of hunger and the heat of
the scorching sun, I walked down the footpath of the buzy street. I could feel the glances the passerbys gave me and i could feel the disgut or pity in them. Maybe it was my shabby appearence or my torn clothes or my unkempt hair. But none of that mattered at that moment. The growl of hunger within me, dominated every other feeling. All I could see was that child holding an apple that it was eating. But was no longer interested in it because it was bothering its mother for a bag of chips. Throwing a tantrum and stomping its feet, the child threw away the apple in disgust. My attention on that half eaten apple on the road. I waited. I waited and prayed for the child to leave. Please let him leave it behind, my only thing to eat. Alas! They did leave. And i ran as fast as my feet could take me. Grabbed the half eaten apple with content in my heart. And took a bite. How delicious it tasted! Nothing could ever taste better than this.This is ONE of the million stories that go unseen and unheard. ONE of millions stories that dont usually end with a half eaten apple. ONE among these millions out thereI, Saifan Shaikh, hane started a journey to lend a belonging hand to that ONE among the millions. Take part in this journey and the the ONE that will help the story have a better ending. Lets help ONE BY ONE.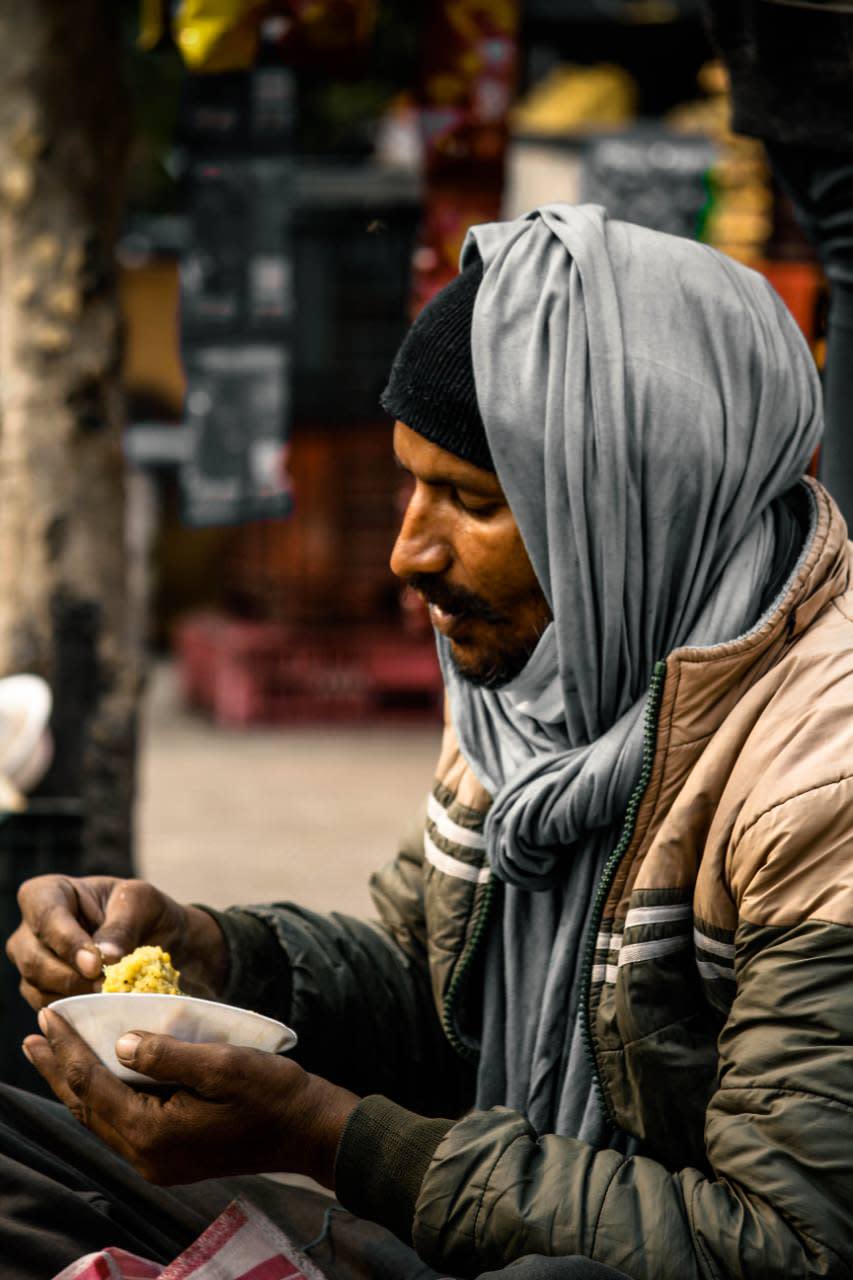 With the on and off of lockdown/curfews and COVID-19 situation, there is no stability in the working conditions in the society and hence people are left with no jobs which is not only affecting their mental health but physical health as well
In a population of more than 2,00,000 underprivileged people residing in slums around South Delhi with approx. 5-6 members in each family and at least 2 members without a job is an unfortunate situation that is alarming and needs attention, therefore, I, Divya Tomar, a Volunteer at Hamari Pahchan NGO has started this campaign to feed every human that I can. My goal is to let everyone have a meal before they sleep.
Recently, through a survey, it has brought to my attention that HUNGER is a major problem. So, I have decided to help them with the monthly distribution of Ration/Meals
Basic necessities for 1 family: Rs.2199/-
Basic necessities for 10 families: Rs.21990/-
Basic necessities for 35 families: Rs.76965/-
Ration for 1 family includes:
( Three types of Pulses, Rice, Atta, Eggs, Tea, Sanitary Pads, Soap, Shampoo, Cloth, and Utensils washing powder)
No amount is big or small, it's the contribution that matters! You can donate for a one time meal i.e. Rs.50/-
Thank you!