Students Received Rs 2461 for Every Rs. 100 Donated in 2020-21
COVA needs your help to Enable 10,000 Students
To Access Scholarships worth 3.5 Crores.
Experience Exponential Impact of Your Individual Donations
Your Donation of Just Rs. 1000 Can Support 10 Students get Rs. 35,000!!!
Need of the Hour:
Due to the pandemic and lock-down many families are facing extreme financial issues and are unable to afford the school fees of their children.
The rate of school dropout is high since the pandemic has started. With schools shut for 18 months now and going digital, children belonging to marginalized and economically weak backgrounds are left out, It is unfortunate that some children are helping parents with labor work or doing odd jobs.
While male children are being sent to work leading to increase in child labor, many girl children are being forced into child marriage.The Opportunity and Challenges:
The Central and State Governments have very large amounts budgeted for Pre-Matric Scholarships for SC, ST, BC and Minority students.
However, the scheme remains grossly underutilized by students from all economically and socially disadvantaged sections. Reasons for under-utilization are lack of awareness about the scheme, limitations in accessibility to internet, Aadhaar card linkages, difficulty in opening bank accounts and registration of schools with the concerned Ministries.

The Magic Process by COVA Peace Network
COVA Peace Network facilitates students to avail Pre-Matric Scholarships through a 16 Step Process including the following:
Enabling students to obtain Aadhar cards, income and caste certificates
Opening of bank accounts
Online submission of forms by data entry operators equipped with laptops and dongles.
Enrollment of schools with authorities.
Follow up with officials for processing of forms.
All this totally free of charge for students and is supported by your Donations

Track Record of COVA Peace Network
In Enabling Students to Access Pre-Matric Scholarships
From 2017- 18 to 2020- 21

Due to the Pandemic and closure of schools or no physical classes during 2020-21, it was difficult to reach out to students and even more challenging to obtain the required documents from them to up-link the scholarship forms online. Still, using different social media platforms and audio / visual material, COVA Peace Network was able to reach out to over 5000 students and helped 3296 students to secure scholarships successfully.

The amount per student received as scholarships for 2020-21 is less as most students were from Government Schools who received only Rs. 1000 for travel and sundry expenses as they do not have any tuition fee. On the other hand, students of private schools get up to Rs. 5700 to enable them to pay the tuition fees of the school.

It is expected that in 2021-22, each student will get on average at least Rs. 3500 as scholarship!
Targets for 2021-22
Facilitate 10,000 students to apply for Pre-Metric Scholarships through this fundraising campaign.
Average Scholarship amount for each student: Rs. 3,500* (conservative figure)
Scholarships amount expected to be accessed for 10,000 students: Rs. 3.5 Crores
Cost per student: Rs.100
Budget for 10,000 students: Rs.10 Lakhs
Donation of Just Rs. 30,000 can enable adoption of a school to help 300 students to access scholarships worth Rs. 10.5 lakhs
Please come forward to adopt 10 to 1000 poor and marginalized students and enable them to continue education during this Pandemic and economic slowdown with a donation of Rs: 1000/- to Rs: 100,000/-
Return on Investment (ROI): 1: 35 (conservative projection)
Scholarship amounts range from Rs. 1,000 for Class 1 students to Rs.5,700 for class X students
COVA has also initiated advocacy with state and national governments from October 2018 to make it easy to obtain caste certificates and open bank accounts. These will have a positive impact for SC, ST, BC and OBC students in the entire Telangana State to access Pre-Matric Scholarships with ease and for years to come.


Few of our Success Stories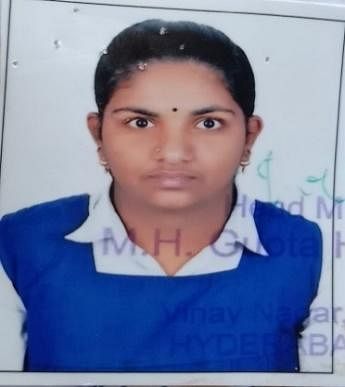 M. Sushmita
is a class 10th student of MH Gupta High School in Santoshnagar. Her father is an attender in a private school and mother works as a maid in houses. Belonging to the SC community, Sushmita and her parents had never heard about the Pre-Matric Scholarships Scheme. After the awareness about the scheme provided by COVA along with facilitation to obtain all the required documents and free online submission of the form by operators of COVA who had visited her school, Sushmita got a scholarship of Rs. 3000 in February 2020.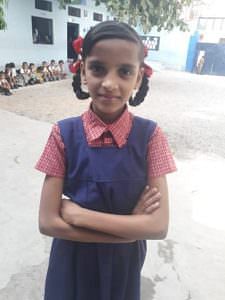 Ghosia Sarwat's
father Md. Saleem works at the printing press for the daily district paper 'VIKAAS' and earns meager amount. When Md. Saleem applied for scholarship for his younger daughter in the National Scholarship Portal last year, it was rejected because of some errors. Ghosia Sarwat is a student of the 7th standard at St. Stephen's High School at Faluknuma, Hyderabad.
But in 2018-19 COVA facilitated the online uploading of Ghosia's scholarship form on the National Scholarships Portal free of charge and followed up with the authorities. Her application is approved and she received Rs: 5600/- of scholarship amount to her bank account. Ghosia with the scholarship amount from the government paid her school fees.
Ghosia's father who earns less money was happy that the government approved the release of the scholarship for his daughter. He says "the burden is less on me if the government and COVA help my daughter for education in future".

Your Donation can Drastically Reduce School Dropout Rate during this Pandemic And Ensure Literacy Rates remain Stable in India despite Economic Slowdown

Literate India will Produce Responsible Citizens

For Details on Pre-Matric Scholarships Program, Please Visit: https://www.covanetwork.org/pre-matric-scholarships/
Please Click the Link to Donate: https://www.covanetwork.org/collaborate/donate/

3rd Generation Philanthropy Initiative
of COVA aims to enable poor and marginalized sections of society to secure resources from the State available in lakhs of crores through different government schemes and programs but are grossly underutilized. Currently COVA is focusing on enabling students to access Pre-Matric Scholarships, small entrepreneurs to secure bank loans and citizens of Hyderabad to avail proper services from the Municipal Corporation, Water Works and Electricity Departments as part of the 3rd Generation Philanthropy Program. For more information

Please visit: https://www.covanetwork.org/3rd-generation-philanthrophy/

Legal Permissions with COVA for Receiving Donations from Foreign and India Nationals and Organisations


COVA is registered a Society under the Andhra Pradesh (Telangana Areas) Public Societies Registration Act with Registration No. 643, Dated: 20-07-1995.
Government of India has authorized COVA to receive foreign Donations under FCRA (Foreign Contributions Regulation Act) with Registration No: 010230426, dated 18-02-2000.
COVA also enjoys tax exemption status Under Section 80 G of Income Tax Act of Government of India and all Indian Nationals can avail 50% Tax Exemption for their donations to COVA.
COVA receives funds from the Government of United States of America for its programs and is registered with the US Federal Government's System for Award Management (SAM) and allotted the Number: 864029450/SUD11 and DUNS Number:
D-U-N-S 186-402-9450.
COVA is an also an accredited charity with NASIM Foundation, non-profit 501(c)(3) secular, non-political organization of USA (Tax ID: 03-0605701) So donations by American citizens to NASIM Foundation for support for the work of COVA for education will be entitled to tax benefit / deductions in the US. Please visit the NASIM Foundation Website at: http://www.nasimfoundation.org/cova.aspx


Overview

COVA Peace Network, is a Confederation of Voluntary Associations working for social harmony and community empowerment in India and peace in South Asia. Established in 1995 in Hyderabad, India, the members and partners comprise of community groups working at grassroots to national and international organisations and networks undertaking advocacy and policy interventions. COVA Peace Network is also engaged with state and national governments and multilateral bodies for structural transformations to make society more equitable, sustainable, just and peaceful.
Please visit our website: www.covanetwork.org
Address: COVA,# 18-13-8/A/508/B, Bandlaguda, Chandrayangutta, Hyderabad- 500 005 Telangana, INDIA. Phone: +91 40 24442984, Fax: +919394544244