#UnitedAgainstCOVID19

COVID-19 affects the lungs and causes difficulty in breathing, particularly among older people. In severe cases, patients have to be placed on ventilators to help them breathe while their body fights off the infection.

In Chennai, though we have taken important steps like a 21-day lockdown, the number of patients is rising every day and our healthcare infrastructure is not equipped to bear the brunt. In all of India, there are only 40,000 ventilators (Source: Hindustan Times) available and Tamil Nadu faces a similar shortage.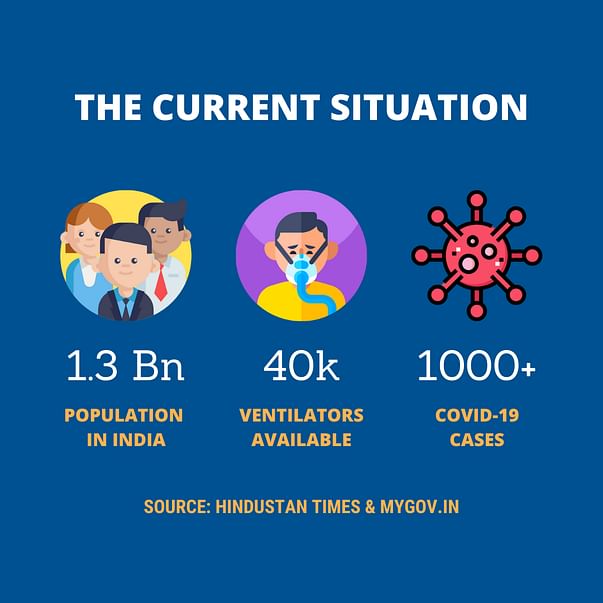 If we continue to take no action, we will soon be swamped like Italy where we will have to make the terrible choice of whom to save.

To help mitigate this disaster, FICCI Tamilnadu, FLO Chennai & UNITED WAY CHENNAI have teamed up to raise funds through Milaap to procure ventilators amidst this unprecedented shortage. Every rupee donated will go towards procuring & distributing ventilators to a priority list of hospitals recommended by the Department of Health & Family Welfare, TN.

The time to act is now. Every day is an opportunity to save more lives.
We humbly request you to donate whatever you can and be an active change-agent in the fight against COVID-19.
WHY SHOULD WE BE CONCERNED ABOUT A VENTILATOR SHORTAGE?
COVID-19 is a strain of coronavirus that directly affects the lungs, making it inflamed and filled with fluid. This makes it difficult for a person to breathe in and breathe out, depriving the body of oxygen. Elderly patients and those with pre-existing lung conditions are affected the most.

In such severe cases, COVID-19 patients require the help of a ventilator (or a respirator). By mimicking the way we breathe naturally, a ventilator pushes oxygenated air into the lungs, forcing the fluid out, and carries the carbon dioxide out of the body.

This kind of support is crucial and life-saving when the immune system is fighting off the infection.

However, in a country like India where our hospitals are ill-equipped and medical resources are scarce, a ventilator shortage could mean that patients who could otherwise be treated will be denied care.
WHAT CAN WE DO TO HELP?
FICCI FLO and United Way Chennai are teaming up to raise funds to provide additional ventilators to a priority list of hospitals provided by the Department of Health & Family Welfare in Tamil Nadu.
By donating whatever you can, you can help us purchase these much-needed ventilators for COVID-19 patients in Chennai.

WHAT HAPPENS WHEN YOU DONATE MONEY?
Step 1: The neediest hospital is identified
Step 2: Money is pooled to reach the value of the required ventilators
Step 3: Ventilators are purchased and dispatched to the hospital recommended.
You will also be pleased to know that thanks to Milaap, every rupee donated towards this initiative is utilized 100% to procure and dispatch these ventilators.
In the meantime,
you will also receive a tax-exemption receipt
along with our heartfelt gratitude from the team.
MODES OF PAYMENT:
You can make an online donation on the Milaap website through your Debit Card, Credit Card or NetBanking.
If you're a foreign citizen and you would like to make a direct donation to UWC, please click here.
You can issue a cheque in favour of "Milaap" and mail it to the office address below.
Milaap Social Ventures India Pvt. Ltd.
No. 57, 1st Floor, 1st Main Road, Opp. Mini Forest, 3rd Phase, J P Nagar,
Bangalore, Karnataka, India 560078
Thank you for your interest in our campaign. We hope you will support the cause in any way you can and look forward to your generous patronage.