'We cannot help everyone but everyone can help someone'
हम हर किसी की मदद नहीं कर सकते लेकिन हर कोई किसी की मदद कर सकता है.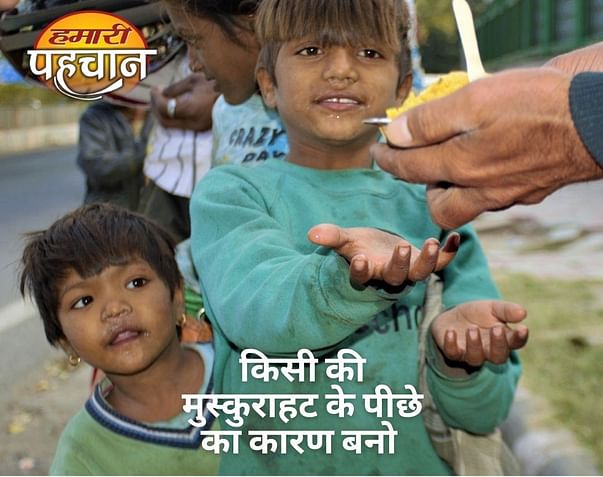 Hunger
"If you can't feed a hundred people then feed just one." – Mother Teresa
I Preeti I am interning with Humari Pahchan NGO, I am working on the project 'Hunger , as you
all know food is the basic necessity for all the living beings ,food is right of all the human and
living beings are born into this World, but do you all know that there are million of people who
go to bed with empty stomach, they even don't get the Meal of one time. All the suffer for earning
money but there are so many people who suffer for one time meal. They do not enjoy this right,
and to help these people I have chosen project 'Hunger'. Hunger creates cycle that people can't
escape from. It causes individual to be less productive and more prone to disease, which in turn
make's them less able to improve their livelihood or earn a better income .According to Food and
Agriculture Organization 811 million people worldwide go to bed hungry each night. Also an
estimate 14 million children under the age of 5 worldwide suffer from severe acute malnutrition.
.According to Global Hunger Index, 2021 India ranked 101st out of 116 countries , with the score
27.5 and has Serious level of hunger. With nearly 195 million undernourished people India shares
a quarter of The global hunger burden.
By project 'Hunger' we can contribute in eliminating world hunger, by Providing food and other
basic necessities to people who can not manage it. The main aim of this Project is that no one can
sleep with empty stomach. To eliminate the world wide problem of hunger everyone has to
contribute by feeding the people Or by donating for the food. If you can pray for the hungry, you
can feed them, this is how prayer work. In India food is called 'aandevta' but generally people
made more food and throw the remaining in the dustbin . Instead of throwing food in dustbin they
can feed the poor who were in need of food. By doing this small task they can fill many empty
stomach and earn blessings .You can give food and Other basic necessities to the needy people, it Eliminate the problem of world hunger at large extent, and you will become the reason of many

people's smile.

"There are people in the world so hungry, that God cannot appear to them except in the form of

bread." –Mahatma Gandhi.