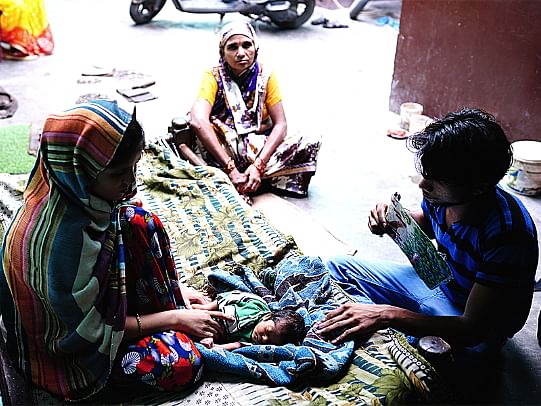 "Our newborn baby is fighting with pain and suffering at such a tender age. She continues to fight with this skin ulcer as it's just eight days since she entered this world. This rare medical condition seems to take more and more control of her body with every passing day. We can't help her and helplessly seeing her suffering. For God's sake, please save our daughter." - Baby Priya's parents describing their pain.

We can't even imagine the mental state of Arjun (father) and Kajal (mother), parents of baby Priya. The most painful moment of your life is seeing your children suffering before you, and you can do nothing. This young couple has passed the pandemic with great difficulty, and now it seems that life has given them the biggest challenge in the face of their newborn's medical condition.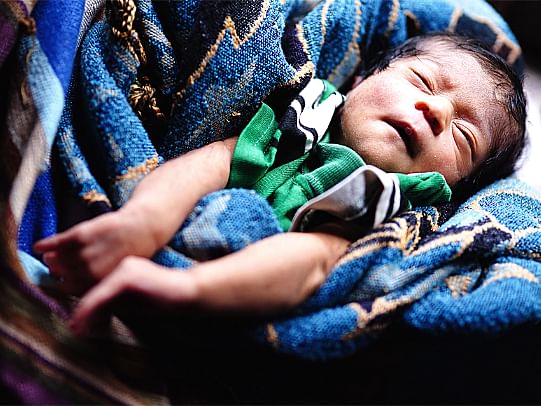 On 12 September 2021, Arjun and Kajal received the greatest gift of life in the form of baby Priya. Still, they never knew that their happiness would be short-lived as they had to see their newborn suffering every second due to a rare medical disorder known as Skin Ulcer. The doctors suggest immediate medical treatment for baby Priya which requires multiple surgeries, and the treatment cost is out of imagination for the couple.
Eight days old baby Priya has developed a giant skin ulcer on her back filled with pus. She is in immense pain, which is restricting her body movement. She doesn't even cry like other children of her age. If the treatment delays, her skin Ulcer can turn into a deep wound that extends through muscle tissue, leaving bones and joints exposed. Immediate surgery is required to avoid any further damage to her health.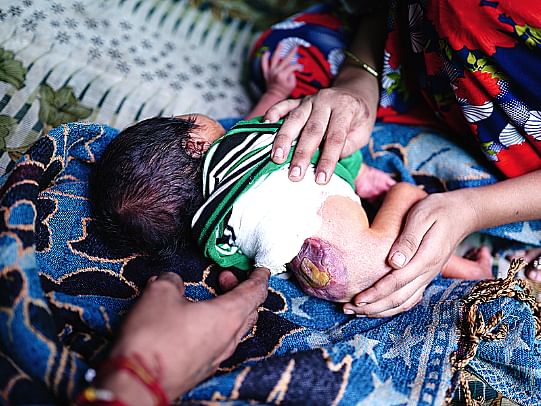 "My little daughter has a big ulcer on her back. It's horrifying to see her going through such a painful condition. As I do her dressing, I break into tears seeing her. I can't do anything as I have no money for her treatment. Half of my income goes into paying the rent, and the rest half is not even enough to meet our daily needs. Please help me." - pleads Arjun for support.

Baby Priya's father, Arjun Singh, used to work as a labourer in a furniture house and now is solely dependant on her hand skill work which can only fetch him Rs 4000 - 5000 per month and baby Priya's mother, Kajal, is a housewife. They don't even have their own house. Their income is too less to meet the monthly rent and three meals a day, forcing them to sleep empty stomach many times.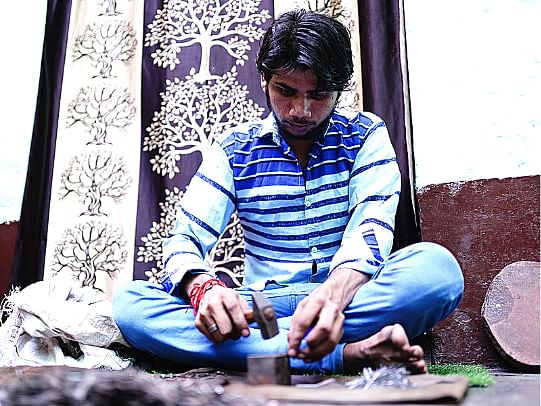 "I wake her up to feed her, and she remains idle for the rest of the day. She lies with her eyes closed. I am so helpless that I can't even do anything for her. She needs immediate treatment, and the doctors told us that it would cost us a lot. My husband has lost his job, and I can't help him anyway. We want to live with her. Please help us save her. Please..." - cries Kajal for her baby's life.

Priya's parents want to live with their daughter happily, and their dream can become true with your blessings. Your generous support can change their life forever, filling their house with happiness. We request you to please help baby Priya get rid of her pain.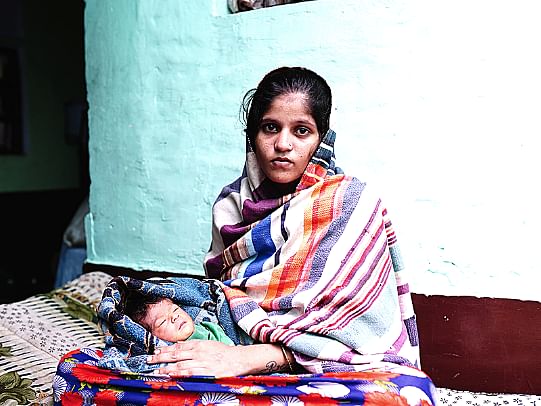 Project Global Cure -Project Global Cure is an initiative of the "Humanity Welfare Council" to transform health globally.
Please note that we raise financial support for financially fragile, debt-ridden people with no social support during medical emergencies. We at Project Global Cure raise funds only through Milaap to maintain our work's legitimacy and transparency. We do not use any other platform for raising funds. If found, please report to us at
helpdesk@projectglobalcure.org
.
Warm Regards,
Team Project Global Cure
Humanity Welfare Council