We are a group of IIT and University of Chicago Booth School of Business alumni, in partnership with physicians in the USA, coming together to save lives in rural Indian communities. These locations do not have good healthcare infrastructure so we are donating Oxygen Concentrators to public hospitals.
**501c3 tax benefits available
Our ask and how you can make an impact:
Our overall goal is to raise $1M USD to procure and deploy oxygen concentrators, cylinders and ventilators to public hospitals and healthcare centers in rural Indian districts. We already have identified more than 10 rural districts (details below) that need help and continuously monitoring other areas.

Phase 1 goal - $100k. Phase 2 goal - $300k. Phase 3 goal - $600k




Phase 1 goal:

As part of Phase 1, we want to raise $100,000 to procure and deploy 75

oxygen concentrators

($1,350 per unit - $100k in total) to 4 of those already identified districts. The core team running this campaign has partnered directly with district administrators working on the ground, so you can be sure your money is going to be put to the best use to serve the needy.
Covid cases in India and why is the situation so bad?
India is currently in a state of medical emergency. Daily new cases: 400,000+, daily new deaths nearing 4,000. It is possible that the non-reported cases account for much higher than these figures. The situation is getting worse by the day. A new variant detected a few days ago in the southern part of India is said to be 15 times more contagious. The surge in infections has coincided with a dramatic drop in vaccinations because of supply and delivery problems, despite India being a major vaccine producer.
India has only 0.53 hospital beds per 1,000 population. This is very less compared to USA (2.9). Additionally, rural India accounts for 70% of the total population but less than 30% of total hospital beds.
Our Mission and goals
We have all read news or heard about aid being sent to India in the form of oxygen concentrators, PPE kits, vaccines etc. But most of this aid is going to metropolitan cities like Delhi, Mumbai, Bengaluru etc. Rural India is not getting as much aid but has poor healthcare facilities and the covid case load has been increasing in these areas too. Most covid deaths are happening because of lack of timely availability of oxygen supply as people are unable to get a bed in completely full hospitals.
We have partnered directly with the district administrators and doctors, whom we know personally, to make sure the oxygen concentrators would be put to the best use. These are the people who are actually on the ground allocating resources and catering to the needs of people in their districts.
**501c3 tax benefit details:
For DAFs, Family Foundations and HNIs in the US
Donations above $3,000 towards this initiative can be made through Milaap's 501c3 partner in the US and will receive tax-exemption for US tax-residents.
Bank name: Evolve Bank & Trust
ABA Routing Number: 084106768
Bank Address: 6070 Poplar Ave, Suite 200 Memphis, TN 38119
Beneficiary Name: ASSET India Foundation
EIN: 20-5139364
Account Number: 9800962772
Type of Account: Checking
Beneficiary Address: 2155 Kettner Boulevard, 521 San Diego, CA 92101
Please send an email to anoj@milaap.org and finance@milaap.org with the transfer details to receive acknowledgment. The acknowledgment will be issued within 3 working days.
Our target locations:
Our locations are chosen based on ground reality of covid situation, not on officially reported figures which could be skewed. The locations are picked based on
Current and projected need of the oxygen concentrators
Direct partnership opportunities
Phase 1 locations:
Jhabua, Madhya Pradesh
Jhabua is a predominantly Adivasi district, and suffers from high rates of illiteracy and poverty. Almost half of the population lives below the poverty line. The Bhil and Bhilala peoples inhabit the interior of the district. We have partnered with local NGO Sara seva sansthan samiti and the local administrator (IAS officer) to ensure the devices will be used well.
Arunachal Pradesh is a state in the North Eastern part of India and shares international borders with Bhutan in the west, Myanmar in the east, and a border with China in the north. The state's projected population is around 17 lakh. The existing health infrastructure of the state may not be sufficient to cater to the increasing COVID case load in the state. Presently, the state roughly has around 200 oxygen and ICU beds. Oxygen beds + ICU beds available: 0.147/1000 population. Thus, 20 oxygen concentrators are required to cater to the current and projected needs of the region.
Berhampur, Odisha
Millions of men from the families from this region migrate to big cities to work as construction or factory laborers. They leave their family behind because they cannot afford to bring their family with them. They live in slums in these big cities. During the lockdown last year, they were forced to leave these cities and return to villages. While this region was already poor, the poverty has increased in the recent years. The government hospitals are currently under equipped to handle the extreme positive case load.
The area around Kadipur, Kutahan and Patti Narendrapur lies in between 2 districts, Jaunpur and Sultanpur. The closest hospital is 60km away, which has only 30 bed ICUs. Though there are primary healthcare clinics, they are severely under equipped. Half of the villagers live below poverty line and with higher illiteracy rate they are not able to navigate and get required help. There's not even a single oxygen generator or concentrator in any of these 3 villages.
The list of other identified locations that need help: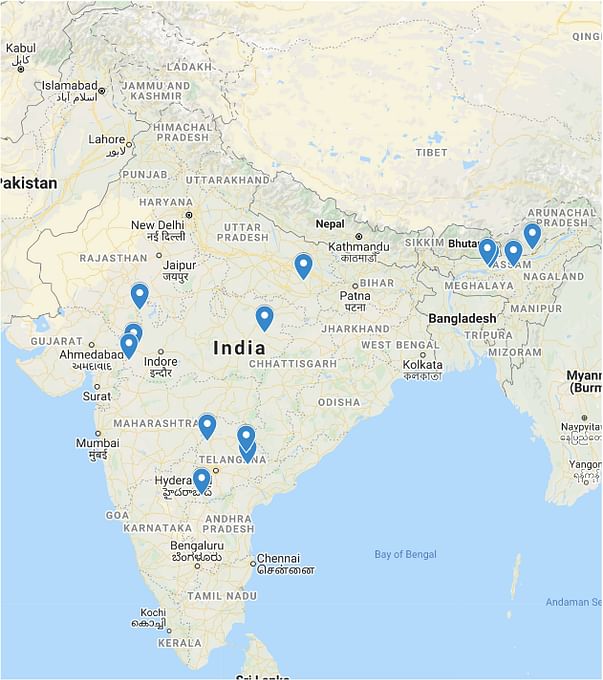 Nizambad, Telangana
Jogulamba, Telangana
Mulugu, Telangana
Vaishali, Bihar
Nalbari, Assam
Umaria, MP
Alirajpur, MP
Karimnagar, Telngana
Our Team
Gowri Pujitha Appana (IIT Delhi and Chicago Booth)
Jyothika Mamadgi (MD Hematology Oncology)

Saptagiri Patnaik (Chicago Booth)
Sunil Kumar Singh (IIT Guwahati)
Tom Mannachery (Chicago Booth)
Kapil Nath Veeravalli (MBBS, MD Family Medicine)

Shashank Yuduvanshi (IIT Delhi)

Kunal Mahajan (IIT Delhi)

Arvind Sripada (Chicago Booth)

Vikram Venkat (IIT Madras and Chicago Booth)
IAS officers in India (IIT alumni, staying anonymous)

Kartheek Veeravalli (IIT Guwahati)