My name is Swayambhu Mohan Shukla and, I've started this campaign for my sister (MAITRIANI, 22 yrs old) because she was diagnosed with nasopharyngeal cancer a year ago, and She fought the cancer battle very well for the first time as we managed to arrange all the fund with the help of our few relatives and a loan from a bank.

And a later, cancer which was diagnosed in the nose has slid down to the back near the spinal cord, and it's an advanced stage in itself, its called metastatic cancer.

Currently, she is admitted to Rajiv Gandhi Cancer Institute Hospital, Rohini Delhi, under the guidance of Dr. Manish Purthi and Dr. Munish Gairola and they have clearly mentioned that if it is not operated very soon it might become incurable.

And for the treatment, we need ₹2,00,000 (1.75 lac+medications), because there is surgery and after that radiation treatment. And we don't know about the total cost for Radiation so we are requesting Only ₹2 lac that will cover our surgery for time being.

We desperately need help to get all the treatment done. So please help us 🙏🏻.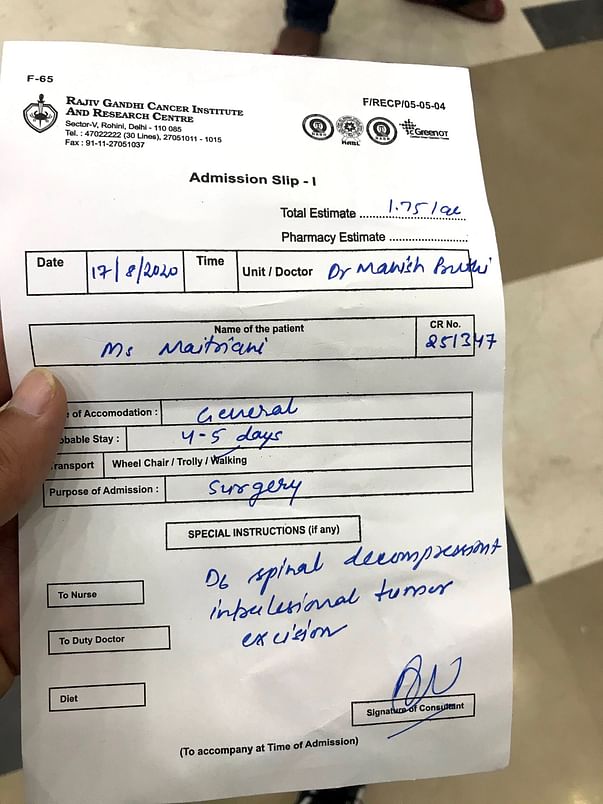 Surgery Bill 👆🏻