The second wave of coronavirus pandemic has brought an unprecedented healthcare crisis, with millions of people affected all over the country. The poor and the most vulnerable are the worst hit, particularly in states like Maharashtra, Uttar Pradesh and Bihar.
Countless families are forced to watch their loved ones suffer because they cannot afford the exorbitant costs of basic medical care, diagnostics and treatment. Even meeting basic needs is a serious challenge for many of the impoverished households.
The '
Give without Borders
' initiative of Grameen Foundation for Social Impact supports the needy and most vulnerable sections of the society with cash transfer directly into the bank accounts of the identified beneficiaries. The funds will help these families meet the costs of COVID-19 diagnostics, treatment and medication. GFSI aims to raise Rs. 5 Crore (INR 50,000,000) to directly support 10,000 poor families in the states of Maharashtra, Uttar Pradesh and Bihar.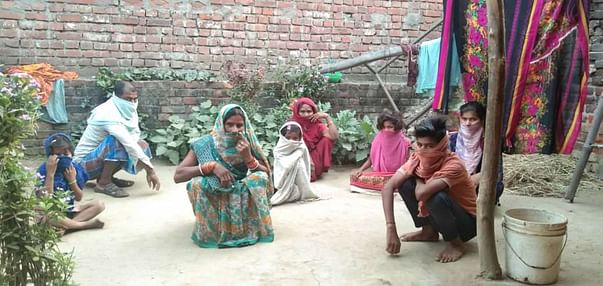 How Grameen will make a difference ?
We believe that every person, particularly the poor and vulnerable, must have access to medical care and money should not stand in the way of a timely COVID-19 diagnosis and treatment. To make this vision a success, our last mile network of
Grameen Mittras
work in the local communities to identify the most vulnerable households, leveraging their local intelligence and power of our digital platform
Grameen4Giving
based on an algorithm that combines multiple social, demographic and economic indicators of vulnerability.
The immediate impact of the 'Give without Borders' initiative is to identify the most vulnerable households, and giving cash directly in their hands to help them meet medical care expenses.

How can you be an Enabler of Change?
Make a difference today. Make your donation now!
Your donations will save the lives of many who are unable to meet costs of diagnostic tests, medicines, and basic treatment.
Donations made to GFSI enjoy tax benefit under Section 80 G of the Income Tax Act.

Our 'Give without Borders' journey so far
In 2020, when the coronavirus surged and lockdowns happened, the 'Give Without Borders' initiative supported the most vulnerable people in the states of Bihar and Maharashtra. Generous donations enabled Grameen to provide critical support to over 1,400 most vulnerable families living in Nagpur, Bhandara and Nawada districts, impacting close to 7,000 individuals as a result, thanks to you!
A leading social impact organization, Grameen Foundation for Social Impact (GFSI) believes in prioritizing the needs of the most vulnerable people, and giving them hope and timely assistance, and empower them to make their decisions. We work with the poorest people, particularly women, through financial inclusion and livelihood development. Visit
www.gfsi.in
for details
Follow our work at :
Facebook
Twitter
Linkedin
Youtube