Come and help change the life of a physically challenged child.
Or help students build a career and their future.
Or help prepare youth leaders for building a sustainable future.
Or help fund their passion projects for positive change.
Make a difference. Let us change the world together. Donate for any of the projects below.
Project - Change a Life:

Physically challenged children with orthopaedic deformities undergo free corrective surgery and rehabilitation

Project Hunger :

Food and rations for the hungry

Project - Realise your Dreams :

Two years' free coaching for economically challenged students

ISL Project - Pay it Forward:

Alumni (school students) from ISL camps raise

funds for the training of future leaders and for funding their passion projects for sustainable change
Started by a

small group of School alumni eight years ago,The Rock Foundation, registered in 2015, has so far supported and organised treatment for more than 600 children with congenital deformities. These include corrective spinal and other orthopaedic surgery, with post-surgery rehabilitation.




This 13 year old's life and her world changed after her spinal surgery supported by us.



With the generous support of some golden-hearted specialist doctors and hospitals, we have brought back smiles and happiness into many lives.

We have permanent deposits in two leading Ludhiana hospitals , the CMC Hospital and the DMC Hospital for emergency treatment and surgery of poor patients.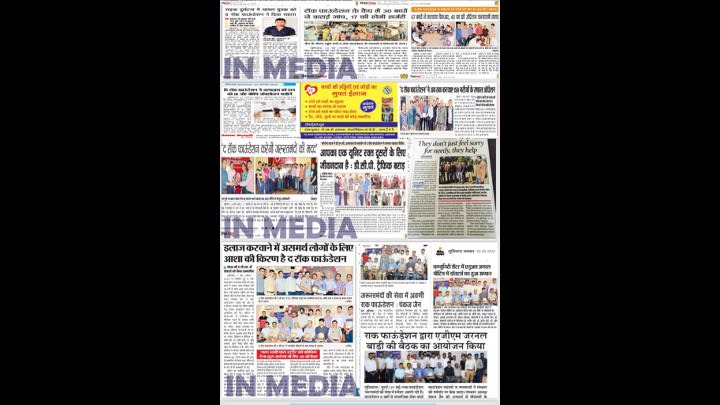 We have also started free two-year duration coaching classes for 50 deserving students per year who cannot afford coaching. The classes will equip them for entering some of India's best institutions to realise their dreams and build a better India.



We are working to connect with and benefit more and more people, making lives better, and making dreams a realty for the young.

We have joined hands to support the efforts of school students - potential leaders - who attended ISL Camps to pay it forward by mobilising resources for supporting future camps and their passion projects to bring about positive change where they live.
This gigantic task needs your support.
Come, connect with us.
Your valuable contribution will help to fund and upscale the ongoing projects and create new projects to change lives everywhere.
IMPORTANT: When you make your online contribution, do not forget to write the name of one or more of the above projects ( after your name, in brackets) in case you would like your contribution to be used for any specific projects. This will help us to ensure that your valuable contribution is utilised for the specified purpose.