Hi,
I'm organizing a fundraiser for covid relief. I will be conducting a pranayama session suitable for those who are looking to breathe better, who are of stable physical health.
Join Zoom Meeting
https://us02web.zoom.us/j/84775212168
This class will not be suitable for those recently affected with a respiratory ailment, those with hypertension or recent abdominal surgery.
All proceeds go to covid 19 relief fund.
Please support us. Share the campaign with your friends and family.

Namaste 🙏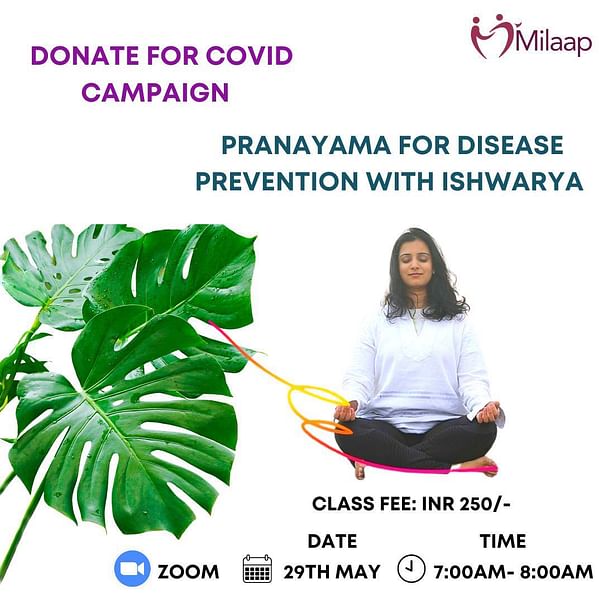 Rasoi On Wheels Foundation is a 4 year old NGO working in Delhi NCR towards feeding the less privileged.

With the second wave of the pandemic and increasing cases in Delhi NCR, we are working round the clock to not only feed those in need, but also help those who are tirelessly waiting to get cylinders filled and assisting homeless / daily wage workers by providing for them.

As its the need of the hour, we have set up a 100 people covid isolation centre in collaboration with Sanik Farm's WARWA for the less privileged where we provide beds, meals & basic medical facilities. In return all the patients promise to donate plasma to save another life.

The surge in cases has lead to the situation for the less privileged going from bad to worse. Every day, we at Rasoi On Wheels Foundation get distress calls asking for medicines, meals, ration kits & assistance in getting plasma.
We are already suppling over 2500 meals, bottles of water & masks daily to those in need of food, these are people living in basti's (an overcrowded area where many poor people live), rain basra's, flyovers, outside hospitals, old age homes, orphanages, blind homes etc.
Our concentrator bank is also active with 10 concentrators which are all being currently used by patients in their homes across Delhi NCR.
While we are doing our best, to continue this care we request you to support us in whichever way possible. No contribution is big or small, lets all be #CovidWarriors and put in our best to #EndHunger