"My baby can't walk anymore because her body cannot take the weight of the growing tumour in her stomach. I have to carry her everywhere as every time she tries to walk on her own, she loses her balance and falls off. I do believe Jesus will heal her soon but every day it is becoming difficult for me as a parent to see my child suffer so much in pain. She has stopped eating and just sits with her wristwatch that her brothers had got for her last birthday. She misses our home," - Ngounibou, father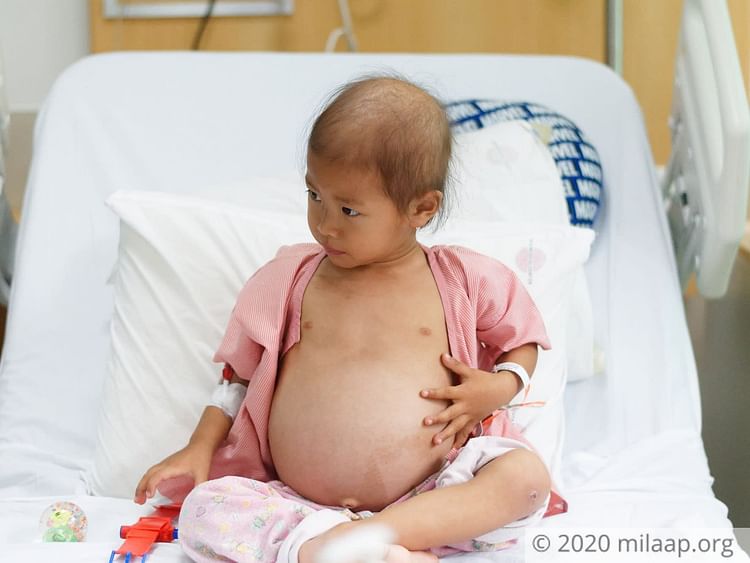 In January, her abdomen started swelling up suddenly. The local doctors in Manipur couldn't detect what was the actual reason behind it. So Sichangliu's parents, Ngounibou and Imkonglila, took her to Kolkata.
Upon reaching there, they found out in the ultrasound about a massive cancerous tumour is rapidly growing inside their daughter.

She thinks they will take out a balloon from her stomach during surgery
"She loves colourful balloons. Whenever I come home, I get one for her daily. We tell her there is a huge colourful balloon inside her whenever she keeps asking why her stomach is getting so big all the time. Before her surgery, she was so terrified that she refused to go inside the OT. Only after I told her that the doctors would just take out her colourful balloon from inside and let her play with it, she stopped crying,"- Ngounibou, father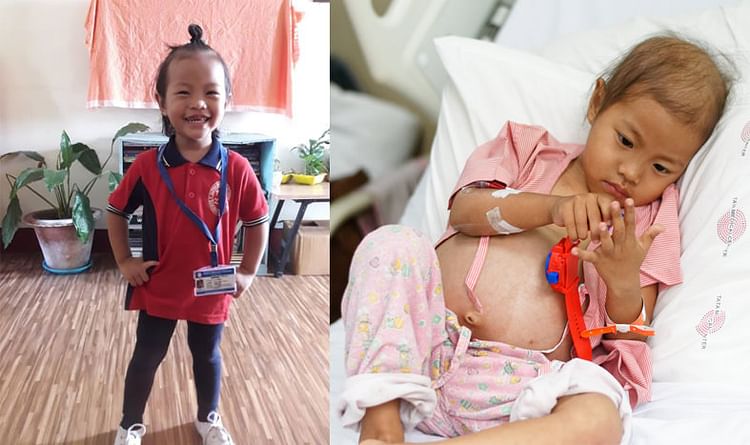 They prayed for her tumour to shrink, but unfortunately it didn't
The doctors tried to shrink her tumour with just chemotherapy earlier, but it kept growing even after that. With a surgery last week, they took her tumour out but unfortunately it had spread to other organs in her abdomen too. Now, to cure her tumour completely Sichangliu still needs chemotherapy.
Ngounibou has two other kids back in Manipur, waiting for their little sister to come back home.
He works as a pastor in a missionary. He has already spent 4 lakhs on her treatment with their help and loans. There is no certainty of income, which is the main reason why he doesn't have 6 to 7 lakhs more for his daughter's chemotherapy.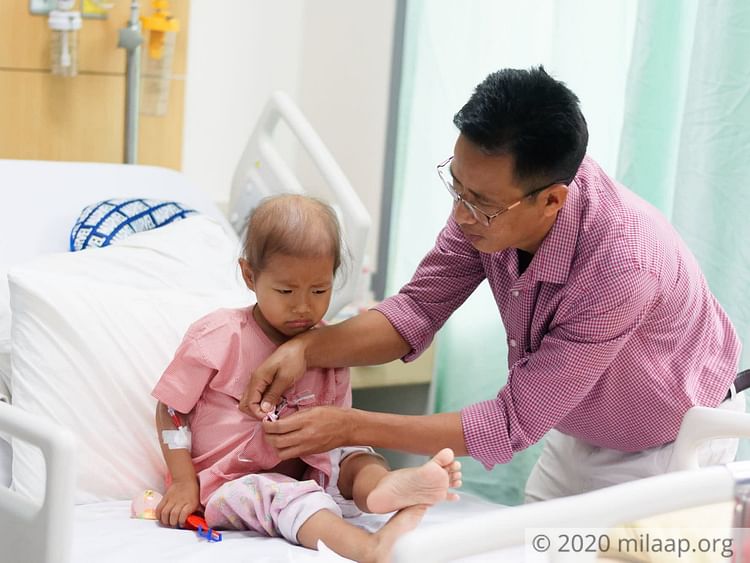 A very friendly and jolly Sichangliu still hopes that today will be the day she will be taken home. It is disheartening to see her hope turn into a frown when she is given more injections.
She is losing not only all her hair, but the most precious thing - her adorable smile.
Please help 3-year old Sichangliu fight her germ cell tumour successfully.