"Whenever Nitesh steps out of the house to play or go to school, he comes back crying and afraid to go back again. People say very mean things to him, and to us as well. The staff at school asks us not to send a sick child to school, while the children he wants to play with, refuse to even sit with him. They say he will transmit the disease if he even looks at them... My child is going through hell and we are unable to do anything to stop it."
He has a massive tumour on the left side of his face
9-year-old Nitesh suffers from
Neurofibromatosis,
a group of genetic disorders causing tumors to form on the nerve tissues.
These tumors can develop anywhere in the nervous system, including the brain, spinal cord, and nerves.
In this little boy's case, the tumour has occupied the entire left side of his face.
"He was just a few days old when we started noticing that his eyes were swollen and with each passing day, it just kept growing and spreading in the form of a tumour. For more than a year, we went to different doctors locally, in Bhopal, and even in Sagar, but we had to return home without any treatment... not even an injection or a tablet." - Penshan Lal, father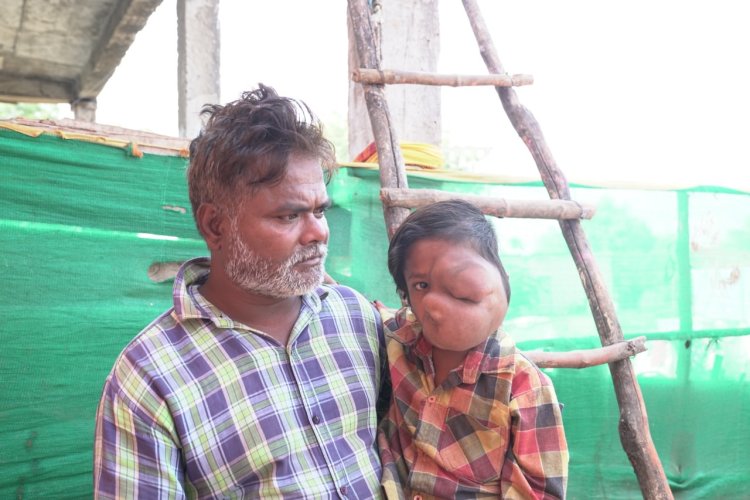 His condition has robbed him of his childhood
Still a child, Nitesh has spent most of his days suffering from this rare disease and in the last two years,
his face has swollen up - disfigured to an extent where he can neither talk nor eat properly
.
His medical condition has not only affected his health but also robbed him of his childhood.
"He constantly needs us, both for emotional and physical support. He can't see from his left eye and has difficulty performing many tasks. But we won't be there to guide him or take care of him forever. I worry about his future. This surgery can help his life get so much better, but we can't afford it." -Sudha Bai
Fighting extreme poverty, these parents can only dream of affording Nitesh's treatment
Hailing from Sehore, Madhya Pradesh,
this family lives in extreme poverty, barely managing to even have a single meal, a day.
Penshan Lal and Sudha Bai have watched their child suffer with their own eyes for years, and are on the verge of giving up. They have left no stone unturned to gather the required funds.
But being daily wage labourers with a meager income, they are unable to seek the medical attention Nitesh needs.
"He needs an operation, but the amount is way beyond our means. No matter how much we work, beg or borrow, we just can't…" - Penshan Lal
Your contributions can help Nitesh get the surgery he's been waiting for all these years. Your support will give this little boy a better life. Click here to donate.