"

All my

relatives cut ties with us when they got to know about Nafisa's cancer at the age of 3.

They stopped their children from playing with her or coming to our home because they feared they would also get Blood Cancer like her. They even asked me to abandon her and not waste money on her treatment.

Things got a bit better when Nafisa beat her cancer once but now with a relapse, our relatives have again left us stranded."- Najma, mother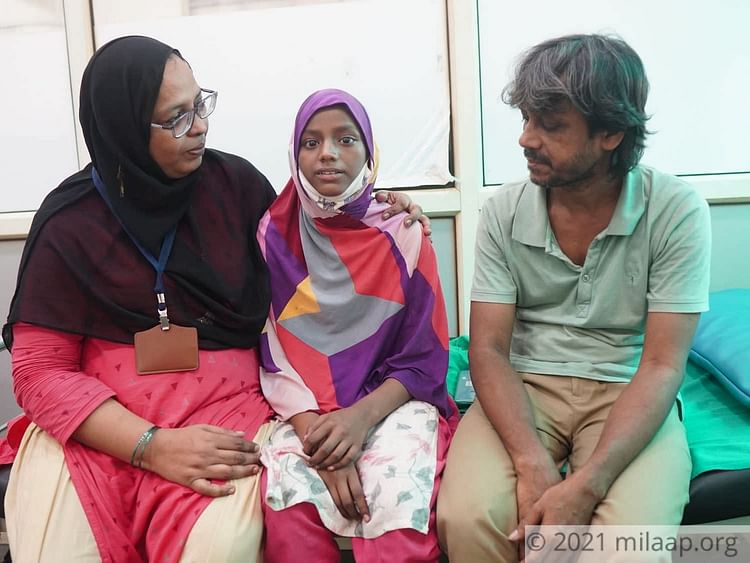 They abandoned Nafisa when she needed them the most
Najma, Nafisa's mother, was hoping for things to be a little different after the heart-wrenching news of her daughter's cancer relapse. Due to their poor financial condition, she felt this time her close relatives would chip in to help little Nafisa fight her cancer again. But she was wrong. Now Nafisa's parents are all on their own, struggling to meet her medical expenses again.
Nafisa has been diagnosed with
Relapsed Acute Myeloid Leukemia at the age of 12 again
. This deadly disease had already haunted her once when she was a toddler, but this time it has returned with even more fatal consequences.
She urgently needs a

Stem Cell Transplant

to restrict the body from making Leukemic blast cells otherwise it will be impossible to prevent her cancer from spreading further.

Her father prayed for it to not be cancer again but her symptoms pointed otherwise
Her surgery is slated for the next week but her parents are in despair as they have just a week to arrange 12 lakhs otherwise their child won't survive.
"She came to me crying 'Abbu I can't move my shoulders'. She was attending her online class and she couldn't write due to the excruciating pain. We had to admit her thrice because her platelets dropped critically low. All these symptoms in just a week pointed only towards one thing, but my heart wasn't ready to hear those words again. Now I have to lift and carry her to the hospital every time because she is unable to walk at all."- Md.Salim, father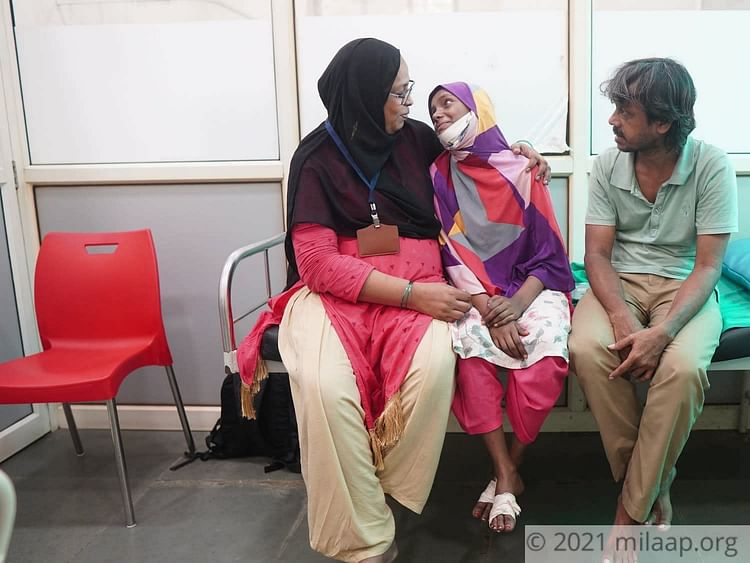 This time she can't recover with just chemo, she needs a Transplant too
After 9 years, cancer has come to haunt little Nafisa again. But this time she can't be cured only with chemotherapy. She needs a Transplant, that too, at the earliest because of her weakened immune system.
"I remember certain parts of hospital visits when I had cancer as a kid. I remember the pain and the cries of my Ammi and Abbu. Ammi had told me about what I had gone through as a kid but to go through the same agony all over again is making me helpless. Apart from the pain in my whole body, what hurts me the most is that all my hair is gone and none of my cousins want to talk to me anymore. I feel this is all my fault."- Nafisa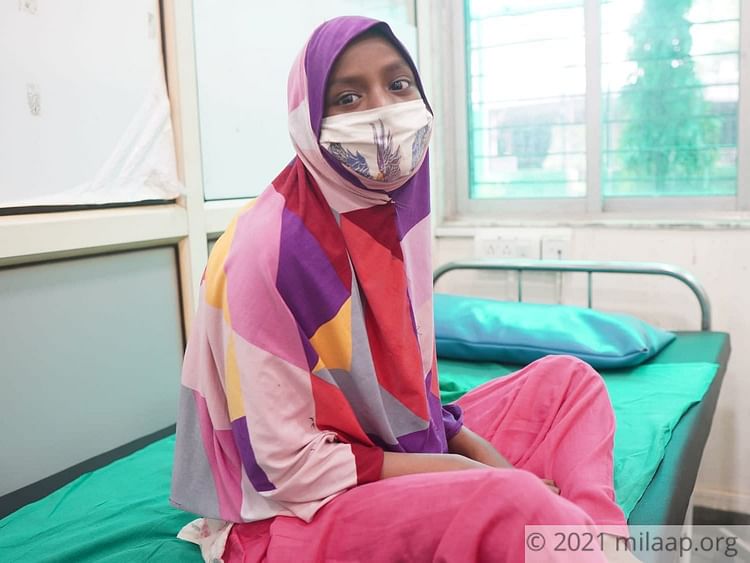 Najma and Md. Salim still motivate Nafisa that she will beat cancer this time as well but deep down, even they know that this could be far from reality if her treatment doesn't progress soon. Najma had mortgaged her wedding jewellery for Nafisa's cancer treatment earlier. It took her 7 years to be able to repay and get them back but she had to mortgage them again. Salim works as a cleaner in a power loom factory earning barely Rs.3000 a month. To arrange lakhs of rupees in a week is beyond their capacity now.
"Meri bacchi maut ke muh se ek baar bahar aa gayi hai, ab phir se usse phir maut se ladte hue dekh ke hum toot gaye hai. Please hamari madad kariye hamari phool si bachi ko bachane mein."- Najma, mother
(My daughter has been saved from death once and now to see her again falling into the same trap, has broken us completely. Please help us save our fragile daughter again.)