3-year-old Amaan had been playing in his grandmother's house when he heard the jingle of an ice-cream cart and curiously ran towards the balcony. But before anyone could warn or stop him, he leaned over the railing and fell from the top of the two-storied building. The poor child has suffered traumatic injuries and is currently fighting for his life in the ICU.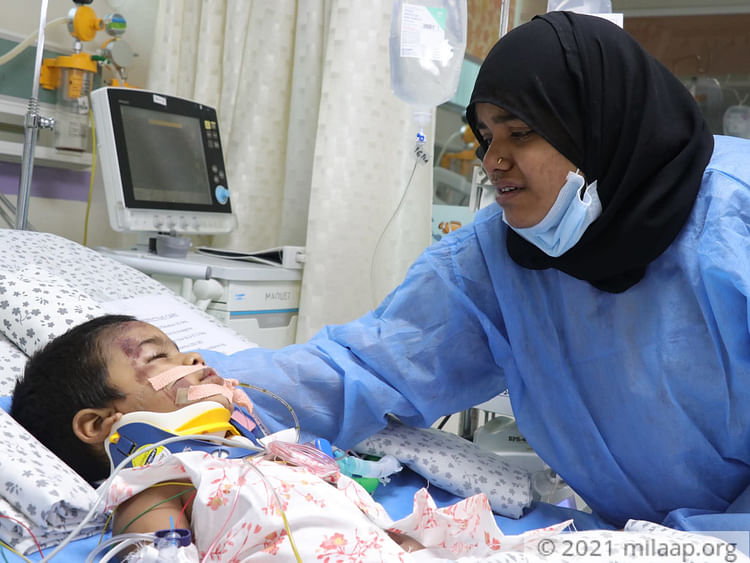 He used up the last of his money just to get to his dying son
Reshma was terrified when she saw her son unconscious, with blood all over the place. While the neighbours helped them get to the hospital, she called Moin, her husband.
"I was on my way to work when I got the call. Reshma was crying profusely, saying, 'I am taking Amaan to the hospital, he fell down and hit his head; he is bleeding so much. I am very scared. Please come fast!' My mind was blank and I couldn't believe it. The image of him laughing and waving goodbye to me was still so fresh in my mind. I only had 200 rupees in my pocket at that moment and I spent it to get to my son." - Moin
He can't recognize his own parents
"It was only yesterday that he opened his eyes. It was such a relief to see him move his eyes and look at us but then... he didn't recognize us. We kept talking to him but there was no response. He just kept staring as if he understands nothing. He used to be such an active and bright child and now... What if he never recognizes us? I am so scared." - Reshma
Amaan not only suffers from a severe brain injury but also liver injuries and a lung contusion. He has been on mechanical ventilation all this while and his condition has started to improve. But
he needs 7 more days of PICU stay to show significant recovery from his injuries. But his parents are unable to afford it.
They need your help and prayers to save their son
Moin is an electrician and Reshma is a housewife. They live a very humble life. With Moin's irregular income this past year, they are hardly left with any savings by the end of the month and sometimes even have to borrow to get by.
It is impossible for them to afford this treatment without help.
"My neighbours, friends and relatives have all been so supportive so far. They not only helped us with money but also kept our faith alive this Ramadan. Even though my wife is sick, she is fasting for our son's health and I am too. But the cost is now getting beyond our control. It is too much for us and we don't know what we will do." - Moin
Only you can help these parents save their son. Just one week more and he can return home safe. Click here to contribute.