One day, over 9 months ago, Gangadhara, the sole bread-winner of his family went to work as usual. He worked as a machine operator in a company. But that day, he was asked to go back home. Owing to Covid-19, left with no orders, the company had crashed; and overnight Gangadhara turned jobless. His wife Sharada started working at a small tailoring shop, to keep the family running, while he looked for jobs in vain. But that wasn't the end of their nightmare. Their world crashed again, when their 2-year-old daughter was diagnosed with a deadly blood cancer.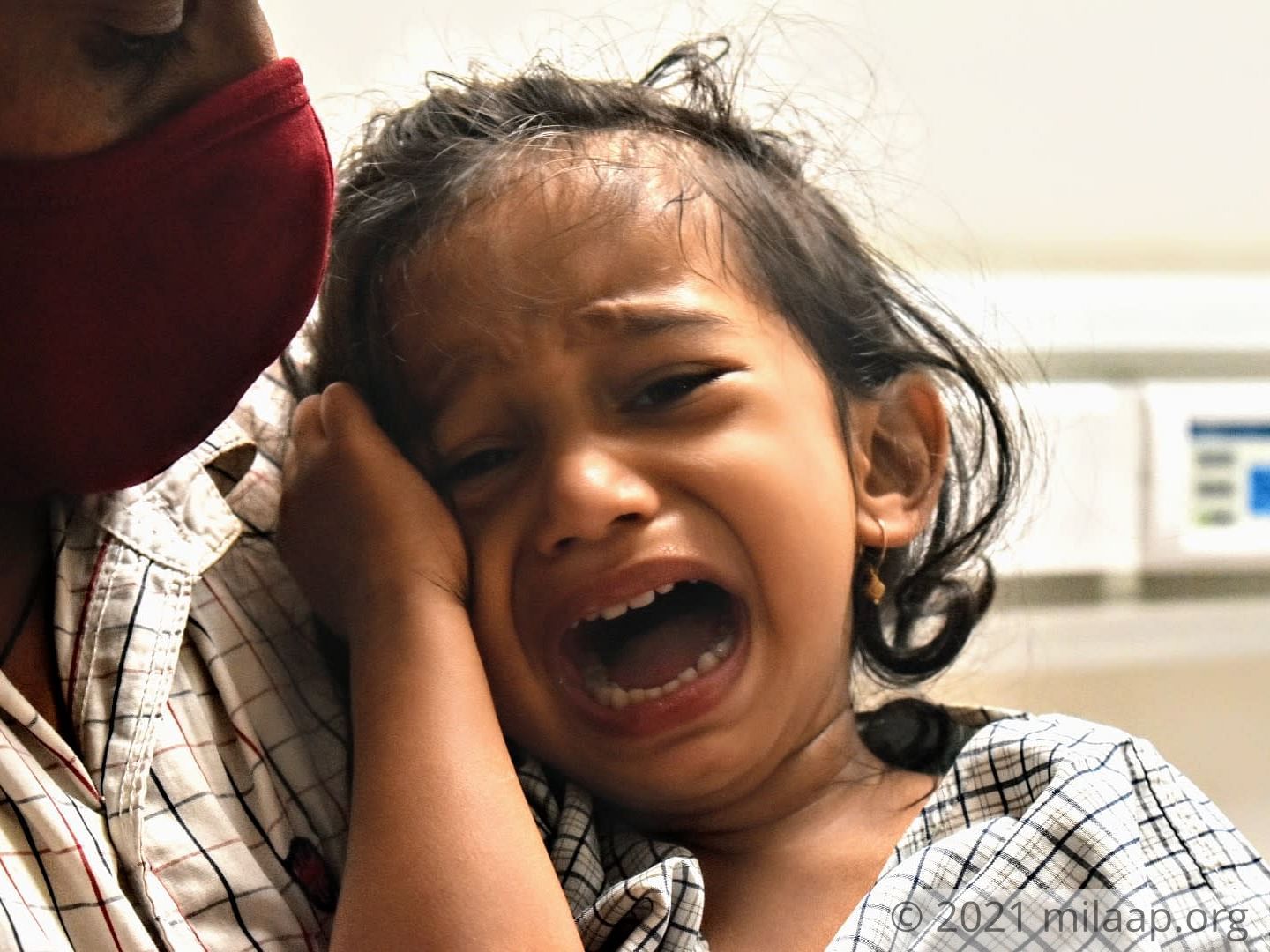 Happy and chirpy even when sick, nobody had even imagined she could be fighting a deadly disease
A few weeks ago, Little Jnanvi, a talkative 2-year-old fell sick.
Her temperature rose, but she was still running around like she always did
. She was prescribed mild medicines; but the fever never subsided.
"

But there she was, chatting non-stop, playing with the doctor's stethoscope. He did not want to put her through needles for no reason,

and refused a blood test just then. A urine test told us there was nothing to worry. But 15 days later, her fever returned…again. Running a blood test this time, the doctor suspected dengue. She was admitted immediately, and multiple tests were run.

Results were negative for dengue. But there was something else she was fighting. They diagnosed her with a disease that can even result in death, if left untreated!

I was crushed!" – Gangadhara, father.

Diagnosed with blood cancer, a happy child once, now spends her day shrieking in pain
Diagnosed with acute lymphoblastic leukemia – a cancer of the blood and bone marrow
, little Jnanvi has been receiving medication.
Her chemotherapy has commenced, and she's in pain.

"

I didn't know this till 5 days after the diagnosis

. My husband knew I wouldn't be able to cope.

When I was finally told, I was shattered. I had only seen this disease in movies. Now…my daughter suffers that deadly disease

! I can't bear to see her shrieking in pain when the needles prick her.

Every time the nurses come to her, she holds my fingers tightly, and tells her father to not let them prick her.

She's a happy child. She does not deserve this! Why,

I haven't been able to even cry. If I do, she thinks I am in pain and asks me to lie down, and fusses over me

! It shouldn't have been my naughty, sensitive little child. It shouldn't have been her!" – Sharada, mother.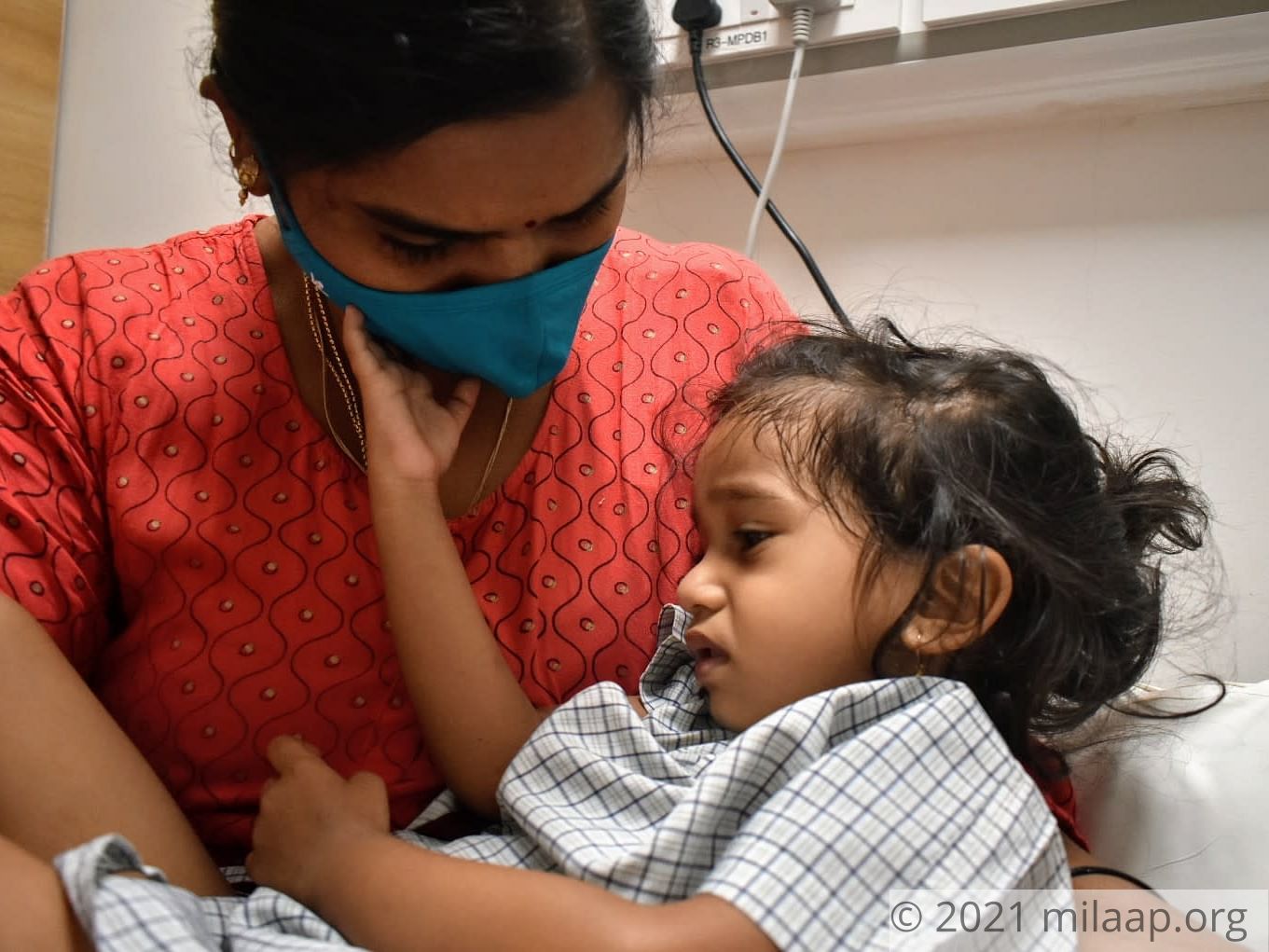 A prolonged treatment can save her, but an unemployed Gangadhar can't afford it
Because Jnanvi's cancer has been identified at an early stage, she promises recovery
, with a prolonged treatment. But it will cost the family over 10 lakh rupees. With no job, and having exhausted all their savings thus far,
Gangadhara is struggling to afford Jnanvi's treatment.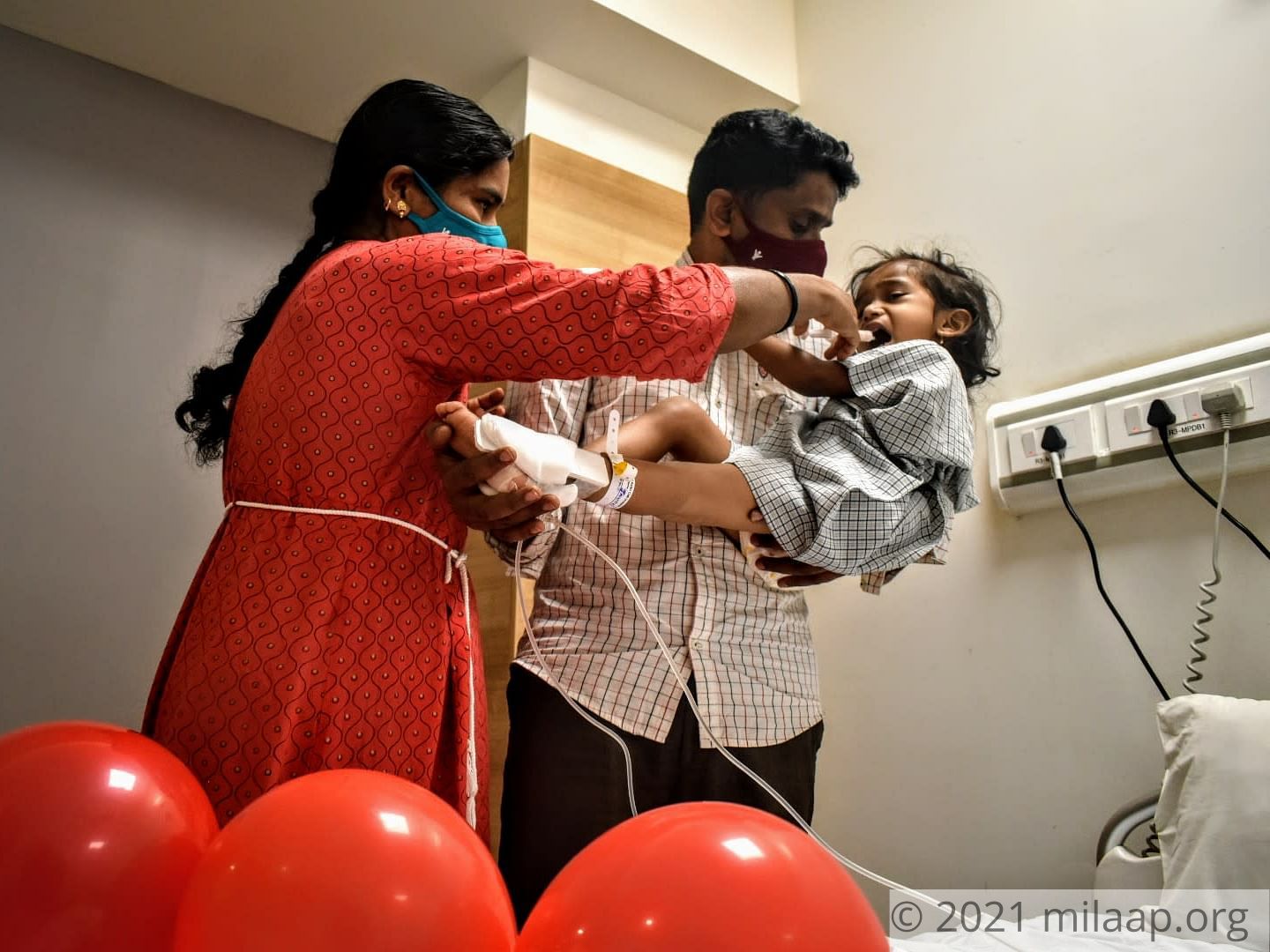 "We have never seen her like this; in so much pain. It isn't like her at all.

But what can we do? We

have done all I can, and borrowed money from our relatives for her treatment; and I now have a debt of over 3 lakhs

! I am willing to do anything to save her. But there's nothing much left that I can do now. I have no other means to cure her!

It kills me to see her struggle. Please help me save her from the deadly cancer

!" – Gangadhara.
Your generous contribution can make this little girl's cancer go away. Click here to help her.