"I've been suffering with this condition for nearly 20 years now. At first, my leg would swell up when I ran a fever, and it would hurt to stand or even walk. Now, it's swelled up so much, and has made my life so difficult. The pain is unbearable, and I often suffer from injuries and open wounds. You can see the pitiful state I am in because of this leg."

- Jhumita Majhi
Like most young girls, 26-year-old Jhumita Majhi had thought she would get married, have kids and live a good life when she grew up. However, that wasn't to be as life had other plans. Jhumita suffers from a disease that has caused her left leg to swell up 10 times its size, and is in desperate need of surgeries and treatment to be able to walk properly.

Her excessively swelled up leg resembles that of an elephant
Jhumita's petite stature is weighed down by her left leg, which is swollen to the point that it looks like an elephant's leg. It has also been the bane of her existence since she was only a child. According to doctors,

s

he has extensive lymphedema - a swelling of tissue caused by the accumulation of protein-rich fluid, that is usually drained through the body's lymphatic system.



She has endured unimaginable suffering at the hands of this condition over the course of her life. Although it wasn't as bad before, the swelling seemed to have worsened in the last few years as her treatment was stalled due to lack of funds.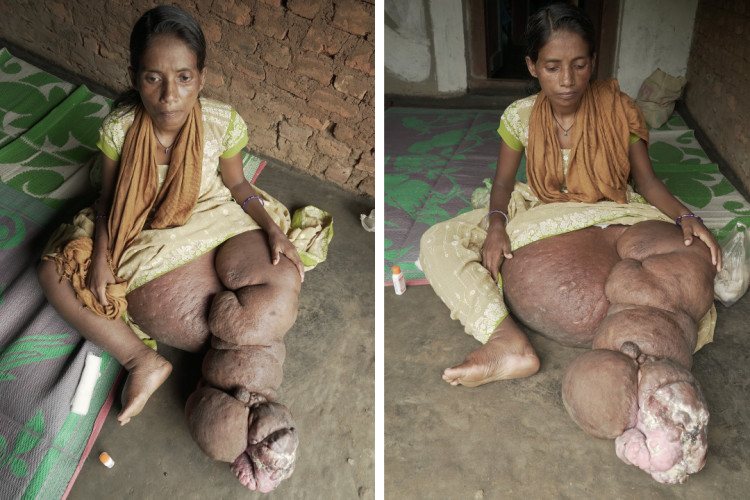 "It is one reason why my condition has deteriorated. I used to get a fever and would have to take an injection. But now we cannot afford it. It has been quite hard for us, after my father's death. My mother cries constantly, unable to see me in this state. Even the doctor we consulted said there was nothing much that could be done, so we just came back home. I feel like all the doors have closed on me." - Jhumita.
Concerned and sympathetic well-wishers have never made her feel discomforted
While most people with her condition are mocked or ostracised by society, Jhumita has never been subjected to any such mistreatment, as her neighbours are sympathetic towards her ailment.
"I have not been made fun of. On the contrary, some people cry after seeing my condition. Children are mostly scared to see my leg. A child once fainted after seeing me. Some adults also get scared, yet they don't mock me or pass rude comments. But, they would say things like, 'She may not live very long', mostly because they are concerned about me." - Jhumita

Multiple surgeries and supportive treatment can turn her life around
Jhumita will need to undergo staged surgeries to debulk the lymphedematous structures in the initial period. Skin resurfacing knee-down would be required as the present skin has thickened beyond repair. The period for the surgeries would last about one year, in multiple admissions. Jhumita will also require lifelong compressions by compression garments.
All these procedures and treatment cycles will cost INR 35 lakh, which is an unimaginable amount for her family to afford. Sanjay, Jhumita's brother and the primary breadwinner earns INR 1,000 to INR 1,500 a month, by working as a field labourer. Jhumita, who is currently bed ridden, used to work in the fields, before the disease took control over her. Her father's untimely demise also hampered Jhumita's academics. Currently, her family has a tough time making ends meet, so to provide for Jhumita's medical expenses is something beyond their reach.
"Our opportunities are very less here. I thought of going somewhere else, but I cannot because of my sister's condition. I am constantly thinking about her, even while working. I go to the field but am always worrying about my sister. I find it difficult to focus." - Sanjay, brother
"We are a poor family, and have no one to help us in times of difficulty. I have no way to even afford treatment for myself. I endure so much pain and just want this suffering to end. I know there are kind people out there that help others overcome their health conditions. Please help me as well, I will be very grateful to you." - Jhumita
With your help Jhumita will be able to walk again and can look forward to a happy life.