We need your help in Establishing India's First INtegrated SPInal REhabilitation Centre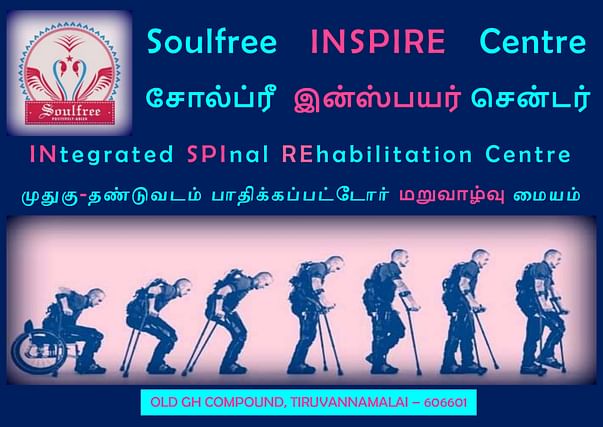 LOCATION:
Thiruvannamalai, Tamil Nadu | AREA: 20,000 ft²
NEED:
INR 2 Crores | TOWARDS: Construction, Medical Equipment Purchase, Op Ex
Soulfree is a public charitable trust that was born out of dire need. Through the experience of being a quadriplegic, I have been given the blessing of working for this largely invisible segment of society. I humbly request you to take The time to weigh the impact of our work:
OUR VISION
To improve the quality-of-life of persons living with permanent paralysis due to Spinal Cord Injury (SCI) in India, with a special focus on women, children and those living below the line of poverty
OUR MISSION
To provide Improved opportunities in medical rehabilitation, education, employment, entrepreneurship, sports and social reintegration
CURRENT PROJECT
To create India's first INSPIRE (INtegrated SPInal REhabilitation) Centre that will empower those with SCI to become as independent as possible through an individualised, holistic treatment program.
AREAS OF WORK
Healthcare | Rehabilitation | Rural Development | Education
Soulfree is unlike any other NGO. It is made
BY the positively-abled – Founded and run by a quadriplegic
OF the positively-abled – 1st preference for employment at centre is for persons with disability and other marginalised segments of society like transgenders. We have already conducted an Employment Drive that was attended by more than 70 positively-abled people
FOR the positively-abled – 1st of its kind in India – Integrated Spinal Rehabilitation Centre
Some success stories here:

https://youtu.be/Os6Ah0-QVvw
https://youtu.be/xj4AR5fyx6Y
https://youtu.be/DeMXAynPAB0

Our focus areas:
Physical conditioning
Mental conditioning
Adaptive conditioning
Family Training
Occupational Therapy
Alternative medicine
Employment and Entrepreneurship programs
Vocational Rehabilitation
Art and Music
Sports and Recreation
Research And Development

We are a completely Transparent Public charitable trust. Quite honestly, we are not a professional outfit – it is deeply personal for us. We are fervently devoted towards ensuring that NOBODY is pushed to commit suicide due to their physical condition.
Budget
For the civil work alone is estimated to be close to 2,00,00,000 (Two Crores) out of which 1.5 Crores have already been raised. Soulfree has been blessed to be supported by some of the most reputed institutions like
Samudhaaya Foundation, headed by renowned Carnatic music icon, Mrs Sudha Raghunathan has been our prime contributor, while
India cements is sponsoring the cement
Nippon Paints is sponsoring the paint requirement
Omega Healthcare Private Limited
Value Labs
The Sundaram Finance and others have also significantly supported our project
With prices skyrocketing and other adversity faced due to the pandemic, we would require around
₹ 6,000,000 towards further civil work
Rupees one crore towards medical and vocational equipment
₹ 4,000,000 towards furnishing and Roofing
Come on, come forward to support us in fulfilling our mission…
* While we can accept donations from NRO accounts, we are unable to accept foreign currency donations at the moment.
* Any excess funds will be maintained in corpus and used for the monthly operational expenditures of the Centre