" She can't eat, she can't talk... She can't even breathe!


This wretched tumor is choking my little girl to death and I'm unable to do anything about it!


Chemotherapy can save her life but... "

— Faizal, unable to be with his daughter in person, breaks down over a phone-call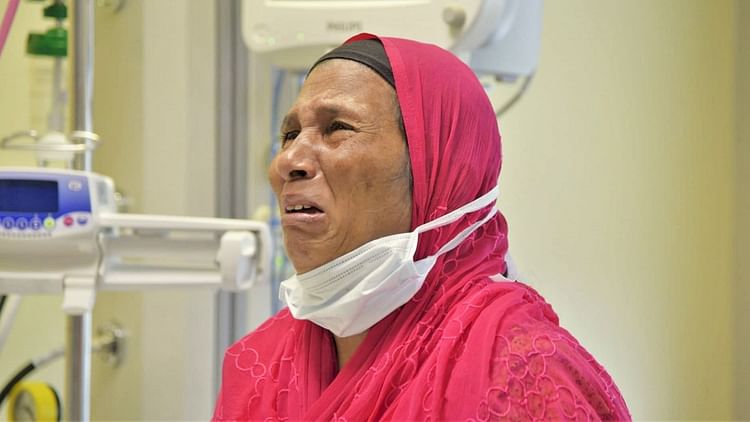 A few weeks ago, when little Aysha's cheek first started swelling, her poor parents hadn't known how drastically their lives were about to change; they had no idea how many sleepless nights filled with tears that the future had in store for them. Local clinics had them believing the swelling was nothing more than a simple infection, no reason to worry at all. But barely a week later the truth was revealed.
"We took her to so many clinics and hospitals but none of the medicines were working. They did test after test, then scans. It was only after an MRI and a biopsy was done that we finally discovered our Aysha is fighting cancer! A dangerous cancer that can kill her any moment!"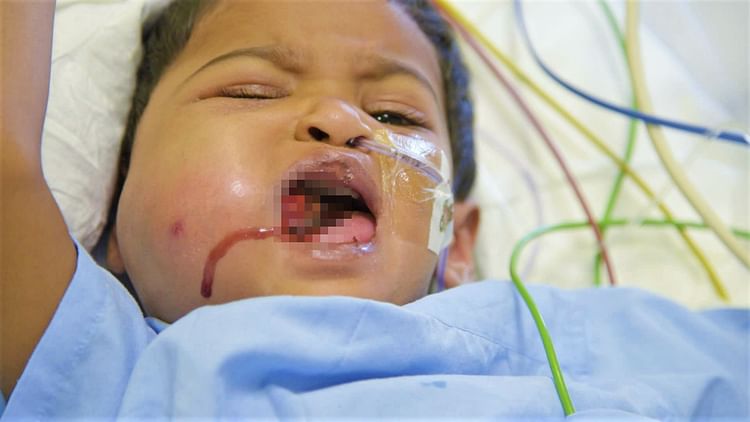 From the size of a fingernail to the size of a cricket ball
"My poor girl is in so much pain. When it started the swelling was much smaller, but as the days went by it just kept growing in size. Soon she was finding it hard to talk properly, and shortly after that she couldn't even breathe without crying from pain. One time the pain was so bad that after hours of crying, she just looked at me and pointed at her mouth with her tiny finger, tears streaming down her face. I could tell she wanted me to fix it, like I fix everything else for her, but all I could do was hold her in my arms and cry with her! I'm her mother, I'm supposed to be able to take my baby girl's pain away but I... I just can't! I wish Faizal was here but I know he's just trying to arrange the money..."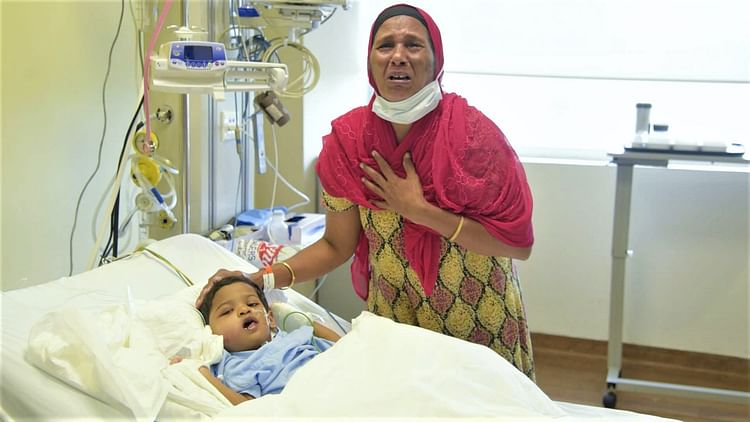 They had to puncture a hole in her throat to keep her alive
Little Aysha has a rare and extremely dangerous form of cancer that's affecting the connective tissues (muscles and fat) near her mouth and neck. Left unchecked, it will eventually kill her, draining her of all energy over the next few days until she goes to sleep and never wakes up again. But infinitely worse is the possibility that the actual physical mass of the tumor itself could choke this poor baby to death, her last few moments on earth spent gasping for air in vain. Doctors have punctured a hole in her throat for now to let her breathe, and even feeding her is done through tubes. But these are temporary measures; only extensive chemotherapy and radiation can permanently cure her.
Her dad is just an auto-driver, he's unable to save her life
"I've barely seen Faizal in days because he's been out begging everyone we know for money. He drives an auto-rickshaw for a living, and this year has already stretched us beyond our breaking point financially. Doctors are saying treatment will cure our Aysha, but all we could afford was a few weeks in the ICU and a single round of chemo! Please, she shouldn't suffer like this, she's a baby! Her 2nd birthday was just 2 days ago and she spent the day unconscious in the ICU, blood constantly dripping out of her mouth because the tumor is now nearly as big as her face! You're our only hope now, please save our daughter..."