"I will not get a disability certificate for my son. He is not handicapped. He has a disease which can be cured with treatment. That's my only request to everybody - to see my son beyond just his inability to walk."- Vinod, father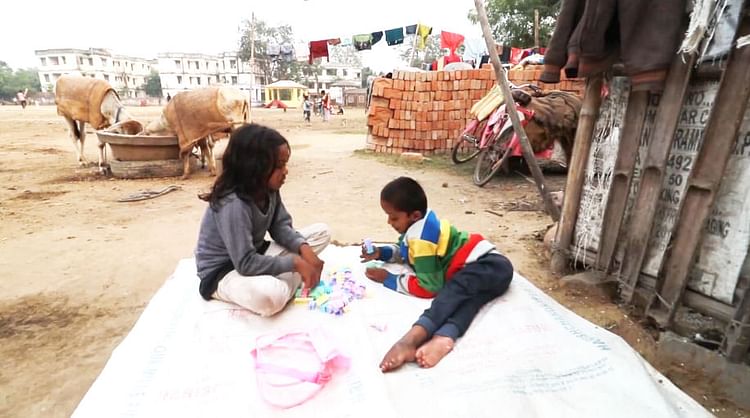 He missed his baby's birth due to financial hardships
Just an hour before delivery, Kajal's ultrasound was absolutely normal and she was waiting to welcome her baby boy anytime soon.
Her husband Vinod is a daily wage labourer and was working when he got a call about Kajal's labour. But he couldn't leave his work because that meant his pay for the day wouldn't be given. When Vinod held his son, he felt a swelling at his back. Assuming it to be pox, they waited for a few days while celebrating their son's arrival.

As days passed, things began getting worrisome. After consulting a lot of doctors, it was finally confirmed that
Ashish was born with a rare spinal cord deformity that had paralysed him from below his waist.
It's been 6 years but he still can't utter sentences and suffers from urine incontinence. He requires surgery and PICU care after which his normal bodily functions would be hopefully restored.

"Ashish is so mischievous that he keeps gliding on the road, bruising himself all the time. I'd always complain to my husband to get him a wheelchair but after knowing the cost, I never questioned him again. I just put a mat to prevent him from hurting. I shout at Ashish too but he is so jovial that he just laughs it off. His spirit remains undeterred always. His broken words - 'Mummy ab main bada ho gaya hoon' (Mom, I have grown up now) completely makes me forget my anger."- Kajal, mother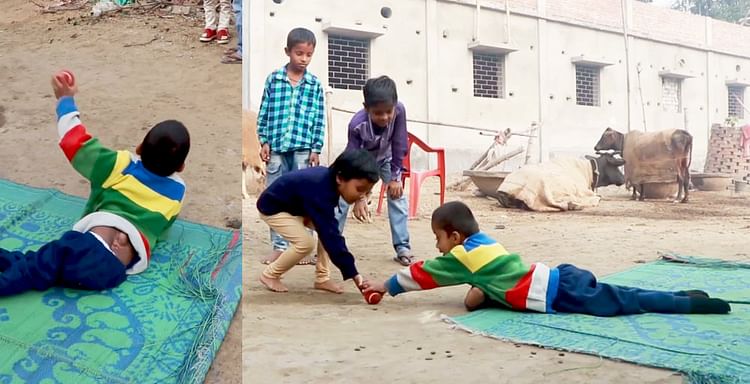 He can't walk so his world is just the four walls of his house
Like other boys of his age, Ashish is a fan of cricket, volleyball and football. He would take his medicines only after his father promised him to take him to the Railway ground to watch other kids play these matches. Sometimes his demands are so basic that it upsets Vinod and Kajal for refusing it for his safety.
"I put two sticks and made a football goal post for him outside our house. It hurts me to see him throw the ball with his hand while crawling the road but he never complains. He has befriended our goats and named them too but I'm always worried whenever he gets too close to them as they might kick or hurt him. He finds joy in the simplest of things within the four walls of our house."- Vinod, father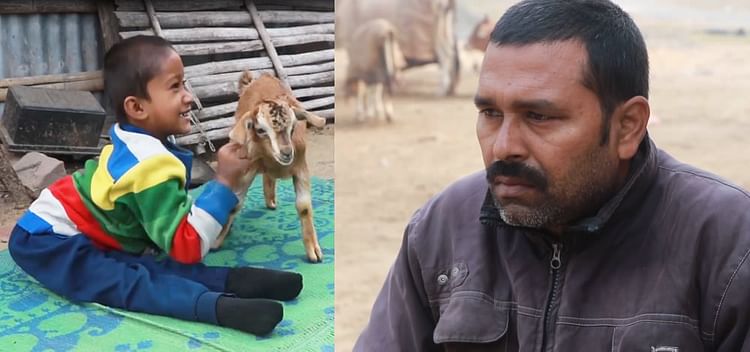 Ashish has two fathers but both of them are struggling to save him
Every time Vinod tries to save for Ashish's treatment to the best of his ability but it gets difficult when he has 3 kids and a wife to fend for.
Ashish needs diapers daily due to his urine leakage issue and that costs Vinod more than his daily income. Once when he failed to afford the diapers, Ashish had rashes and an infection hurting him all over.
Vinod's childhood friend, Ram, has been his backbone in such a way that Ashish calls him
'father'
too. When Ram held Ashish for the first time, he instantly formed a bond he can't describe in words.
From that day on, he has taken it on him personally to protect Ashish and be his Godfather. But hailing from the village despite his best intentions, he can never save enough to get a

surgery worth 20 lakhs for Ashish.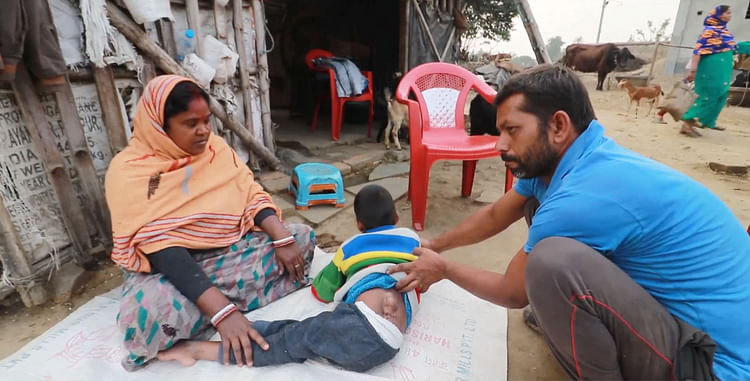 "OT se lekar Godh tak yeh bacha hamare saath raha hai. Alag tareeke se isne meri zindagi touch ki hai. Iske bina jeene ka koi sahara nahi rahega ab."- Ram, Ashish's Godfather
(From the OT to his lap, this kid has been with me. He has touched my life in an emotional way and now without him there won't be a purpose to my life).
Ashish needs this surgery as soon as possible, that is the only way he can recover. If they delay then Ashish may not survive for long.
They are giving it their all but without your help, it may not be enough to save Ashish.