My name is Arindam Das and I am here to raise funds for my friend Neeraj Kumar Singh who is 29 years old. He lives in Vellore, Tamil Nadu with his parents.
He has been a patient of
Chronic Kidney Disease (CKD)
since 2013 for which he had to undergo his first kidney transplant at Christian Medical College (CMC), Vellore in 2013. However, due to his extremely high level of creatinine, he has been on dialysis since February 2020.
With end stage of kidney failure, now he has to undergo kidney transplant second time.
He is employed in an IT company in Chennai, Tamil Nadu. Monthly salary from his employer is the only source of income he has. But his regular medical expenses are exceedingly high that leaves no amount unspent. Hence it becomes unthinkable for him to make enough savings for his second transplant. In the last year, he had been hospitalized two times that made him financially more damaged.
Neeraj needs INR 10,00,000.00 for his kidney transplant which he and his family are unable to arrange.
Kidney transplant is the only life-saving option for him and it has to be done at the earliest as it is always very risky to be on hemodialysis for a longer time where he is already on this since more than a year now.
I, on behalf of my friend and his family, request everyone to come forward and support this cause. Any contribution of any amount will save a life. Please be a part of this campaign and share this with your friends and family.
Neeraj is an alumnus of Sainik School Tilaiya (2002-2009), Magadh House. His father, Ganesh Pd Singh, is a retired staff from Sainik School Tilaiya (1963-2016).
His well-wishers are requested to circulate the below posters at all possible social networking platforms.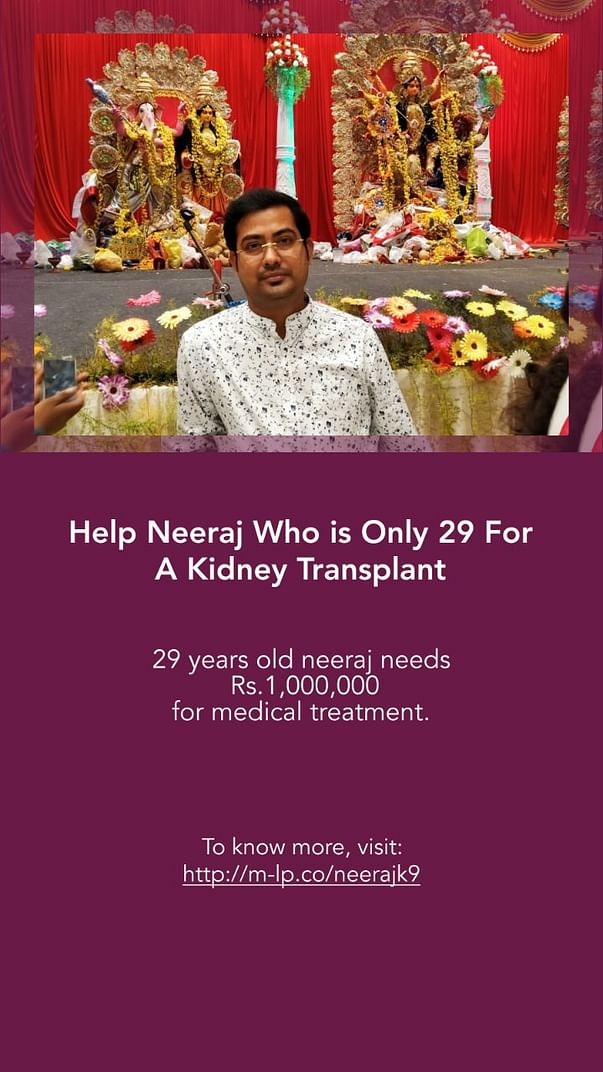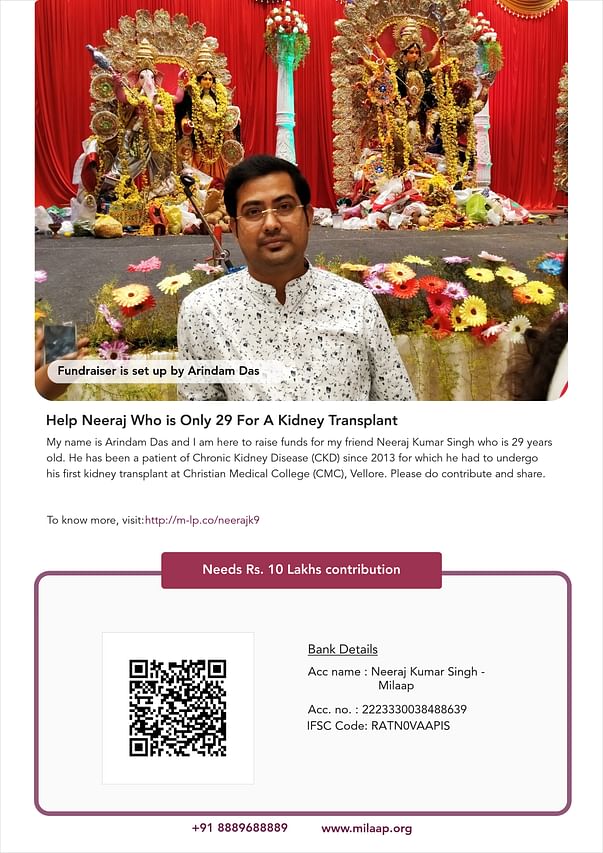 "Let us stand together to make someone stronger,
let us fight together to make someone winner....!"
For any query or clarification, please write to mr.arindam.das@gmail.com