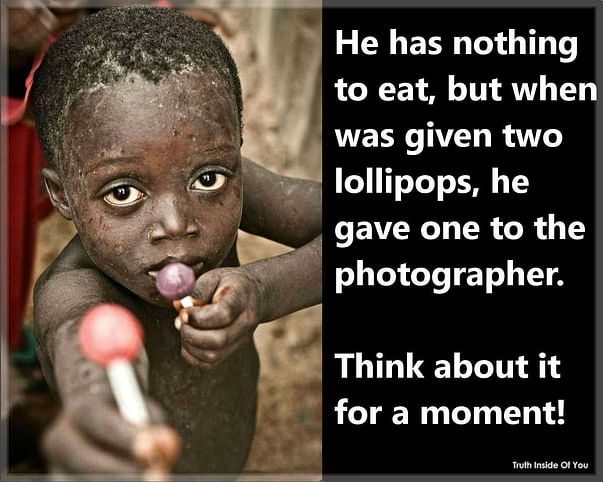 Even when you have almost nothing, there is still something you can share. This is the true joy of giving. This is what a true sacrifice is, to do whatever you can despite your circumstances.
In India as well as in other countries across the world Covid-19 is spreading like wildfire. Even the richest of the countries in the world are finding it tough to put in place the infrastructure that is required to contain the impact of this crisis.
Don't you think we can collectively do something to make a difference in these difficult times?
We as students do not earn money, however we do spend quite a lot on ourselves, be it on our birthdays, or going out with friends. Some of us even get pocket money or money from our relatives on different occasions
Are we prepared to SACRIFICE some of these small things to contribute to something much BIGGER than ourselves?
It doesn't matter how much you can give. It is the act of giving whatever you can that carries value.
Don't ask your parents for contributing funds without telling them and PLEDGING what you will be SACRIFICING for it. Now what can you pledge? You may pledge:
your birthday celebration
1 month's pocket money
A new video game that you wanted
Any small thing!
So I urge each and everyone in the student community to contribute whatever they can.
About Covid India Initiative:
Covid India Initiative is a volunteer-driven disaster management group started on Mar 22, 2020. The voluntary group consists of technocrats, academicians, medical practitioners, emergency and critical care doctors, biomedical engineers, social workers, startup founders, and corporate leaders from IITs, IIMs, The Institute of Chartered Accountants, Stanford, St. Stephens, Academia and many other premier institutions across the world, who are committed to lend their shoulder for the country in its fight against Covid-19
Further information can be seen on their page:
Facebook https://www.facebook.com/covidindiainitiative/
LinkedIn https://www.linkedin.com/company/covid-india-initiative
Twitter https://twitter.com/CovidIndiaInit
Fundraiser by students of Shiv Nadar School Gurgaon:
Aryan Verma, Gariman Sharma, Seeya Kapur, Siddharth Mehrish