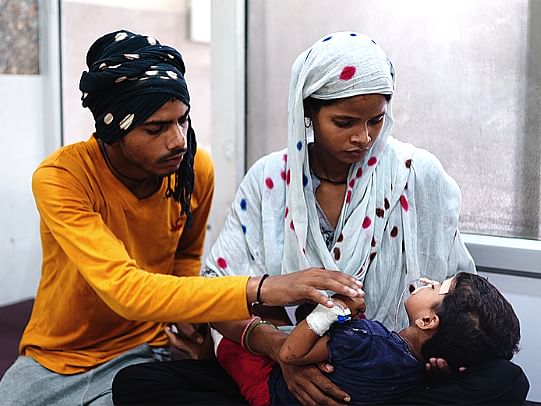 "We never imagined that a small accident would turn our lives upside down. It's heartbreaking to see our little daughter lying on a hospital bed, unable to walk, eat or speak. We feel helpless seeing our baby suffering so much. The treatment cost is far beyond our reach, and with each passing day, we are filled with more and more dread at the thought of something terrible happening to her. We need urgent financial support to save her, else it will be too late, and we might lose her."
- Lokesh and Pooja, Prachi's parents
Prachi is a lovely and energetic 3-year-old, whose birth filled Lokesh and Pooja's life with colour. But a recent tragic accident changed this family's life in the blink of an eye.
Prachi had been riding her bicycle, when the little girl lost control and fell into a ditch
.
She landed on a bed of rocks, injuring her leg in the process
. However, the extent of her injuries wasn't known until they found out that
her brain has been affected, while her whole body has become numb. Her reflexes are gone, and she has been bedridden
for the past few days.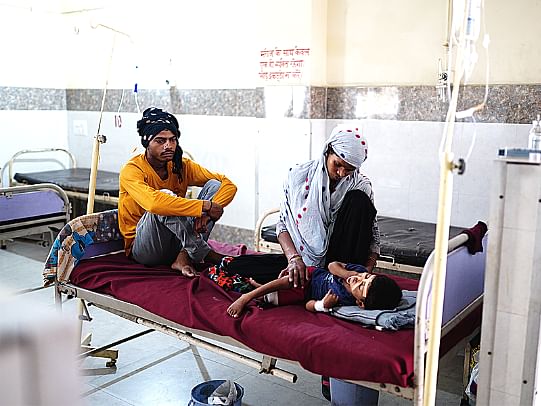 Prachi is currently in the hospital and the doctors treating her have advised that she undergo some major surgeries to recover. But that requires funds - funds that her parents can't even imagine gathering. They never knew that the reason for their happiness would one day be lying on a hospital bed in such a fragile condition. They don't want to lose her, and they are using every possible means to save her. But they are extremely short on time.

"I can't stop my tears when I see her. Her eyes are not opening. It's been days since I heard her voice. No one should ever be this helpless. It is harrowing to see your world falling apart in front of you. My husband is trying to arrange funds, but we need a lot more." - Pooja, mother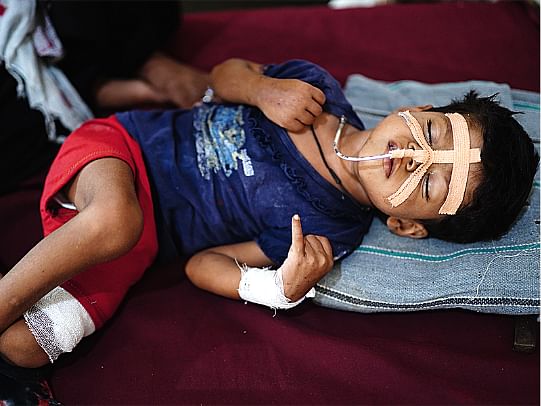 Prachi's father, Lokesh, is a daily wage worker, and her mother, Pooja, is a housewife. After utilizing their savings, they have been left standing empty-handed and are struggling to arrange funds for their daughter's treatment. They have been shuffling from one hospital to another hoping to get help for their daughter. Prachi has been in the hospital for several days now and is showing no signs of improvement, yet. With the daily expenditure and hospital bills piling up, her father's worries have also multiplied.

"I'm just a daily wager, working on other people's farms. I took my daughter to a local hospital after the accident, and the doctor gave me ten days worth of medicine which had no effect on her. She ran a high fever and her condition worsened as it reached her brain. Now, with no money in our hands, we struggle to even eat one meal a day. How will I save my daughter?" - Lokesh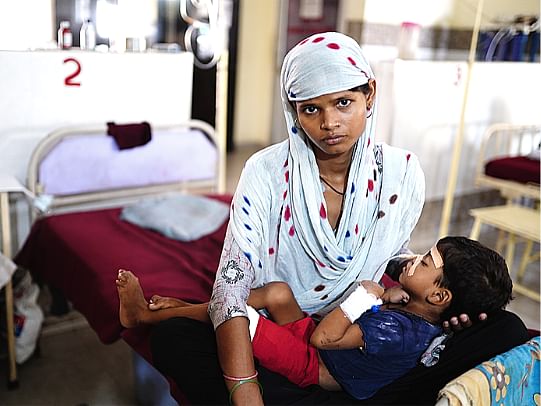 Her parents are struggling to save her and requesting your help. A generous contribution from kind-hearted people like you can bring happiness to their family, by giving their little angel a new life. Please support this little angel in all possible ways.



Project Global Cure
Project Global Cure is an initiative of the "Humanity Welfare Council" to transform health globally.
Please note that we raise financial support for financially fragile, debt-ridden people with no social support during medical emergencies. We at Project Global Cure raise funds only through Milaap to maintain our work's legitimacy and transparency. We do not use any other platform for raising funds. If found, please report to us at
helpdesk@projectglobalcure.org.Warm Regards,
Team Project Global Cure
Humanity Welfare Council