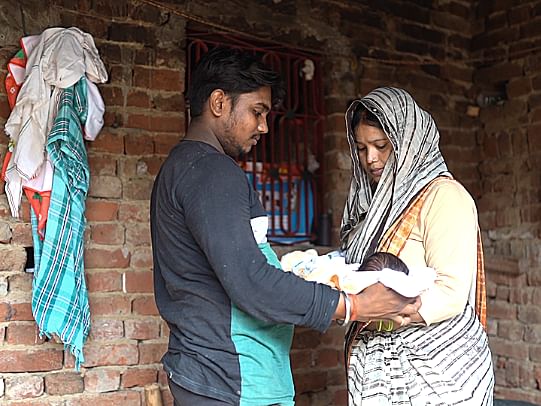 "I had been waiting for the past 9 months for my child, and that day I was thrilled. I was in the factory when I learned that my wife had gone into labour, and I ran to the hospital where they took her. But when we held our baby for the first time, we realised that he is not normal like other newborns. It is very painful to see my child in this condition." - cries Rahul, father of baby Samyak, for help.

Rahul and Ruby are a young couple, and Baby Samyak is their first child. But since his birth, they haven't spent a single day as a happy family. Rahul works as a labourer in a factory earning between Rs 5000 - Rs 6000 per month and Ruby is a homemaker.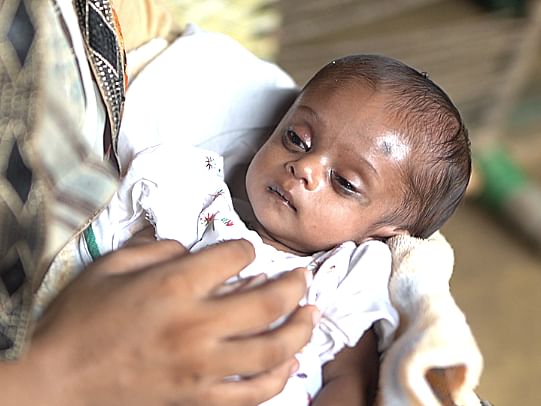 Baby Samyak is suffering from Colpocephaly, a rare disorder where the size of his cerebrum (part of the brain) is bigger than average, and there is even a hole in his spinal cord. The doctors have suggested that with timely medical treatment and multiple surgeries, baby Samyak will be as healthy as other children, his age.
"I want to play with him and spend time with him. Since his birth, we have been running from one hospital to another. I could not even feed him by myself as his medical condition is disturbing, and we are trying everything to save him. He needs immediate surgery." - Ruby, mother of baby Samyak.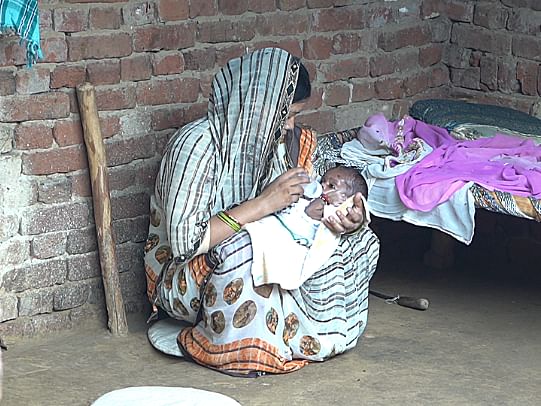 Baby Samyak has multiple issues, and the doctors has suggested that they he has to undergo some major surgeries. The treatment cost could be anywhere between INR 25 - 30 lakhs, and the couple can't afford it. The funds required for the treatment is an unimaginable amount for the parents of baby Samyak.

"I have sold my bike for his treatment. He is my first child. We believe in God. He gifted us our first child, and he will indeed find a way to help us. I won't give up at any cost. I will do anything to save him, even at the expense of my own life. I am running out of funds as I have already borrowed sixty thousand from the market, and it is impossible for me to arrange more. Please help us save our child." - requests Rahul, with folded hands.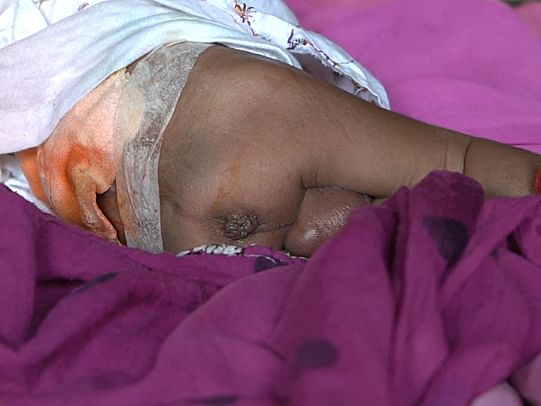 We can save Baby Samyak, but we will need your support. Rahul and Ruby are not alone in this situation. Let's give them a helping hand and bless them with a happy and healthy future together. Your generosity can provide them with a reason to live again and retain their belief in humanity.

We request you to please support Baby Samyak in all possible ways.
Project Global Cure -

Project Global Cure is an initiative of the "Humanity Welfare Council" to transform health globally.
Please note that we raise financial support for financially fragile, debt-ridden people with no social support during medical emergencies. We at Project Global Cure raise funds only through Milaap to maintain our work's legitimacy and transparency. We do not use any other platform for raising funds. If found, please report to us at
helpdesk@projectglobalcure.org
.
Warm Regards,
Team Global Cure
Humanity Welfare Council