Hi everyone, we are here to raise and support Corona Affected families, who are in real needs. Our initiative is to help the families and who are suffering from this pandemic situation. To support the financial situation. As Most people are losing the main breadwinner of the family.
A severe second wave of COVID-19 is sweeping across India and the country's healthcare system is overwhelmed. The number of new cases is crossing 300,000 every day and the death toll is increasing which touched 2761 on Saturday, May 18. With more than 2.6 million active cases in the country, hospitals are struggling to accommodate new patients and an acute shortage of hospital beds, ventilators and oxygen are causing serious stress all over the nation. And there are many loved ones where we are losing day by day, We need to support their family by helping them in all ways.
It has never been worse, the situation and people are crying for help and support. Now is the time to stand up for humanity and help us raise some funds for the CORONA-affected families in India for the people and also support for their kid's education and mainly support for the Medications and further financial support, so that they can have a chance of survival.
I am a resident of Hyderabad and wanted to help 200 families and take all their future expenses and support them financially.
WE NEED HELP AND WE NEED IT NOW
! Please donate the funds that are totally and directly going to be used to provide medical care for the covid affected families here.
WE AS FAMILY
The campaign stands out to show solidarity and support to covid-19 affected families and children who lost their loved ones, and provide them with their vital needs, survival needs and stand as their backbone. No matter how small or huge come along and be a part of their survival.
Let's unite and be their family.
UTILIZATION OF FUNDS: For the next 6 months We are planning to help all 200 families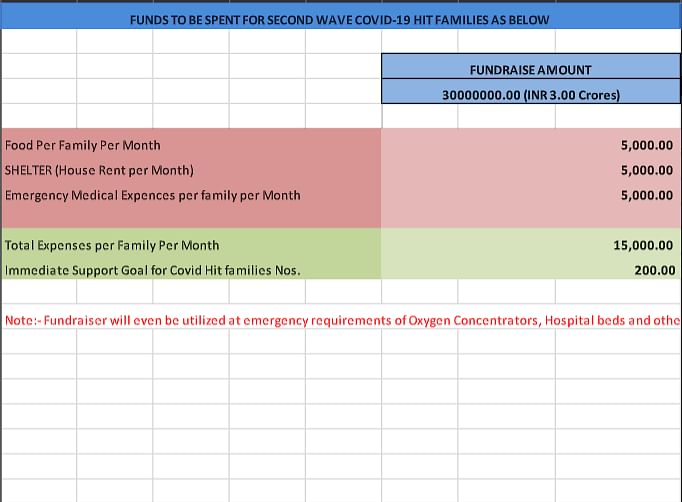 Please come forward to support my cause. Any contribution will be of immense help during this time. Do contribute and share this campaign link with your friends and family. Every rupee is appreciated. 🙏🏼