The aim of conducting this drive is to raise awareness of menstrual health & the welfare of women. Menstrual hygiene has a detrimental effect on girl's and women's schooling, wellbeing & economic potential. As we all know, menstruation is a normal biological process that maintains the female reproductive cycle. Without this process, there would be no ovulation and hence, no reproduction. Unfortunately, this topic remains elusive and is even considered taboo in different parts of the world. In developing countries like India, women have to deal with menstruation secretly. Poverty, gender inequality, and repressive conditioning of women continue to deny access to proper menstrual hygiene products.
In rural India, where the taboo related to menstrual hygiene is even worse; Adolescent girls are forced to leave their school with a fear of public shaming and discomfort. In some situations, sometimes girls drop out of schools at menarche. All this leads to a disturbing condition for women who deal with menstruation without proper aid, as a result of which they put health at risk in periods. Furthermore, they can't touch pickles, sit in religious ceremonies or celebrations, and on top of all, they have to sleep outside their house in a tiny hat, where they are not allowed to move outside or talk to any passer-by.
According to BBC Magazine,
around 70 % of the reproductive infections in Indian women occur due to poor menstrual hygiene. There are grave health risks in periods if adequate sanitary measures are not taken. Some of the 5 health risks that can result from poor Menstrual Hygiene are:
Infection of Reproductive Tract
Urinary Tract Infection
Yeast Infections
Hepatitis B Infection
Increased Risk of Cervical Cancer
At
Scope for Change
, we believe that no woman should live with the shame of menstruation or suffer in silence. The spread of menstrual awareness and hygienic product usage to deal with menstruation are the best ways to avoid health risks during periods.
The reason for initiating this drive are multi-fold, namely:
Safety of women.
Raising voice against abuse.
To live a healthy lifestyle
Importance of sanitary pads
Educating women so that they can educate their child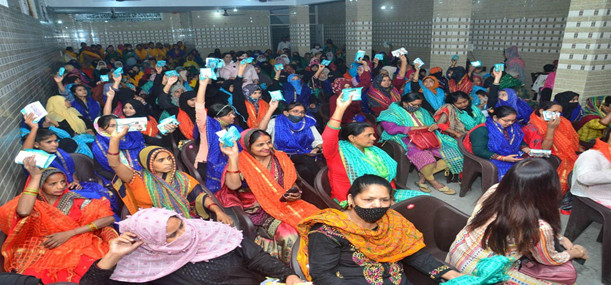 We are pleased to share that
Scope of Change
contributed at a recent event by making
250 Sanitary pads packets (6 each) (Biodegradable product)
for these young girls and women. At the event, we distributed these packets for free.
Biodegradable sanitary pads were our first choice due to the following reasons:
Recommended by Gynecologists
Maintain basic hygiene.
Cleanliness or not harmful for reproductive parts.
Plastic-free product.
Chemical-free.
No Release of Dioxin
We at
Scope of change
actively search for innovative ideas. We aim to create an impact on the community. Thus, we seek for your support to make it possible!
Some glimpse of our upcoming drives:
Doctors will impart knowledge to women about menstrual hygiene and its importance for their healthy future.
Providing refreshments to the attendees.
Doling sanitary packets for free with the guidance of using them correctly.
Cost Estimation:
The cost of 1 Bio-degradable sanitary pad packet is Rs 60. Our target is to distribute 1000 packets. Thus, the total cost = Rs 60,000.
The cost of 1 Refreshment packet is Rs 30. The total cost of a refreshment packet for 1000 attendees is Rs 30,000.
The total event management cost will be Rs 10,000.
Reasons for supporting the campaign:
To make the best and authentic knowledge reachable to the women. We will be collaborating with Doctors to conduct such events successfully.
Your contribution will enable us to continue our supply of biodegradable pads at a zero cost.