About me

Hi. I am Sudeep. I am a Dalit artist and I create commission work in form of portraits. I am learning to venture into sociopolitical artworks which expose the dire state of the lives of the marginalised masses.
You can see my work here - instagram.com/sudeep1.6

After school, I got admission to a Delhi college but had to drop out due to financial constraints. During the Covid crisis, I have fallen behind on my rent and have a lot of debt that I am struggling to clear. This is where I hope you will be able to help me.

My work and art
Seven years ago. I accidentally started creating art and realised I was good at it after randomly posted my work on Instagram. People told me it is a legitimate profession and one can earn decently from it.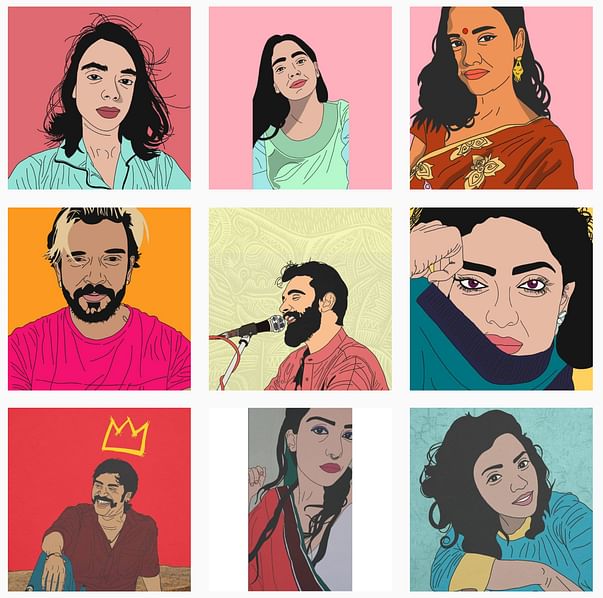 All my life I have done part-time jobs like cashier, loader, insurance agent, etc. and have never really earned enough to sustain my family until now.
Through my art, I finally got an opportunity to escape my familial poverty and have a respectable earning. However, I still have crippling debt that I am unable to pay off.
It is also hard for me to get the tools needed to build my business. I don't have a computer. I make digital art using my phone so the quality is not optimum and the artwork size remains limited. It takes me almost a day to complete a single portrait because of my slow phone and low processing power. I am barely able to make two artworks a day. Because of this, getting more work is hard.
I am hoping that with this fundraiser, I will be able to buy the equipment I need, clear my debt and use my earnings from my art to build a good, economically prosperous life for my family and me.The breakup of funds neededA) Buy a computer, Wacom device and get a stable internet connection needed to set up my business as a graphic designer. (~Rs. 112,000/$1550)

B) Clear my debt to the bank and pay off rent (~Rs. 396,000/$5500)How I am trying to beat the odds
My Dalit identity and the history of our oppression constricts my access to resources. During the first lockdown, I lost everything I had built in all these years because anything we build is so fragile that it crumbles at the outset of any crisis.
During the second wave of Covid-19, a lot of my neighbours in my village lost their loved ones because they didn't have access to healthcare. These social media SOS calls don't go to our villages, for us sickness translates into a loss of every last shred of our subsistence. Back there we don't have doctors, healthcare centres or the representation on prime time to convey our pathetic situation.
My relatives lost their animals due to some unknown diseases, lost their means of livelihood and sustenance. With my work as a Dalit artist, I intend to convey the invisible reality of the margins in the mainstream. I also wish to make journalistic videos highlighting the state of the DBA communities and pursue journalism academically.

My message to you
Thank you so much for considering donating. Even a small amount will go a long way.
If you are unable to donate, please follow me on Instagram (https://www.instagram.com/sudeep1.6/) and consider sharing this fundraiser on your Instagram or Facebook! Any help counts!
Thank you!
Sudeep