The recent resurgence of COVID-19 cases has left my hometown, Delhi, in a situation of panic and helplessness. Just today (Apr 27th 2021), India recorded 320k new cases with 115 people dying per hour, and the future is looking bleak. Delhi is in many ways the epicentre of this latest outbreak.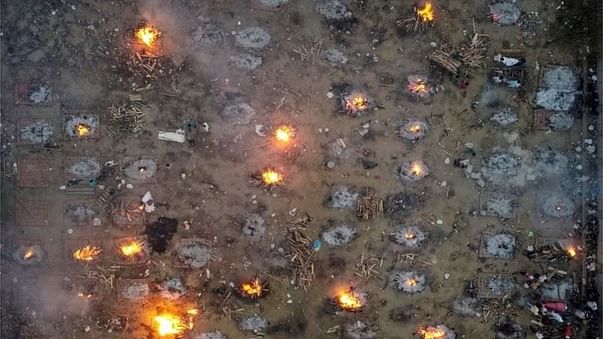 Mass funerals have begun in Delhi as crematoriums run out of space (Source: BBC / Reuters)
As you read this note, thousands are lining up outside hospitals with severely sick loved ones begging for ICU beds, oxygen cylinders, and attention by a medical expert. More still are dying hungry on the streets as the government has had to impose a lockdown putting halt to all economic activities in a city where a large portion of labour rely on daily wages to makes ends meet. Sadly, even funeral grounds are running out of space.
If you have Indian friends on your social media, stories and posts requesting for the remdesivir injections, ICU beds, oxygen cylinders, would be a common sighting over the last weeks now (see image taken from a BBC article below).
Read this article in the BBC today
that will give you a small peak into the life of a COVID patient and their family currently.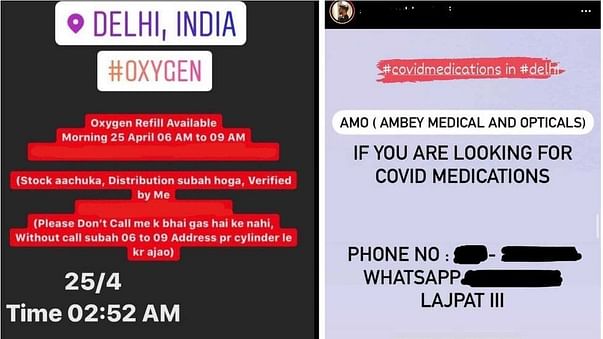 Each morning we are waking up to social media flooded with requests and offers to help (Source: BBC / Instagram)
I am writing to ask for your support. This relief Campaign is being run by Abu Sufiyan, a friend of my family, through his organisation Purani Dilli Walo Ki Baatein in association with Delhi Youth Welfare Association and a dedicated group of volunteers. All expenditure and list of beneficiaries will be posted transparently.
The funds are currently being used for the following purposes in Delhi and the National Capital Region:
Oxygen cylinders
Oxygen concentrators
Arrangement of plasma for patient treatment
Food delivery service to affected patients
Food for the homeless
If you have any questions about this campaign, please feel free to reach out directly to me (
Abhijai Garg - abhijai.garg@gmail.com
) or to the organisers of the campaign (
Instagram
:
@puranidilliwaley
,
Email
: buzzme@abusufiyan.in).
Every little contribution will make a huge difference and can save a life.
More details on the organisation and their work below.
Keeping track of beneficiaries
The team are maintaining a record of each beneficiary with all the necessary details, to ensure that the help has reached the right person.
Each beneficiary is being asked to fill out a declaration form along with their AADHAR card (national ID) to ensure that the aid is not directed to a single person or a single group of people. Check out the images on their social media pages for daily updates of your donations. (Instagram:
@puranidilliwaley
)
Press coverage of previous COVID relief work done by this organisation:Previous COVID relief fund raisers run by this organisation:
Background on organisers and the organisation
Purani Dilli Walo Ki Baatein (
@puranidilliwaley
) is the biggest online community-based in old Delhi working on art, culture, lifestyle and social intervention whenever it's possible through their network.
The organisation is lead by Abu Sufiyan who's an engineer, entrepreneur and community leader who have got a track record of leading the community through crisis. He is known for his role as founder of Purani Dilli Walo Ki Baatein and heading Delhipedia. He's a member of the Delhi Youth Welfare Association.
All the financial management and transparency will be managed by Delhi Youth Welfare Association. DYWA was born in December 1990. The team scrutinized all the hindrances that were accountable for the low standard of education in the walled city and started working on eradication of such deterrents for students.
The fundamental aim of this organization is to improve the educational values/standards of the historical walled city. It is engaged in the promotion of the education and social development and upliftment of the people belonging to the lower-income group, irrespective of any sex, creed, religion, caste or class.
DYWA takes several sincere steps to sensitize and enlighten the masses towards the significance of education not only to equip the underprivileged sections of the society but also to provide the wings to unleash all their shackles. Our association has adopted 15 children and has financed their studies completely so that financial crunches cannot hamper their aspirations to achieve their goals in life. As a part of its customary practice, DYWA distributes free course material, provides coaching and educational assistance, facilitates the students to opt for the best career option by providing career counselling sessions and also provides constant motivation and encouragement to the children.
Delhi Youth Welfare Association
1336, Pahadi Imli, Churi Walan, Jama Masjid, Delhi -110006
Email: Buzzme@abusufiyan.in
Contact: 9643533224
Tax exemption details
# All the donations are exempted under 80G. 12 A certified