I am Deeksha Dhawan. I am the founder of a youth organization, STEM For Femme. I am a sixteen year old student and I am interested in everything which catches my eye. I am passionate about art and science and I believe that everyone, no matter what gender, age, and origin, should be able to learn things they yearn to.
Gadgatshala like STEM For Femme encourages equality in the sphere of education among people. I wish to help young minds find their calling and encourage equal representation in every profession.
STEM stands for science, technology, engineering, and mathematics. Women account for only 29% of the total STEM workforce. Whether it is the acute underrepresentation of women in STEM fields or people's uncertainty and doubts about the STEM domains, I wish to tackle them all.
I support Hamari Pahchan's project, Gadgetshala.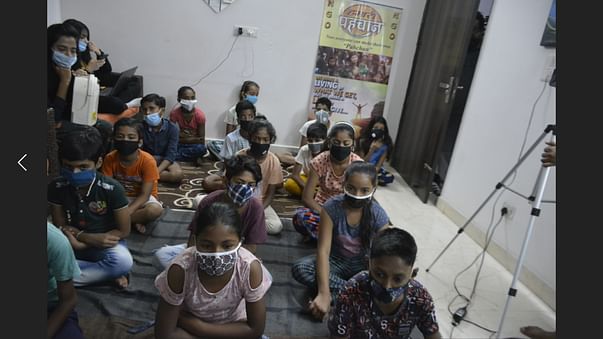 Through the means of " GADGETSHALA ", Hamari Pahchan intends to shift to a mode of online learning,
accessible through gadgets such as mobile phones, tablets, and laptops. Furthermore, they have
distributed textbooks, notebooks, and other stationery essentials, doing our best to ensure all
have accessibility to elementary levels of education.
Underprivileged students are not able to attend their
online classes. There are no proper facilities for the same. Now everyone has come forward with
an urgent need for action because those students can't afford more loss to their academics.
Looking forward to making the facility of internet and virtual education available to every
child residing in slum areas or being deprived of basic education.
Hamari Pahchan has enabled a few areas with internet facilities. They plan to establish:
1. Internet facilities
2. Smart gadgets like mobile phones, laptops, and computers.
3. A mobile van to make this " GADGETSHALA" accessible in various areas.
4. Your valuable time to teach these children.
1 Laptop costs around Rs. 25,000.
1 Tablet costs around Rs. 10,000.
1 Computer costs around Rs. 25000
1 Mobile Van costs around Rs. 5,00,000
They are aiming to provide a full library to these students equipped with gadgets.
I hope people understand the need to provide choices to everyone. Everyone should be provided with resources and knowledge as its one of their basic right. I want everyone to support the idea of education for all and do everything in their power to attain it. We hope to maintain and broaden the
scope of this belief through this project. We might not be able to sponsor a student's phone or
laptop on our own, but even if each of us contributes a small amount of Rs.1000 or Rs.500, 100. We can help these students achieve educational stability. With your support, these students will be able to attend classes regularly and will be prepared to take
responsibility for a more educated India.
By doing our part, we are not only assisting a student in obtaining an education, but we are
also encouraging and contributing to our country's bright future.