Spreading love & care for marginalized and vulnerable kids from last 23 years...........

Who we are and What we do
For
23 years
C.F. Andrews Memorial English School
( In the name of famous "
Deen Bandhu
" Charles Freer Andrews, "
Friend of India
" as named by Mahatma Gandhi ) Tharpakhna Ranchi, India - The home place of
Mahendra Singh Dhoni,
has been catering to
the education and health of nearby low-income community
. [
For more about C.F Andrews; https://bit.ly/2Ql881N
]
The school was inaugurated on 7 August 1997 to
cater education for the marginalized
and
vulnerable
sections
of the society with
an affordable fees structure
where they are asked to
pay the fees accordingly to the family income
. There are no compulsion to parents for minimum fee payments.
We have an active program( '
नहे पांव बढ़ते कदम
' )
for specially challenged and differently abled
Children With Special Needs (
CWSN
). Here are glimpses of few of the happy CWSN students -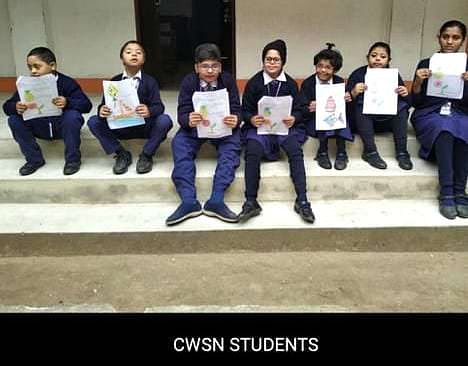 We are very successful to create an

enthusiasm for

Olympiad

events amongst all the students
through participatory training in subjects like
English, Science, Computer and Mathematics
. We are able to improve their
analytical, reasoning, application, and problem-solving skills
for any competitive exams.
( The Olympiads
promote the study of aforementioned subjects to identify the talents and help them to shine in competitive exams for bright careers.
)
What Stopped the school
However, the
limited resources in terms of fees collected came to a halt since mid-April last year 2020
and school overall started
facing financial hardship
. The school's
daily academic and co-curricular activities came to a grinding halt
since 17th March
2020
with statewide lockdown announcement.
In this
adverse global situation and new normal of online education,
even for the basic level, it has really become challenging to carry forward the "
FLAG of EDUCATION
" which we at the C. F. Andrews Memorial English School of Ranchi, India had been following whole heartedly where we believed that any
societal prejudices, superstitions, discriminations, disparities, gender, religion, caste, class, community
and
economic status should not be a hinder for the smart and needy students
.
( pre-pandemic picture )
What Students Need
To win in the next normal, we, the social representative of the school went to the field, spent weeks to identify the top most functional & emotional needs of the student and teacher's which emerged out clear & loud that -
An internet connection and a supported device is must

to access the online classes

for kids of around 100 families

who don't have smartphones yet

.
Out of 214 students we are seeking help for 100 students.as others have been taken care off.
"Fear" and "Sadness" are at present core emotions due to uncertainties to continue their kid's education for digital dependencies.
How Your Money will be used
Any support raised from the campaign will be used in a transparent manner :-
1. For

purchase of mobile phones for online classes

which will be donated to selected 100 students who are not able to buy them.
2. For

providing educational stationeries

to selected 100 students whose families are facing acute financial crisis.
3. To

adjust the gaps in the fees

which stopped coming from students/ families because of

their

crisis.
Your generous support will be provided
now for the dire need of mobile devices
, and internet connections to start online classes for them
who stopped their education or attending online class
.
Subsequent funds will be provided in multiple forms like
scholarships, procurement of educational & podcasting materials, monthly miscellaneous expenses
and so on as we can fulfill the target.

( Some earlier quotations from Mobile vendors are attached in the "Supporting Documents" section below. Due to surge in demand during pandemic, the prices are upwards and need latest quotations before this target completes. )
Visit Our Facebook Page:
https://www.facebook.com/C-F-Andrews-Memorial-English-School-109104003894958/
Thank you very much to all our generous donors and supporters. 💝🙏💐