'We cannot help everyone but everyone can help someone.'

'हम हर किसी की मदद नहीं कर सकते लेकिन हर कोई किसी की मदद कर सकता है'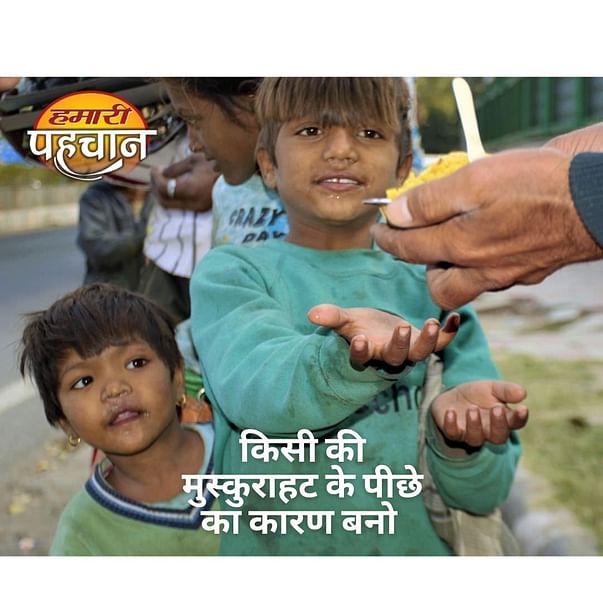 HUNGER CAUSE
I, Ayush Prakash have been associated with Hamari Pehchan NGO as an Volunteer and have discovered various issues going on in our society, our goal is to prevent people who are unable to afford food from sleeping empty stomach.

According to analysis one third of the world's malnourished children live in India their diet often lacks in both quality and quantity, the main problem isn't just malnourishment itself ,its actually aftermath of it like ,Women who suffer from malnutrition are less likely to have healthy babies which may cause deformities in the baby .

Nutrition deficiencies inflict long-term damage to both individuals and society. Compared with their better-fed peers, nutrition-deficient individuals are more likely to have infectious diseases such as pneumonia and tuberculosis, which lead to a higher mortality rate. Besides, nutrition-deficient individuals are less productive at work which is a loss to society.

When people are in a state of poverty, they lack the resources to cover their basic needs such as food and water.

Conflicts and strikes often uproots people from their homes, so food production slows down or completely stops .This also disrupts economies, so markets become unstable. This leaves people who are already vulnerable more susceptible to malnutrition.

For people who live in rural areas and rely on farming and livestock for food and income, the unseasonal climate change, along with food price dropping negatively impact those people as they won't be able afford sufficient food to eat until the next harvesting season comes.

Natural disasters can destroy homes, land, jobs, and markets. Until communities can be rebuilt, people affected by natural disasters are at greater risk for malnutrition as they won't have enough supplies in stock.

Unsafe or scarce water which are not suitable for drinking may cause disease and dehydrated enough for the people to lose their life and without access to safe water, crops can't grow healthy which will result in people not staying healthy.

And for this to happen we at Hamari Pehchan NGO distribute monthly ration to those in need:
Basic necessities for 1 family : Rs.2199/-
Basic necessities for 10 family : Rs.21990/-
Basic necessities for 35 family : Rs.76965/-

So, let's join our hands together for a good cause.
Ration for 1 family includes:
( Three types of Pulses, Rice, Atta, Eggs, Tea, Sanitary Pads, Soap, Shampoo, Cloth and Utensils washing powder)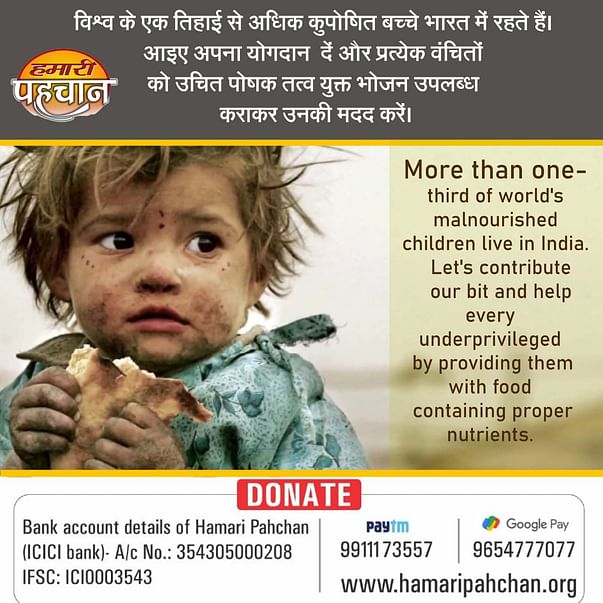 No amount is big or small, it's the contribution that matters! You can donate for a one time meal i.e. Rs.50/-
If you have any queries then reach out to me: shruti.hamaripahchan@gmail.com