'We cannot help everyone but everyone can help someone'
हम हर किसी की मदद नहीं कर सकते लेकिन हर कोई किसी की मदद कर सकता है.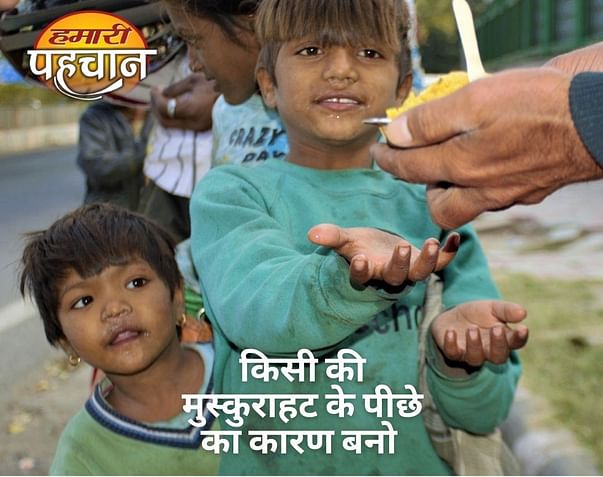 The major cause of hunger is inequality due to social status and lack of access to facilities. India is one of the highest-ranking countries in the world for the most number of people suffering from hunger.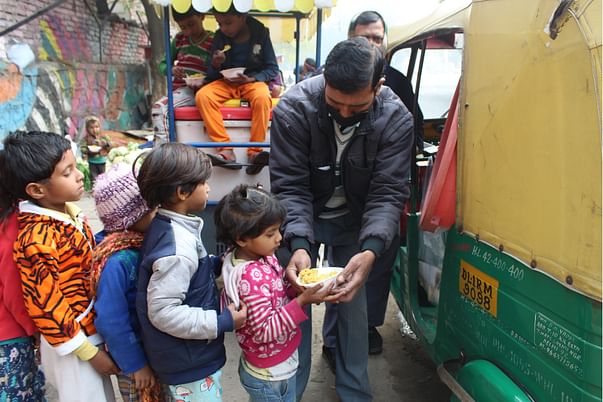 Today, 690 million people around the world go to bed on an empty stomach. Often, one meal at the right time is enough to make a difference between life and death.

I am Anurag Shrikar, student of St. Columba's School, Delhi and I am part of the

Internship Programme of the N.G.O. "Hamari Pechchan". I am participating in the fund-
raising activity for the N.G.O.'s Malnutrition Project which focusses on the serious social

issue of hunger and malnutrition in the slum areas of our city. I want to ensure that at least ten
families are provided with their daily meals. As a concerned and responsible student and future
citizen of our country I want to help those in need and try to provide nutritious and wholesome
meals to prevent starvation and health risks for the members of these families, specially the
children.
It is really shocking and disturbing to know the extent and impact of the menace of poverty
related hunger and malnutrition in our world in general and our country in particular. In a world
where we produce enough food to feed everyone eradicating hunger and malnutrition is still
one of the greatest challenges of our time. As per the UN statistics, around 69 crore people
around the world go to bed without a meal and suffer from some form of malnutrition. Our
country's 19 crore citizens face this serious problem and unfortunately accounts for one-third
of the world's child malnutrition cases. Each day around 25,000 people, including more than
10,000 children die from hunger. On exploring this social problem of hunger it is quite evident
that poverty, unemployment social inequality and regional conflicts or unrests are the
deterministic causes and the situation in the last two years has worsened due to the COVID-19
global pandemic.
We as aware and responsible individuals cannot sit and observe this miserable and tragic
reality. The ideal human values like compassion, generosity, empathy and kindness are the
need of the hour today. I believe that each and every one can contribute towards the welfare of
our society and share the blessings and mercy of Gods with the less fortunate and needy
brothers and sisters. I hope to make the people around me aware of the plight and struggle for
survival against hunger of the poor and less privileged citizens living in the hundreds of slum
areas in and around Delhi. I have pledged to help and support at least ten such needy families
through the fund raising activity associated with Malnutrition Project of the Delhi based
reputable N.G.O. "Hamari Pahchan" which has been selflessly working since 2012 with the
vision to help everyone in creating their own 'Pahchan' or Identity and live a life with dignity.
To support the basic necessities and food requirements like dry ration, cooked meals and
sanitary products a financial assistance of around Rs. 21,990/- is required. So I humbly appeal
to all to kindly be a part of this "chain of giving" by either generously donating some monetary
help to the cause or at least spreading the word around to maximum number of people and

thereby contribute towards the alleviation of hunger and misery from the lives of at least ten
such families.
I have created my fund raiser on the concerned NGO's website ~
https://milaap.org/fundraisers/AnuragShrikar . I have so far donated Rs. 2199/- only ( Rupees
Two Thousand One Hundred and Ninety –nine only ) which is the amount required for the
support of one under privileged family in the slum areas. I sincerely hope to raise enough funds
to support ten families at least and contribute my efforts towards the eradication of malnutrition
and hunger.

Basic necessities for 1 family: Rs.2199/-
Basic necessities for 10 families: Rs.21990/-
Basic necessities for 35 families: Rs.76965/-

Ration for 1 family includes:
( Three types of Pulses, Rice, Atta, Eggs, Tea, Sanitary Pads, Soap, Shampoo, Cloth, and Utensils washing powder)

No amount is big or small, it's the contribution that matters! You can donate for a one time meal i.e. Rs.50/-