Enabling the Sarangiya Langa folk musician communities as they battle an economic lockdown in rural Rajasthan because of #covid19
Day n : June 14, 2020
Milaap generously allows us to accept funds even though the targeted timeline just passed. Very grateful.
If you would prefer to contribute directly and not through this site, please feel free to contact the campaign manager through these channels :

Email : gatika108 @ protonmail.com
Twitter : @milanntj
Instagram : @milanntj & @gatika108
-----------------------------
Location : Thar Desert, RajasthanDay 0 : April 3, 2020

The Sarangiya Langa are traditional folk musicians who live in a remote village in the desert lands of Barmer, Rajasthan. The covid-19 lockdown left villagers with no time to gather supplies (either food rations or materials for sanitation).

Every child and adult in the village sings or plays at least 2 instruments in the Sarangiya Langa musical tradition, they are exceptionally talented, some of the last masters of the sarangi, algozha and khamaicha instruments. They live in mud houses with thatched roofs, make most utility items for daily use by hand and are mostly self sufficient.
The lockdown conditions have thrown up unforeseen logistical challenges involving movement of people and vehicles, as well as access to supplies as the markets are closed, especially in the desert.
We have a plan to get them through this crisis :
There are a total of 1083 people in two villages, who have nothing to eat and no money to move.
Funds will be used to provide a monthly package of INR 4000/- to 376 family units in the Sarangiya Langa villages of Barmer, to just about last out for the months of April and May 2020.
All funds will go directly to the Sarangiya Langa community, on the call of Mehrudin Langa, the panch ( headman ) of the village, an acclaimed master folk musician himself. We have organised a 10 person team to procure and distribute relief material, while educating villagers on social distancing and sanitation.
Our only chance before the COVID-19 outbreak spreads is to collect food supplies immediately. There is little or no state transport functional currently through the village, villagers are using camels and horses for mid and long range travel. There is only one water source, a well used by both villages.
During earlier natural disasters like the drought and the floods, the Langa managed to survive because of the help of neighbouring communities. This time, restrictions on travel and the complete shut down of the market is making survival difficult without support in Rajasthan.

Feel free to contact the campaign manager here in case you're having trouble making a contribution or for other queries :
Email : gatika108 @ protonmail.com
Twitter : @milanntj
Instagram : @milanntj & @gatika108
---------------------------------
Notes from the Underground ( MAY - JUNE, 2020)
Special note to thank the generosity of all contributors to this campaign.
Thank you for standing up for the dignity of folk artists in India.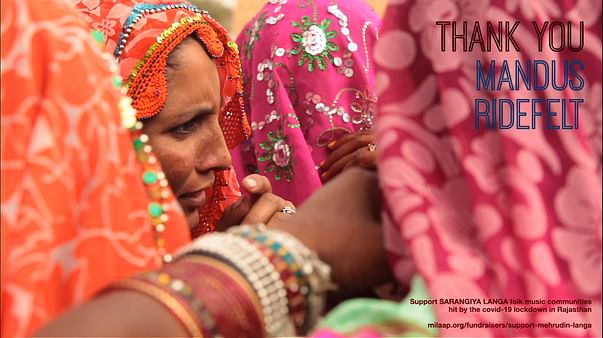 Mandus Ridefelt, thank you for joining in our efforts to reach supplies to the Sarangiya Langa folk musician communities in the desert. You jumped in on the third day! A big hug to you, wherever you are.
__________________________________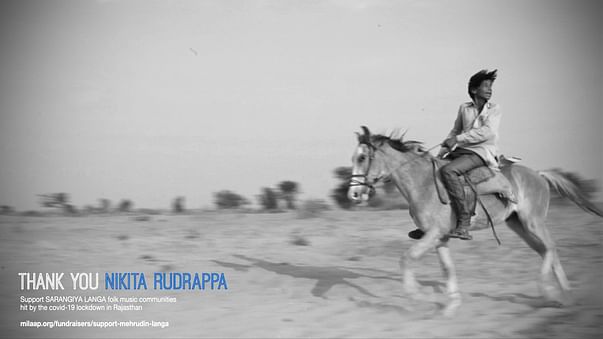 Nikita Rudrappa, was my partner camerawoman, while shooting with the Sarangiya Langa folk musicians in Rajasthan, and it was a great experience complementing each other's cameras, specially because of her gentle working style and imagery. Shooting with children in the desert sun with no assistants, heat-jammed cameras & sand-filled tripods was physically exhausting, but we were often gifted with surprises like these bare-back horsemen we ran into out of nowhere, in the middle of the dunes. Thanks for the contribution, you!

The Sarangiya Langa music we recorded, has travelled to more than 12 international festivals since then. Starting from the back, it was screened 4 days in a row in Montréal, Canada, curated by the Festival La Grande Rencontre.
__________________________________
Thank you for your contribution, Anonymous, the 7th. In solidarity with you, wherever you are. And thank you for your message! :
'May the whole community benefit from this help coming from the different corners of the World. We all depend on each others' solidarity.'
Here's a reply from the Sarangiya Langa community : 'दुनिया में ऐसे बहुत कम लोग हैं जो दूसरों के लिए करते हैं हर कोई अपने लिए करता लेकिन आप हमारे लिए कर रही हो | Great salute.'
__________________________________
Anonymous, the 8th, you are our biggest donor this far, you stepped in on the third day of our journey. Thank you for being a patron of the Sarangiya Langa folk musicians.

Archana Rao, I know you did this, because of the message you sent in, and I Must name you. You also put in 1000$ into providing relief to transgenders in Hyderabad when I sent you the link. I'm stumped for words, thank you for benefiting the lives of so many people, while being under lockdown yourself.

In better times, when the rulers of the land were generous and had poets in their royal council, harvests would be plentiful, song, dance and paintings would flourish, and there would be similar spikes in the study of astronomy, physics, architecture and mathematics.

Seating you at a jharokha jaali on the highest floors of the Mehrangarh palace, with the sounds of a sarinda played by a Sarangiya Langa to keep you company for a moment, the Blue City lies before you. Thank you for looking out for us, princess!

The instrument, sarinda ( also known as the surinda) is found in the area starting from South eastern Iran (where it is known as the ghichek) through Baluchistan right across to east India, the old bustling Silk Roads. It is now quite rare and is played exclusively by the Langa in Western Rajasthan.
#surinda #sarinda #ghichek #silkroute #iran #baluchistan #sindh #patron #bluecity #jharokha #jaali #intangibleculturalheritage
__________________________________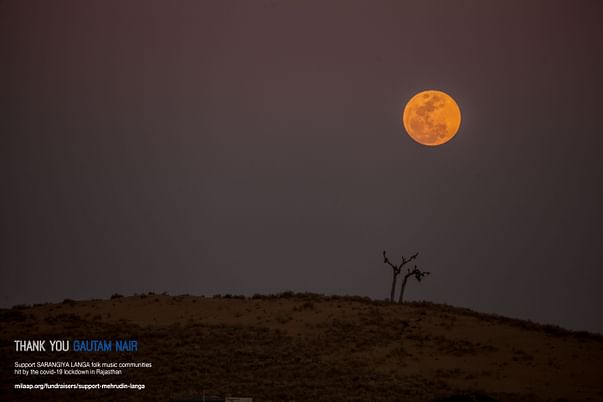 Two moons have passed and migrant labourers are still walking back into the Sarangiya Langa villages in Rajasthan. No end to the hunger-related snowball effect and the total lack of rural journalism reaching urban India .
Want to thank you, Gautam Nair, for your contribution to the musical repertoire of the Sarangiya Langa. Thank you for doing such a stellar job recording and live mixing the Langa music when we were on site, all by yourself. You've seen this moon before. Sound travels.
#soundengineer #fieldrecording #themoon
__________________________________
Fourth tune out on the Sarangiya Langa RADIO!
Jalalo Bilalo is a ballad, a love song about a shape-shifting lover from Oral history.
Being hereditary professional musicians, the Sarangiya Langa are bards who keep and recite genealogies for generations of patrons. Perhaps because they are genealogists, they are able to retain a very complex set of kin relationships, past and present, in their memory.
__________________________________
Carmen sings the Gypsy song
Salvador Dalí, 1968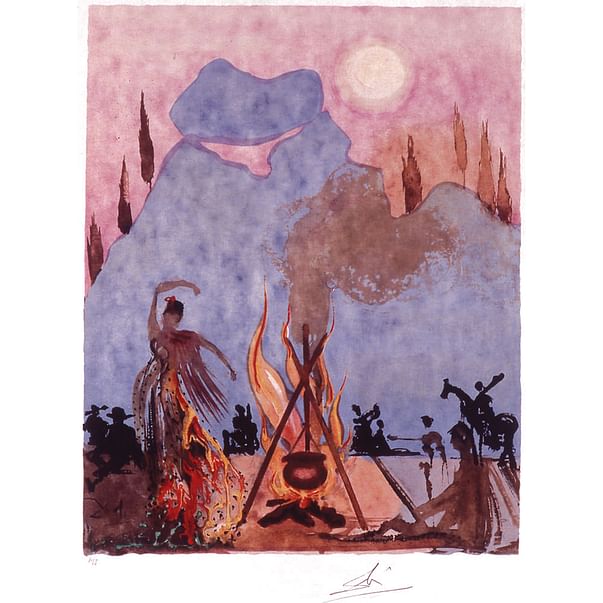 ---------------------------------
UPDATE 20 : JUNE 13, 2020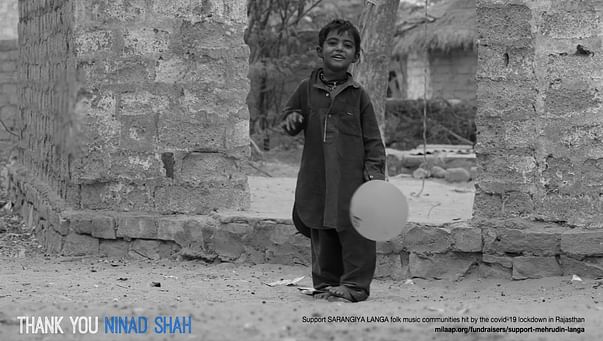 Ninad Shah, you came back to contribute to our fundraiser and it is a pleasure to have you again!

Thank you for looking out for two families amongst the 1083 individuals in two villages in the Thar desert, this includes folk musicians of the Sarangiya Langa, Surnaiya Langa, a few Kalbeliya and everyone from the village in between. Sending you a postcard with the face of a little musician who politely stalked us through our work on ground in Rajasthan, sometimes also with his balloon.

When we began this campaign in April, we weren't sure how many people of the urban digital audience would be able to even comprehend the state of chaos on ground in the remote rural. The educational system and employment cycles in India have been such, that very few have ever even experienced a lived life in a small village in the boondocks. When fund collection in urban areas for migrant workers started, we were very inspired by the number of international alliances that sprouted to ease the suffering of 'The Exodus' of migrants from cities, a lot of these funding organisations comprised of trained Indian professionals and academics based out of the US and Europe, but the choice of the communities they chose to benefit remained restricted to ones working in cities, and I guess we can put the blame on The Total Lack of Rural Journalism again for that one, internationals only get to read urban Indian journalistic produce etc.
One of the seven economists closely watching the humanitarian crisis in rural India believes this is just the start of a humanitarian catastrophe, he calls the migrant labourer in India 'the poster boy for covid-19', but what of 85% percent of the population in rural areas who funded this migrant labourer to walk home and kept recharging his phone so he might stay connected? How is the 85% faring?
Since the start of this project, we have been delighted to be approached by many professionals asking how they could help, play a part somehow with their remote skill sets, knowing that the crisis we are watching is long term. We are well aware that Humanitarian aid is short term, so how do we approach the next in the snowball of crises bound to follow in terms of
Healthcare, Education, Agriculture, Economic rejuvenation and Behavioral impact
? How do we make sure impact plays out on ground and not just as a piece of conceptual art ?
Shout out to the highly skilled individuals out there, in India or abroad, who think they can play a part in imagining alternate solutions, please feel free to mail us directly on our page or any of the social media channels, and here's where you can contribute, last 2 days of this fundraiser cycle, help us spread the word :
milaap.org/fundraisers/support-mehrudin-langa
-------------------------------------------
UPDATE 19 : JUNE 13, 2020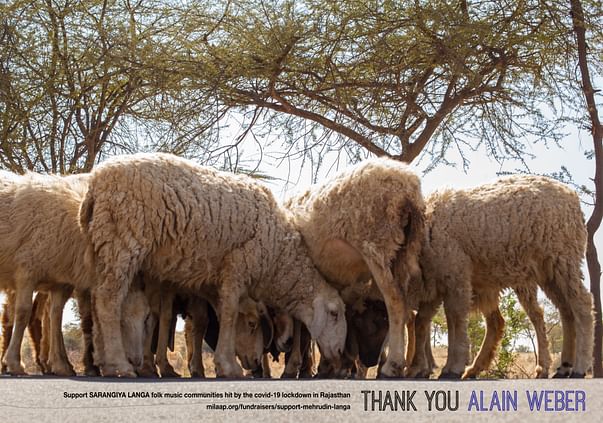 Thank you, Alain Weber, for your contribution to the Sarangiya Langa folk musician communities in the Thar desert, Rajasthan, in the midst of the #covid19 pandemic and the resulting humanitarian crisis of the marginalised. We send you a murmur of sheep, good to have you with us.

Alain Weber has been dedicated to present traditional and World Music heritage through many forms - constantly defending world traditional heritage through the most important international festivals, musical productions and recordings, a journey spanning 4 decades.

Alain's musical landscapes feature in the gorgeous Latcho Drom (1993), by Tony Gatlif. Our villages in Rajasthan form the base of the musical journey from Western Rajasthan to Spain in the narrative.

Alain is currently the Artistic Director at Fez Sacred and World Music Festival, MOROCCO ; Sacred World Spirit Festival, Jodhpur & Nagaur, INDIA ; Les Orientales Festival of Saint-Florent-le-Vieil, FRANCE ; Musicas Segradas of Evora Festival, PORTUGAL ; Kamandjâti Sacred Festival, Jerusalem, PALESTINE.

---------------------------------
UPDATE 18 : JUNE 12, 2020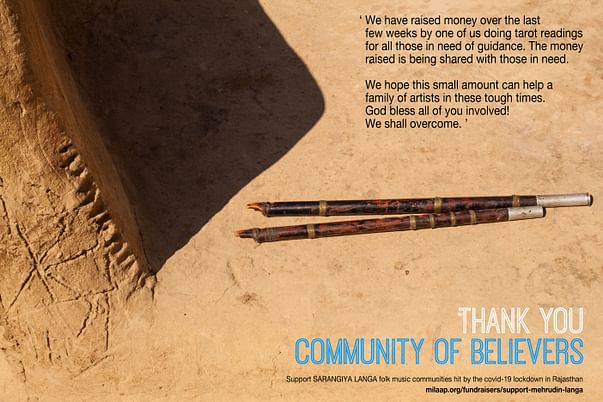 Dear 'Community of believers', thank you so much for your contribution and your mind-blowing message :

'We have raised money over the last few weeks by one of us doing tarot readings for all those in need of guidance. The money raised is being shared with those in need. We hope this small amount can help a family of artists in these tough times. God bless all of you involved! We shall overcome.'

Messages from the universe, like these, are exactly why I enjoy this whole business of living. Is this why people sing in the first place? Thank you for the alchemy. The Sarangiya Langa folk musician communities stand right with you in solidarity and spirit.

#ifyouwereasong
---------------------------------
UPDATE 17 : JUNE 12, 2020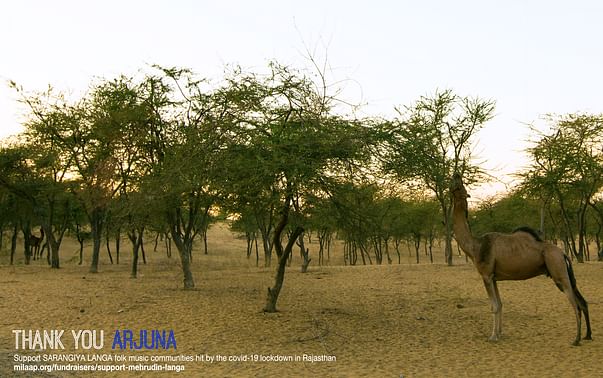 Arjuna, thank you for giving C$ 100 to the Sarangiya Langa folk musician communities in the Thar desert. Last 3 days for this fundraiser to end a cycle here and too many messages still left to post.

We started this campaign on April 3, 2020, to safeguard the food security of folk musicians in a small corner of the Rajasthani desert, 1083 individuals in all. After the countrywide lockdown was enforced within 4 hours of announcement, all factories, roadways, markets and agricultural activities shut in the villages, and an economic meltdown quickly followed. In both villages, we discovered a non existent health care system, a broken water distribution system and we discovered hunger. Then there was an attack by locusts, and as of today, Jun 12, 2020, our concerns include the food security of the animals of the region as well, sheep, camels and horses, heard the old rhyme about the ships of the desert?

The information gap between rural and urban India is stunning. But you can't create a broadcast channel or do a KT in the middle of utter pandemonium, quite like how the Kerala Govt. says you can't just pop up a healthcare system in the middle of a pandemic. You need to have built the groundwork over years. The total absence of intervention in the form of relief by the GOI has convinced me that they have no idea what's going down or any idea of how to fix it. In fact, in our villages, predictions are that the situation will go way worse by the end of July, once the monsoon kicks to life in the desert.

Posting an excerpt from a report published by the Desert Resource Centre, Rajasthan on how the locusts currently hold Thar desert dwellers at ransom, I hope the news filters through into the mainstream sooner than later.

'Swarms of locusts have devoured plantations and are threatening the fodder security of the region. Dungar Ram Raika, a farmer, says, "The locusts have destroyed our plantations of kair, phog, and khejri. The remaining plants are not enough for large animals such as camels and we do not have enough money to procure dry fodder from the market. The government should think of launching drought relief measures to extend forage support to herders."
"The branches and leaves of the kair plant serve as a good source of green fodder and are preferred by camels and small ruminants. They can be seen growing on farm boundaries, orans (sacred forests), gochars (grazing lands), and wastelands throughout the region. As a slow-growing species, the locust attack could severely impact the growth of kair for this rabi (winter) cropping season.'
( https://idronline.org/ground-up-stories/trial-by-locusts/
)
---------------------------------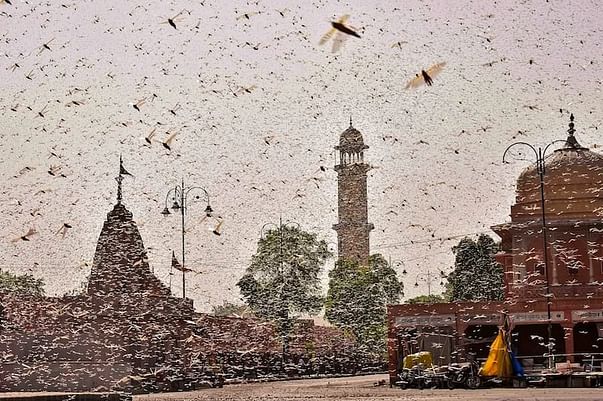 Temperatures in the Thar desert, Rajasthan crossed 50 degrees yesterday. India is currently the hottest place in the world, Rajasthan features thrice in the same list.
If that was difficult to breathe through, the neighbourhood of the Sarangiya Langa folk musician communities is also under attack by an army of locusts, said to be 2 km wide and 2km long, a crore locusts in the swarm according to farmers, they call them the 'tiddi dal', literally, the army of locusts. The locusts have been devouring fields with standing kharif crop through the night. Farmers have been awake since May 23rd trying to save what's left, and yesterday there was another attack. A swarm of locusts spread across an area of one square kilometre can eat as much food as 35,000 people in one day. They have already caused severe damage, adding to the covid-19 lockdown obstacles.
We have received no help by way of an EMERGENCY relief fund over the last 2 months, there has been no intervention to alleviate the horrendous effects of the heatwave and locust swarm attack. Rural journalism is dead. Over the coming days we will get into the minutae of details. We bank on channels such as these to spread the word ahead, the Central Govt. Of India is dead. Enable us further by spreading the word and contributing here on this page, and please feel free to mail in queries at gatika108@protonmail.com
I want to thank these SIX women for stepping onto our frontline, Gayatri Kodikal, Flavia, Lucie, Pitchaya, Krista and Priyanka Kodikal.
Deep gratitude to you.
-------------------------------------------------------
UPDATE 14 : April 28, 2020
We really do believe in smaller groups making big changes. You don't have to be a social worker or anything, to engage with people who're suffering.
Sometimes the universe talks back to you, when you talk to it.
I guess in between all the music and ground updates, one doesn't realise how remote these villages really are. Below is an aerial view of the land the Sarangiya Langa live in. And its peak summer now in the Thar Desert.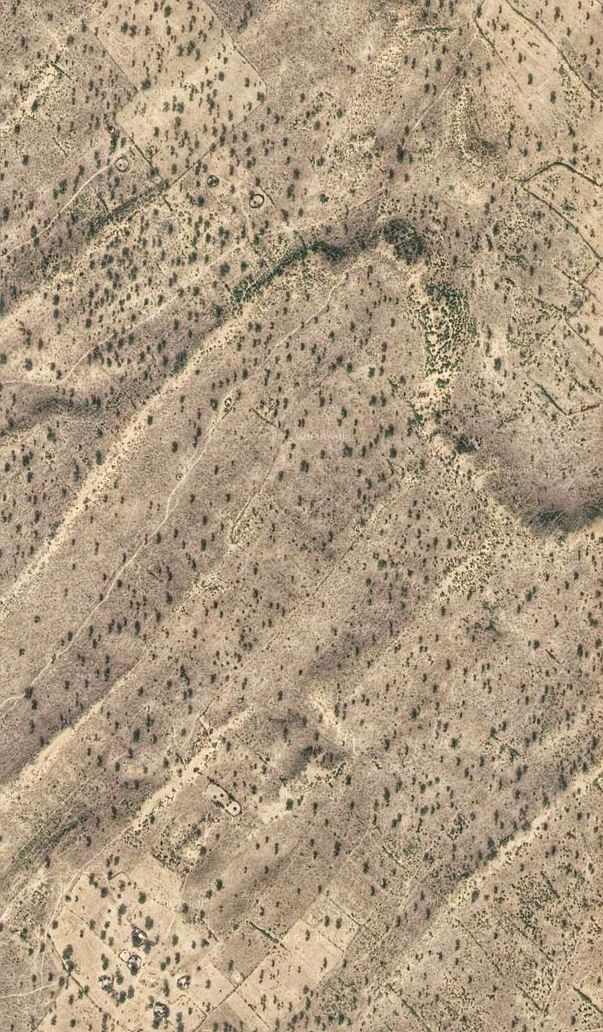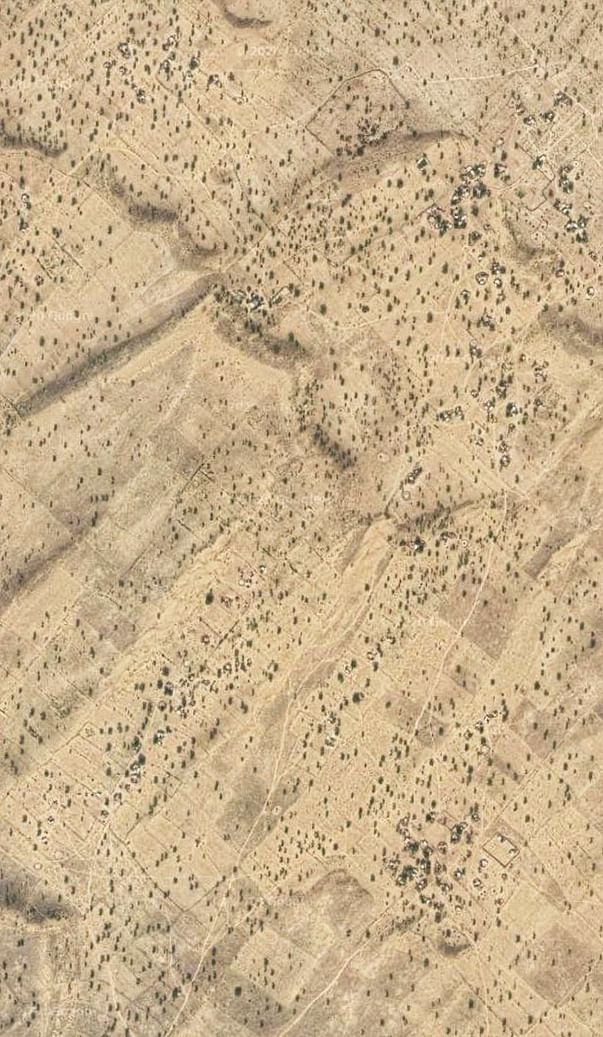 Thank you Anonymous (of the INR 4000), you've just ensured a Sarangiya Langa folk musician family has food security for a month. We wish the same happens to you, in this life time.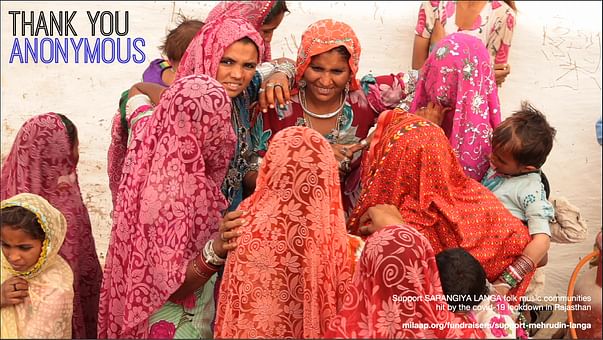 -------------------------------------------------------
UPDATE 13 : April 28, 2020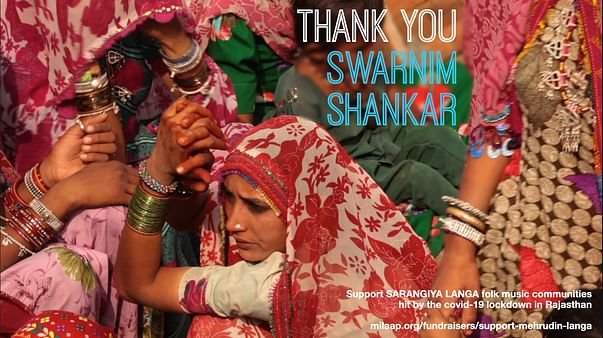 Thank you Swarnim Shankar for your contribution towards the Sarangiya Langa folk musician communities. I hope you are well, wherever you are, in these challenging times.

It is impossible for a lockdown in totality for women in the desert. They collect firewood, tend to animals, collect fodder, work fields, bathe and feed children, cook, clean and walk long distance for washing clothes and collecting water for the house. Water supply is once a week, at no fixed time. In Rajasthan, in peak summer, the water levels go especially low. I saw video reports on ground from community correspondents in the neighborhood and its the same story, no lockdown can keep people away from waiting for water. I hope, men and women can remember to stay kind to each other, under such pressure.

With the covid-19 lockdown, these women have to contend with no food security, low fodder supply, unemployed husbands, no money for emergencies, and always at-home unschooled children. We are all definitely not on the same boat.

We can't move without you. Do consider contributing towards food security for the Sarangiya Langas, folk musician communities hit by the covid-19 lockdown in remote Rajasthan.

-------------------------------------------------------
UPDATE 12 : April 26, 2020
In the last broadcast, you heard the heard the sound of two algojas playing :

The algoja is an aerophone, double end-blown flutes in which one instrument provides a drone, while the other provides the melody. Both flutes are played simultaneously by one player, using circular breathing, so there are no gaps.

Now, we stumble into a jam session between two master Sarangiya Langa algozha musicians, a conversation about counts in the middle of the afternoon, especially on the beat of the 6. A completely non-traditional, impromptu performance with only melody flutes playing, no subtitles needed. Enjoy.

-------------------------------------------------------
UPDATE 11 : April 26, 2020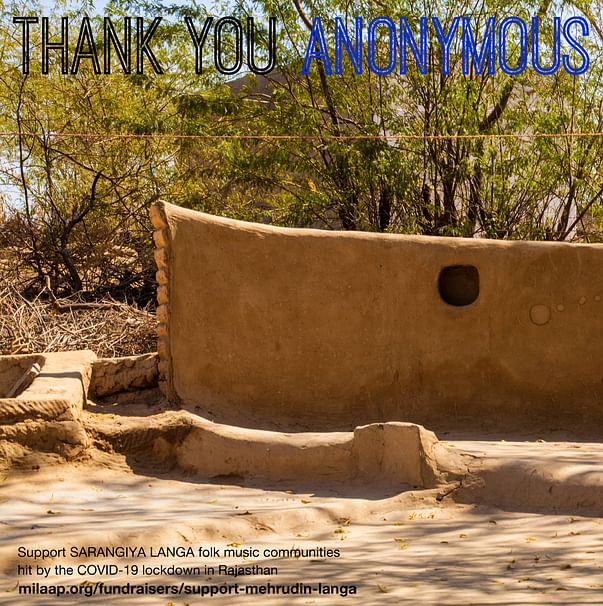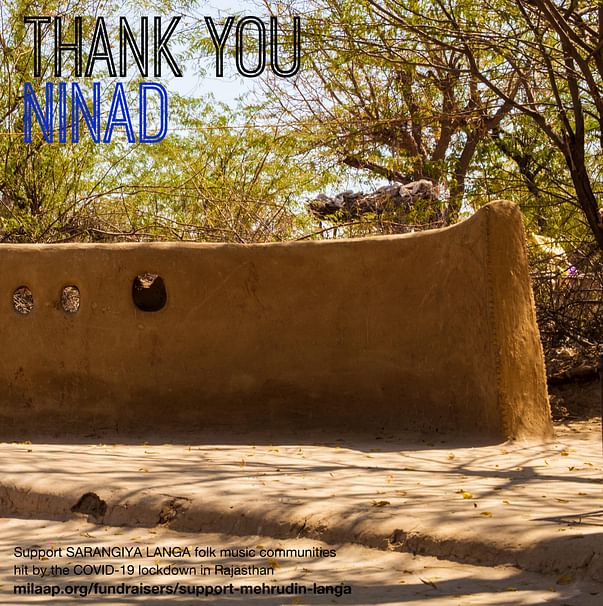 Thank you, Ninad Shah and Anonymous ( of the AU$ 25 ) for your contributions. Tune in at 8 pm (IST) today, for a conversation between two master Sarangiya Langa musicians.

I've put you both up on a wall in the Langa village. These musicians are quite skilled at natural building as well, mud floors makes it cooler in the summers, warmer in the winters. Because of its different levels, this space also works out as an amphitheatre for immediate performances, with everyone sitting in a circle in front of it. This would be a piece of conceptual art, were it to be erected somewhere in urban India!
Back at the village, we have taken a unanimous decision to wait till we have a supply pack ready for everyone in our head count. Each family needs a pack of at least INR 4000/month to be able to tide through a lockdown in this blazing heat.

It has been a month since urban India has been under a lockdown, but in the village, we'd say lockdown has just about started. Very few people are venturing outside, including our teams on ground, two little kids fell ill with fever yesterday, it has created a bit of caution in the neighborhood.

Borders to cities are blocked, since Rajasthan's covid-19 count is only rising, today it is at 2141, at the 4th place amongst the states of India. Apart from asking folk musicians to send in their self-made quarantine videos of song (so they might be broadcast on TV), the Govt. of Rajasthan has made NO stimulus package distribution in the villages, as of a MONTH.
Stimulus packages are still being distributed only among city dwellers. What about the majority of Indians, who live in villages(!) in the midst of a total supply chain breakdown and restricted movement? Why have the food grain depots not been opened. India must feed India.
We don't want to see hunger if we can help it, supplies are at a low.
Please help us spread the word.
-------------------------------------------------------
UPDATE 10 : April 24, 2020
Happy to hear many voices standing for craftspeople all across India, today!

The Sarangiya Langa are the last master instrument - makers of the sarangi and the algozha. Instrument crafting involves years of mastery of wood carving, leather tanning and to top that, a keen sense of sound for tuning. It even involves jewellery making, metal work.

The Langa form a musical community unique to an exceptional degree since they have their own kind of instruments, their own repertoire, a special style of singing & they keep their instrument-craft in tune to the tenor of their forefathers. The instruments known to be made and played by the Langa are the sarangi, murli, surinda, surnai, algoja, narh and morchhang.
They have always been completely #handmadeinindia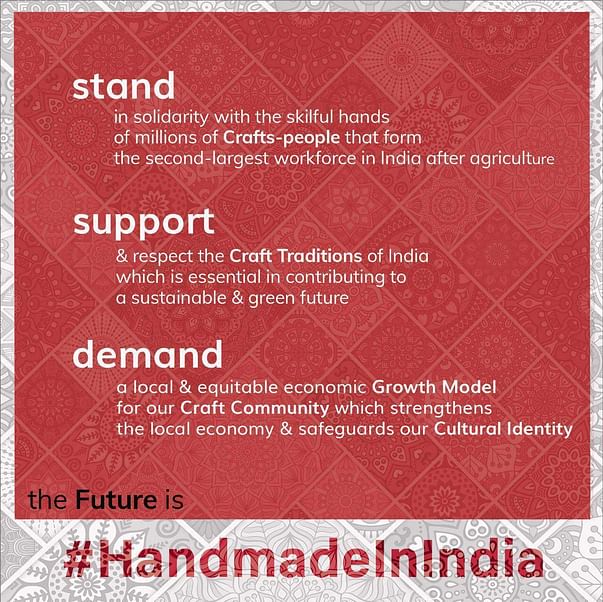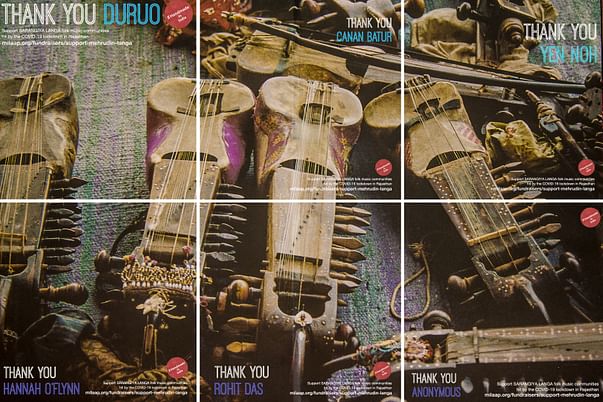 Thank you all who have supported us so far. Tagged you today, Rohit Das, Hannah O'Flynn, Anonymous (of the €25), Yen Noh, Canan Batur and Duruo, the Red Dot's in solidarity with millions of craftspeople all across India today, thank you for keeping our handcrafted sarangis alive, and cared for! Shout out if you can see me, here! Else, there will be mail.

We have a long way to go still, please allow us to move fast. The worst part about craftsmen is that they never complain. Every contribution brings us closer to deliver supplies to the Sarangiya Langa villages, so they do not have to venture out looking for food and sanitation in the midst of the pandemic's outbreak :
milaap.org/fundraisers/support-mehrudin-langa
#handmadeinindia #creativeeconomy #creativeindustries #sustainablefutures #futureishandmadeinindia
-------------------------------------------------------
UPDATE 9 : April 22, 2020
This tune is an ode to old school ethnomusicologists like K, solely responsible for riding into the deserts in search of musicians, armed with a map, a few friends and a Nagara recorder, on camel back. It is because of him and a few others, that voices long gone have been recorded, mapped and copyright published, all Indian classical music derives its roots from folk regimen. It must have been quite a solitary path.

Happy to release the second tune on the Sarangiya Langa RADIO : Hoongar, a tune based on the rhythm of a walking camel : ) . Please feel welcome to share ahead our music!
-------------------------------------------------------
UPDATE 8 : April 18, 2020
Today is 'World Heritage Day', sounds funny when heritage is taking such a beating in reality, huh? The UN tags remote traditional folk musicians as protectors of Intangible Cultural Heritage, codename ICH. These are the people who safekeep the creation stories which need the most retelling, lyrics of songs describe the use of a tree, filling wells, about farming in the desert, secrets about animals. Before writing, there was song.
I cannot put on blinkers to the grim realities these communities face in current times. I cannot agree more with US Rep. NYC, Alexandria Ocasio Cortez, voicing similar thoughts at the other end of the world, 'Guaranteeing healthcare to these people is not about giving charity, it effects all of us. Why? Because the chronic toll of redlining, environmental racism, wealth gap, etc. ARE underlying health conditions.' Ditto, here.
A big shout out to the people who have pitched in Rs 500, 10€, 20£ all across, you help us inch closer to start navigating through the horrendous food black market which has emerged in the rural outback. Huge concerns related to water and grain supplies right now. Inescapable dark realities meeting great walls of indifference.
I have attached a video of defunct water supply systems and a dry heritage well below, with a Sarangiya Langa musician taking you through. Have a look at a video made by them here on this link :
The old well runs dry
.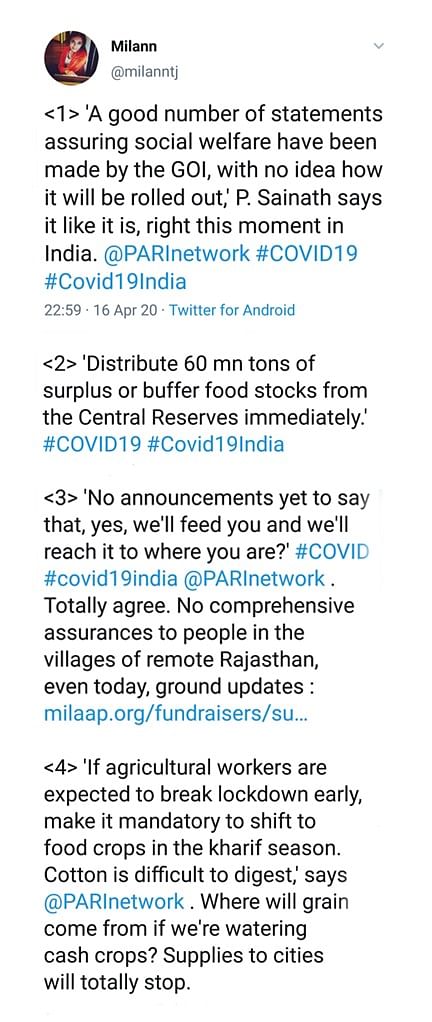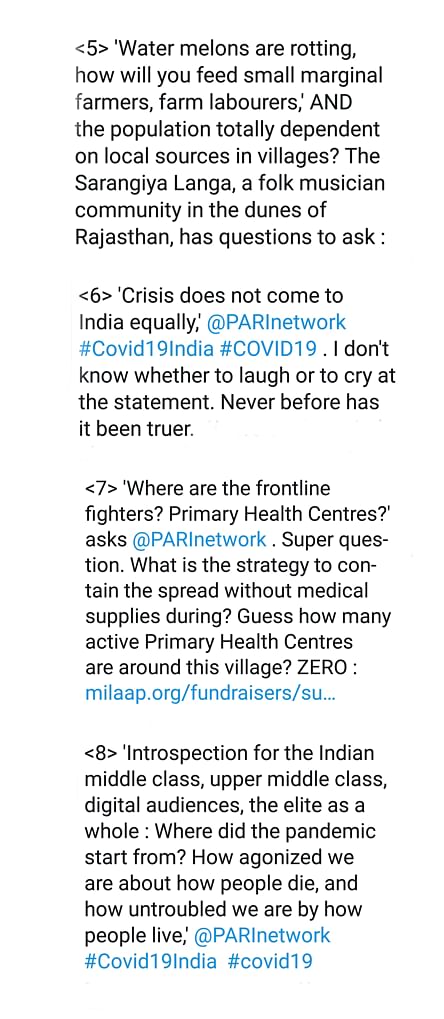 P. Sainath, Jean Drèze and Amartya Sen are urging a wake up call. Every voice counts, we need to be able to wash hands, help us pass on the message :
milaap.org/fundraisers/support-mehrudin-langa
#worldheritageday
#intangibleculturalheritage
-------------------------------------------------------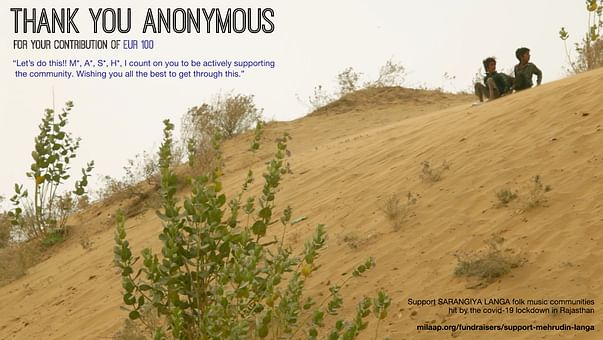 Thank you for your generosity, Anonymous. Each written message is being passed on to the village through a voice recording as well, for those who cannot read your words online. They're watching the news and have heard of all the suffering abroad. They cannot believe foreign countries are running out of medical equipment and shelter for the poor, especially the boys who have traveled abroad to sing before. All of the traditional patrons of the Sarangiya Langa in the village have lost employment, this is also unbelievable for them, nobody has seen a wipe-out of this scale.

We have started inspecting water sources around the village. I checked up on the old well I had seen between the villages, an old relic of a piece with stone carvings and inscriptions still standing in places, they tell me it has run dry now. The villagers switched to a government water supply line a year back, but now they only get water once a week. Can't keep washing hands if you don't have running water now, can you?

I have started nudging the idea of figuring out how to get the old well recharged and operational, there must be some old well diggers around. The Langa musicians in the A-Team think I'm nuts. But let's see where we go with the search for a well fixer, they're going to keep a lookout. Summer is here. April is the cruelest month. We cannot afford a wonky water service in the middle of the desert, with this pandemic bouncing around.

Help us birds sing. We made an appearance on Twitter today at @milanntj.
We've also gone Live now on Instagram @milanntj and @gatika108
-------------------------------------------------------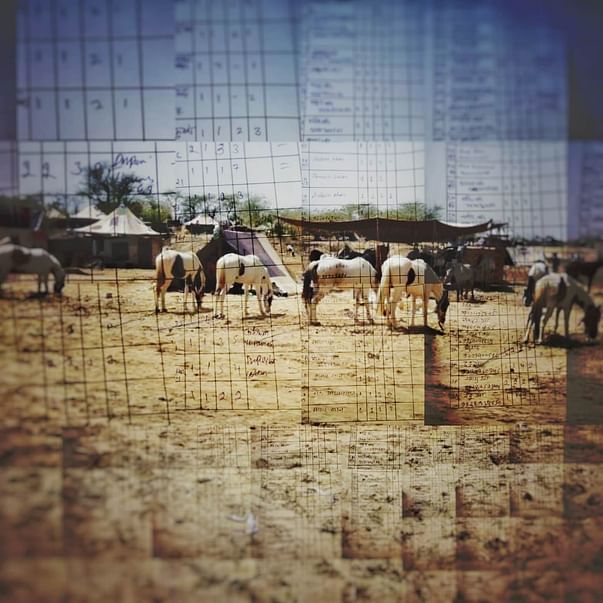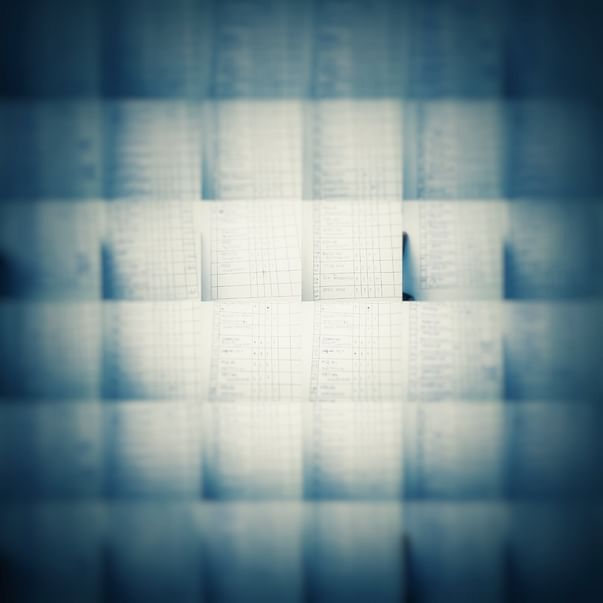 The last 2 days have been absolutely critical. Two organised teams visited every house, in both villages, and listed down family names, no. of men, women, girls and boys. The survey also marked houses with members having respiratory or heart related diseases, with kidney stones or diabetes.

Our door-to-door survey involved a briefing about covid-19, sanitation and washing, along with special illustrated instructions for pregnant women. The details were explained through print outs at every house, we also dropped off mask tailoring patterns at both villages.
Most of the villagers had no awareness about the pandemic, there have been NO government-led survey teams which have reached them. We have a long journey ahead, we have no government-led social welfare machinery in place to take care of every last person. There is no point in palming off the blame, at this point. We do not have enough funds yet to start an equal distribution, but the good thing is, the hard work and co ordination required to conduct the survey remotely, brought us all closer together, it is blazing hot these days in the desert. And it's great we're done with all unrequired contact!

The Sarangiya Langas on our Survey Team also ended up listing the Shehnaiya Langas in their list, distant musician cousins from the same village who play the shehnai, a wind instrument often played in Indian weddings. They're naturally looking out for all their neighbours, this is very inspiring!
Play a part in reaching every voice. Support the Sarangiya Langa folk music communities hit by the covid-19 Lockdown in remote Rajasthan, 6 updates up on our page now : milaap.org/fundraisers/support-mehrudin-langa
----------------------------------------------------------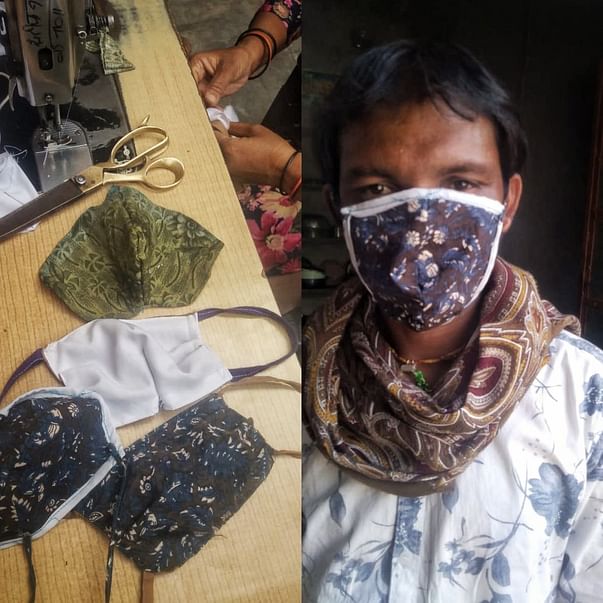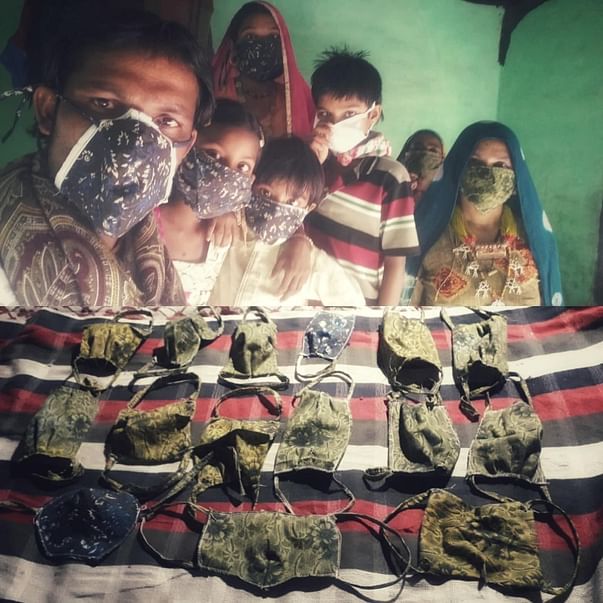 The girl squad is the gift that Keeps giving, brilliant work with patterns. Totally bowled over by the videos they have started making on their own, obviously they love the design. You can put a mask on a Langa, but you can't stop him from singing and dancing. Hahaha! Our masks made their debut on TikTok, the word is spreading fast. Fantastic.

42 masks made as of last evening, in 4 sizes for men, women, teenagers and little children, and we're still rolling.
Thank you so much for your love. They're reading each of your messages on the page. Tell others to help us support the Sarangiya Langa folk music communities hit by the covid-19 Lockdown in remote Rajasthan : milaap.org/fundraisers/support-mehrudin-langa
-------------------------------------------------------
And we've got our girl squad on the go!
Masks are being made on the double in the village as of today, nobody's waiting anymore for supplies.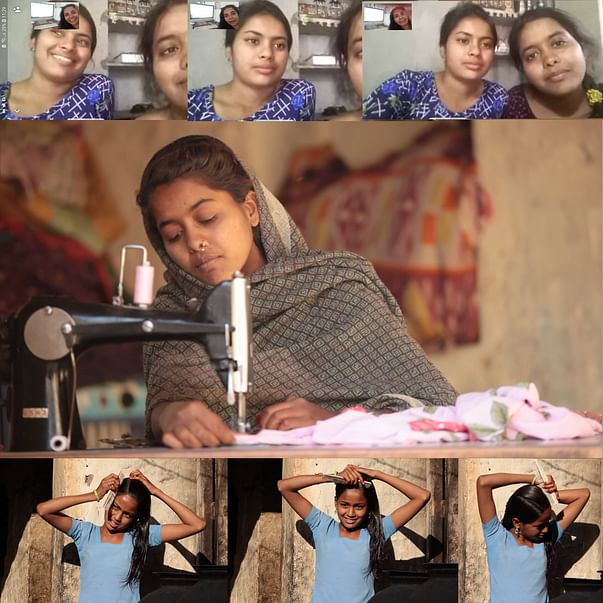 Been a couple of days now trying to get someone to connect me with two girls I'd met 4 years ago, on the back of video grabs of their faces, I knew one of them could stitch and one went to school. Got to see their faces again today!
They sat with me through mask-making & pattern demonstration over video call, while I ran them through instructions and precautions on my computer screen. Thank god for the craftspeople in the village. Life moves in circles.

Magic is real. Spread the word.

Support the Sarangiya Langa folk music communities hit by the covid-19 Lockdown in remote Rajasthan, give them a shout here : milaap.org/fundraisers/support-mehrudin-langa
----------------------------------------------------------

Rajasthan's covid-19 cases have started surging up! 80 new positive cases emerged in a single day, that's yesterday, including a 4 year old child, a total of 463 cases according to local newspapers. National newspapers are running the number at 383, they're either late or numbers have started getting fudged, who knows. A 76 year old man died in the nearest city. A doctor from Jodhpur who was engaged in a door-to-door survey also tested positive.

No government services have reached the Sarangiya Langa villages in Barmer, either with rations OR awareness campaigns OR medical supplies for the Primary Health Centres. ZERO testing. Doctors are wearing single layer cloth masks made at home in the village. We now have Five small teams with task lists in the village, the team spreading Awareness has started moving door to door on the ground.

A big shout out to Natalie Lycops for providing the face mask tailoring patterns, instructions and literature in Hindi. A big holler to Padmini Ray Murray, for the videos, GIFs and informative heath posters in Hindi, they have been absolutely invaluable in speedening up communication in the village amongst women and the illiterate, thank you Team Design Beku.

Every voice in this village is irreplaceable, heirlooms we don't even know how to start listening to yet. I have started a Sarangiya Langa Radio on vimeo for the tunes now, so you may get to know the harsh realities better, with some music to keep company. Thank you so much for your kindness so far. We cannot start moving without you, help spread the word.
---------------------------------------------------


We are on standby to start sending supplies to the Sarangiya Langa folk music communities hit by the COVID-19 lockdown in remote Rajasthan, supply chains are strained since the nearest food grain depot is 5 hours away!

The Sarangiya Langa are oral historians in lyric and song, each tune passed down from generation to generation of musicians, these melodies were never meant to be kept secrets. Their music describes the land they come from, songs of love, isolation and the magical turning of seasons.

This song is for ALL the 21 supporters who have joined our journey this far, we will write back to all of you, one by one, thank you so much for your solidarity. You can see for yourself the scale of the land our musicians ride through everyday in Rajasthan! Measuring distance now, with the first line from a song sung to the princess Soubhi, of times long gone, 'Soubh, don't dress your hair, and go in front of the moon…. '
.
.
In the Dark Times. Will there also be singing? Yes, there will be singing.
Plug in them headphones & go fullscreen HD.
---------------------------------------------------------
UPDATE 1 : Apr 6, 2020
Friends far and wide, thank you so much for the contributions so far!
Yesterday was a busy day of co ordination with the Sarangiya Langa in the village. We had a video call together with everyone barely fitting into the same frame. It was very important to talk to them as a collective, as worries are high. We have identified roles for each person in our 8 member team. We have finalised a list of food materials ( like wheat, rice, salt, sugar, tea, chillies, masala powders, candles, kerosene, petrol and animal fodder (!). We have added articles of sanitation like washing and bathing soap, home made sanitiser and material for making masks.
Most importantly, we have started listing the families in the order of urgent needs. The ones needing the most help, feature first in our list. A big shout to family and friends who have helped spread the word. There is an urgency in procuring supplies and we have a long way to go, every mite counts.