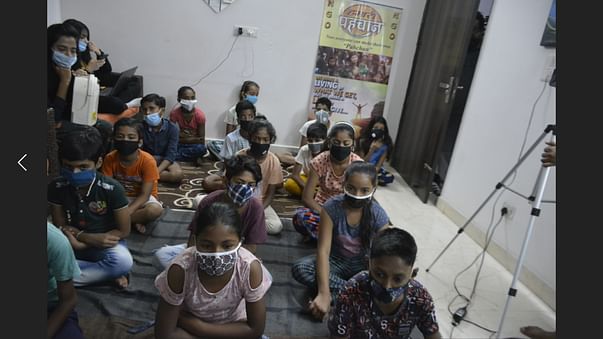 I am Ananya Garg of Bal Bharati Public School Gangaram, Delhi.I am currently studying in class 11th. Gadgetshala is one of the many initiatives by Humari Pahchan NGO that has inspired me to come forward and help those underprivileged children who are deprived of the basic right of education due to the pandemic. Many students have taken for granted, the gadgets and the facilities available to them for online classes. But reading about the initiative was an eye opener for me. It has made me realize that there are many children our there seeking someone's help so that they can attend online classes. It was disheartening to see that the closure of 1.5 million schools due to coronavirus pandemic and the resultant lockdowns in 2020 impacted 247 million children enrolled in elementary and secondary schools in India. Online education is not a great option for all as only one in four children has access to digital devices and internet connectivity. Nearly 30 million children do not have a digital device to access education online. Pre-COVID, only a quarter of households (24%) in India had access to the internet and there is a large rural-urban and gender divide. This lead to great loss of students in their studies. I am keen in helping these students and contributing something to make their future better. Be it teaching them how to use gadgets or just simply teaching them their subjects, I am ready to help them to the best I can. I will encourage other students to donate their previous year books to Humari Pahchan NGO. This would be helpful in making the future of these students bright.
Our plan of action is to establish
1. Internet facilities
2. Smart gadgets like mobile phones, laptops, and computers.
3. A mobile van to make this " GADGETSHALA" accessible in various areas.
4. Your valuable time to teach these children.
1 Laptop costs around Rs. 25,000.
1 Tablet costs around Rs. 10,000.
1 Computer costs around Rs. 25000
1 Mobile Van costs around Rs. 5,00,000
We are aiming to provide a full library to these students.
I am requesting that you all take action. Every child's fundamental right is to have access to
basic education and knowledge of oneself and society. We hope to maintain and broaden the
scope of this belief through this project. We might not be able to sponsor a student's phone or
laptop on our own, but even if each of us contributes a small amount of Rs.1000 or Rs.500,
100. We can help these students achieve educational stability. With your support, these
students will be able to attend classes on a regular basis and will be prepared to take
responsibility for a more educated India.
By doing our part, we are not only assisting a student in obtaining an education, but we are
also encouraging and contributing to our country's bright future.