Hi,
My name is Shagun Khera and I am in the third year of my Veterinary Medicine course at the University of Edinburgh. Veterinary Medicine has always been my passion and ever since I was a little child, I have done everything in my power to help animals all over India.
I was completely dependent on my father for paying my fees, and living costs at the University till now.
I was back home after my second year and my father got two consecutive brain strokes, which affected his ability to comprehend, and speak and he has been diagnosed with global aphasia. These strokes have affected his ability to work anymore (I HOPE HE GETS BACK). In addition we had to spend a lot of our savings on his treatments, and even making the future uncertain. So it's a time of great financial constraint for us. Within some moments, my entire world turned upside down.
I am half way through the course, and either I will have to drop out from the course I have invested 2 years & lacks of rupees in or pay my education fees.
The tuition fees for my course is £94,350 for the 3 years which is approximately ₹96,23,700. Without my father working, I cannot afford to pay the same.
As the amount required is huge, I request you to kindly contribute towards my education and help me during this time of need. I have always believed in the concept of karma and I know that the good I have done for so many years will now come back to me through you guys.
Each contribution no matter how big or small is essential!
Please help me raise this amount by clicking on the donate button and sharing this page with your friends and family.
I am grateful for your contribution and I promise to always help our mute friends, once I become a veterinarian. Because without animals, where would our peace come from, right?
Thank you so much!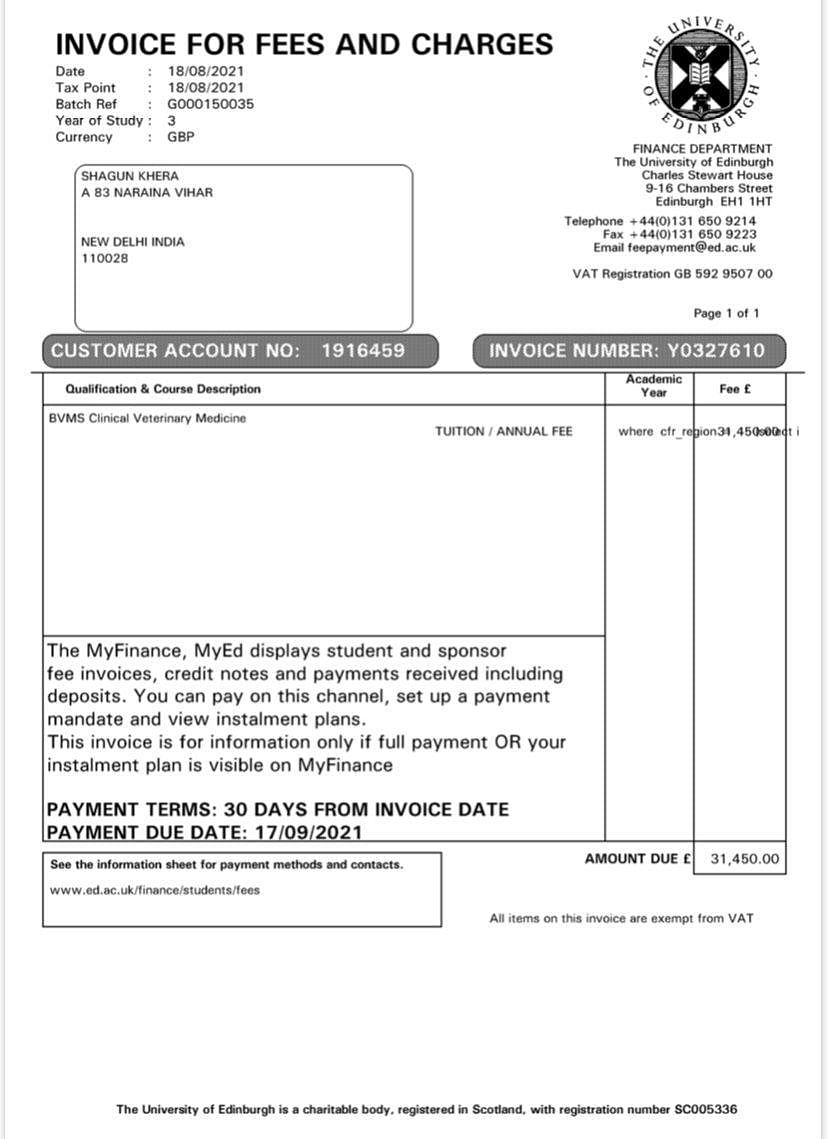 Utilization of funds:
1. 31450 pounds for 1 year
2. for 3 years of course 31450 pounds * 3 years = 96,23,700