Hope you are doing well. I know this Covid crisis has affected most of us very badly and maybe you too are probably would be going through a lot. Just a few days ago, I was going around in the market to buy some groceries. Here the markets used to close that time by 6. And it was around 5:55, so I was heading towards my home. In the way I saw a police officer humiliating some poor people for why they have not gone home yet. He even hit him with a stick. That really made me angry for the time. And after coming home, I started thinking about those poor people who were selling vegetables there. During this period, we are atleast able to fulfill our basic needs, but what about these people. How are they going to feed their children? They are also an integral part our society. How can we overlook them? Due to the fear of infection, we are not buying goods from them, trying to avoid any kind of contact with them. They are the ones who are humiliated by police on a regular basis. Can we allow it happening as it is being? Recently, I came across an organization "Humari Pahchaan" who even amidst this period is sending volunteers, helping these people get proper food, hygiene, gadgets for studies, Covid relief kits, girls menstruation kits. I am truly inspired by their motivation. Therefore I, after joining the organization as a volunteer, has created this Fundraiser so that we all can contribute as much we can for the welfare of the society. All the money will go into "Humari Pahchan" registered NGO and will be used in providing food to the needy.
'We cannot help everyone but everyone can help someone.'

'हम हर किसी की मदद नहीं कर सकते लेकिन हर कोई किसी की मदद कर सकता है'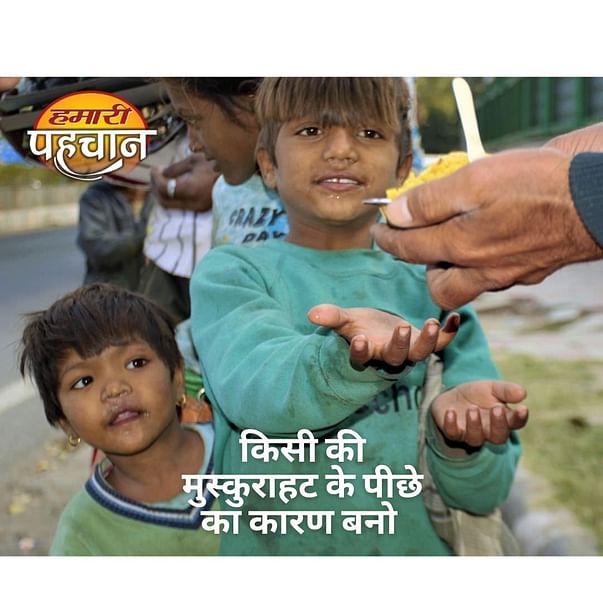 The major cause of hunger is inequality due to social status and lack of access to facilities. India is one of the highest-ranking countries in the world for the most number of people suffering from hunger.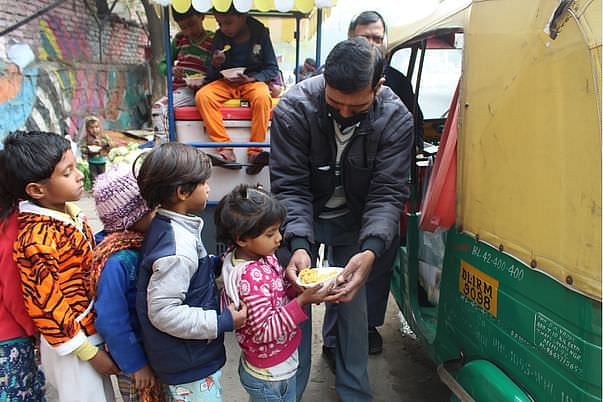 Today, 690 million people around the world go to bed on an empty stomach. Often, one meal at the right time is enough to make a difference between life and death.

I, Vandan, have been working with Hamari Pahchan NGO as a Volunteer and have witnessed various problems that society has been going through. My goal is to let everyone have a meal and not feel any differences and face helplessness just due to HUNGER.
So, I have decided to help them with the monthly distribution of Ration.

Basic necessities for 1 family: Rs.2199/-
Basic necessities for 10 families: Rs.21990/-
Basic necessities for 35 families: Rs.76965/-

Ration for 1 family includes:
( Three types of Pulses, Rice, Atta, Eggs, Tea, Sanitary Pads, Soap, Shampoo, Cloth and Utensils washing powder)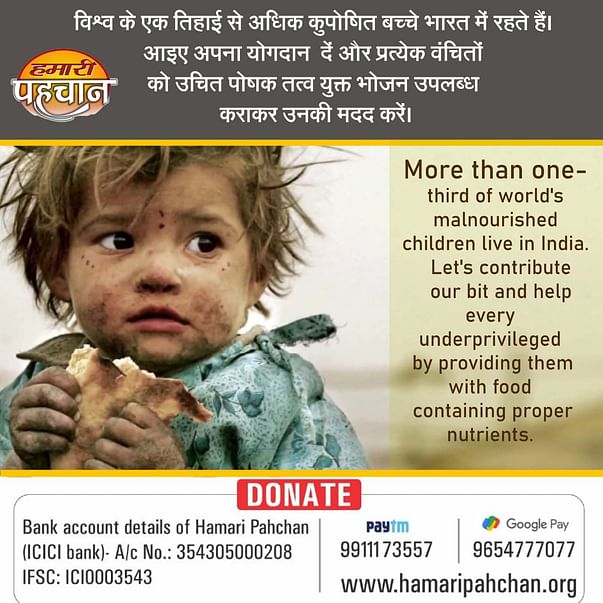 No amount is big or small, it's the contribution that matters! You can donate for a one time meal i.e. Rs.50/-
If you have any queries then reach out to me:
vandanmittal@gmail.com