As the entire world is battling the pandemic, the importance of volunteering and the role of volunteers is brought to light once again. We at Volunteer for India have been working tirelessly over the past 15 months to empower the youth from across the country to support and give back to their communities in the midst of the pandemic. Over 2500 volunteers from across 24 states have volunteered with us as a part of 36 different projects, through which we supported more than 10,000 beneficiaries.

As the entire nation is facing the hardship of 2nd COVID wave, the importance of holding each other and supporting volunteerism has risen to the maximum. The effect of COVID has impacted people on different levels from loss of lives to loss of livelihood, lack of jobs to lack of daily wages, inaccessibility to mid day meals system to inaccessibility to health & hygiene facilities. At this juncture the role of VFI holds relevance as we are able to work on pertinent social issues developed during pandemic in communities across India.

Projects:
As Volunteer for India (VFI) envisions creating an ecosystem of inclusiveness and collaboration, promoting a culture of volunteerism and ultimately creating sustainable, positive, and impactful changes across the country. Amid this pandemic our volunteers have taken initiatives across 8 cities to benefit the communities by conducting virtual interactive session for children and women, and also going on field to support the unreached through various programs.

Volship is one such platform for volunteers to take initiative and currently in Ahmedabad, Bangalore, Chennai, Delhi, Guwahati, Mumbai, Sasaram, and Trivandrum. More than 180 volunteers are working on these following social causes at the moment
Ahmedabad - As an effect of repeated lockdowns, the women domestic workers have been severely hit in Ahmedabad and Chennai and this project works towards upliftment of their livelihood helping them in basic needs, rights and awareness.
Bengaluru - Based on our volunteer's survey, its considered that most of the transgender community were affected by unemployment due to less inclusivity in work environment and COVID depended on begging near road side/commercial shops and brothel, in order to make them to have a dignified life a team of volunteers are creating a platform to upscale their skills and to market the products they make through it.
Chennai – Due to the increased unemployment and lack of proper skill women from the lesser privileged community of Perumbakkam (Tamilnadu Slum clearance Board),OMR, Chennai was not able to fulfil the basic needs of their families. Adding to it, the pandemic has also affected the livelihood of these daily wage self-help group women. Our volunteers are working in providing skill to manufacture certain eco-friendly products and guiding them to generate sustainable income out of it.
Delhi - Women from communities who are socially and economically weaker are always dominated by the male of the house, and these COVID like situations are making the single mothers from such backgrounds struggle for their livelihood, our volunteers are supporting women to through employment based skill development programs.
Guwahati – The pandemic has affected the education of the underprivileged children drastically, to help to improve their education and to help the students pursuing above grade 8th volunteers are conducting career guidance programs to support the students from shelter homes and slums.
Mumbai – The COVID wave has affected many metropolitan cities more than ever due to an over crowded population and lack of proper hygiene awareness to the people, where there is increase in the number of cases. Our volunteers have been working with the community women in giving awareness to maintain both personal and public hygiene in their community and improving their standard of living.
Sasaram(Bihar) – The present COVID situations have affected many rural communities from availing health camps, to support the women from rural villages our volunteers have joined hands to create awareness on menstrual hygiene and supporting to improve their hygiene standards.
Trivandrum – Transformation through sports

Along with these individual causes, Volunteer for India is working towards building leadership and volunteerism in educational institutions to enable continuous learning and sustain the spirit of volunteerism.
Fundraising:
The funds donated are utilized:
To assist them in building their livelihood in a sustainable manner, by providing various skill development programs along with the tools and systems.
To improve the livelihood of lesser privileged community through VFI's initiatives while bringing robust reforms to the society.
For procurement of personal protective equipment to ensure the safety of volunteers and the community
To support the training of volunteers for interaction with the community.
To diversify Volunteer for India and its team for community-wide outreach programs.
For community members to improve their skill set
For procurement of inventory and learning space to increase the impact of their projects
Kindly note that all the donations are accepted in INR only.
FAQs:
Why should I donate?
Your donations will help VFI to improve the volunteers to benefit lesser privileged communities during COVID.
What makes VFI different?
Volunteer for India supports and develops young adults into leaders by supporting their work towards any social cause and bringing change in the lives of unreached individuals in a sustainable way.
Can I donate directly from my payroll?
Currently, this option is unavailable.
Where is my money being spent?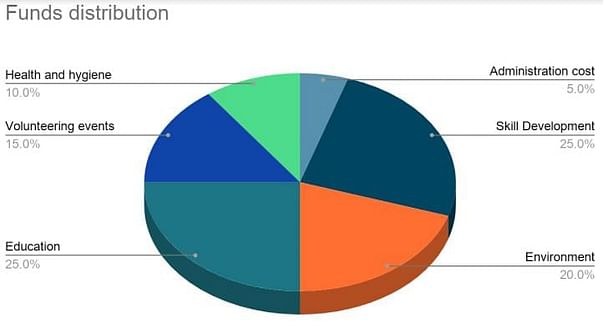 Your donations will be utilized to assist the existing projects, implement new community outreach initiatives, and administration of these projects and the organization.
I do not have the financial bandwidth to donate. How can I help?
Yes we understand you completely. Sharing with 5 friends over personal messages could do us a lot of good. If you have more time and would like to get involved, we are always looking at having people like you volunteer with us.