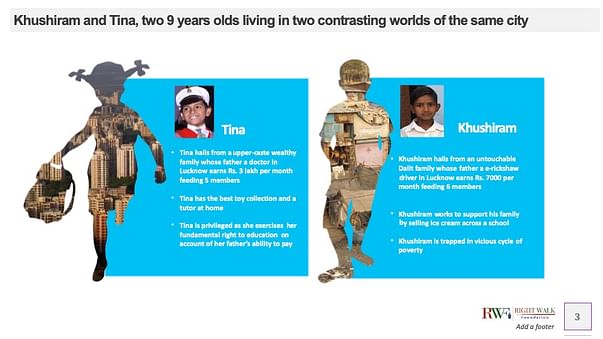 जिसे देखा करते थे हम दूर से, वहां पढ़ते हैं अब गुरूर से!
Khushiram, a kid who should have been playing with his friends, was instead forced to collect garbage to support his family. His father barely makes ends meet by stitching dead bodies recovered from accident or crime scenes. In another household lives Tina, daughter of an affluent doctor from a rich family. Tina attends an expensive private school, has the best teachers and tutors. All her classmates come from similar backgrounds. Tina is one of the top performers of her class.
If only Khushiram was sitting next to Tina in the classroom, his chances to a bright future just like Tina would improve by several times. This will also help generate empathy in Tina who will grow up to be less discriminatory and a just human being, as per research.

It's time for you to act now and help us send 10,000 such Khushirams to inclusive classrooms which were earlier beyond their reach. Also save his family from hunger in this Covid-19 national lockdown situation.
RTE in Uttar Pradesh:
It took us fierce Advocacy, high profile legal battle, thwarting personal threats and breaking political, bureaucratic and private nexus to finally achieve major policy reforms in RTE 12.1.C and its implementation in Uttar Pradesh - home to 240 million people. With over 1,55,000 children benefited in 5 years, we often meet children of Rikshawpullers, day-laborers and thelawalas shining bright in their classes while establishing the power of INCLUSION. Some of them are poor beyond imagination and we are raising funds for 10,000 such kids who show promise.
While we are working in collaboration with the government towards solving this problem institutionally, we are trying to make sure that needy students don't suffer. RightWalk Foundation is aiming to support these little dreams by providing them with admission support under Right to Education Act.
Your support will help sustain the growth and development of these children, ensuring that
where they come from in life will not determine where they go
. Sponsoring such a child's education will go a long way in helping the child develop into a responsible and independent adult.
With your little donation, a daily-wager can dream of sending his child to the same school as his employer's child.
DONATE NOW AND SPONSOR A YOUNG DREAM!
About RightWalk Foundation:
Since inception,
RightWalk Foundation
(a
not for profit
organization ) has been striving hard towards institutional reforms in education while working closely with civil societies as well as the government of Uttar Pradesh to drive
equity, access, quality and inclusion in education
.
We have been spearheading the Right to Education Act's 25% reservation provision for poor children in private schools in the state of UP since
2014
, thus enabling 1,55,000
children from Economically Weaker Section (EWS) and Disadvantaged Groups (DG)
to be admitted in private schools and study for free in a span of five
years
.
We have been awarded the prestigious international
Ashoka Fellowship
and renowned
Acumen Fellowship
for persistent efforts towards equality in access to education and battling political roadblocks to unlock RTE 12.1.C in UP. RightWalk was also conferred the
APJ Abdul Kalam Award
for innovation in Governance. We have also been listed as one of
India's Top Education Influencer
by ScooNews and among
Top 26 NGOs Impacting Education in India
by Education World Magazine.
Leave your email to receive
80G receipts
.