Help Anshu For "Smile Goal Hai"
______________________________________________________________________
"Contributions to Chhanv Foundation have been notified for 50% deduction from Taxable Income under Section 80(G)(5)(vi) of Income Tax Act, 1961". To get the 80G Receipt, please reach out to us at chhanvfoundation@gmail.com or +91-8009955500.
______________________________________________________________________
----------------------------------------------------------------------------------------------------------------
Acid attack survivor Anshu Rajput
almost lost her identity due to the attack, and is now again struggling as the purpose which made her overcome this tragedy has vanished during the pandemic. Anshu was a 'reach-out officer' at Chhanv Foundation, a position that enabled her to help other survivors and made her redefine her worth as she became a medium to provide them relief. The pandemic has affected her duty and she seeks your help to once again provide a purpose to her life i.e., to ensure that no one goes through the same terrifying trauma as she did and support those who've been a victim of this heinous crime.

Providing a Purpose to her Pain
Being a 'reach-out officer' for Chhanv, Anshu became a savior for many acid attack survivors. She used to provide them emotional support, look after their treatment and counselling but now this has fallen apart, enough to make her search for her identity once again. The pandemic is ruining the lives of those who direly need her help, and is also traumatizing Anshu who feels shattered without being able to support other helpless souls.

"A True Warrior"- The journey of Anshu Rajput
"My scars look deep, and so was the trauma that I experienced.", says Anshu as she remembers her worst years. Anshu wasn't always an epitome of strength; after the acid attack, her family almost lost their cheerful child when the acid penetrated deep into her skin and into her life. Her life was given a new meaning when Chhanv Foundation saved her from the darkness that encircled her. With the help of Chhanv, she gained the courage and resilience that has made her who she is today. What Anshu has obtained from Chhanv, is what every acid attack survivor deserves. This is why she wants to extend her learnings to the survivors who're awaiting their ray of hope. Bala, another acid attack survivor, is one of the many survivors in whose life Anshu has brought a change by informing her about Chhanv and supporting her.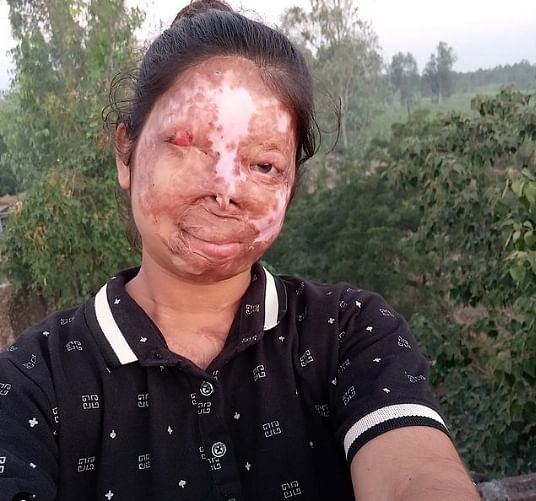 "My story has given me the strength that I can use to be a safe shelter for other survivors and prevent them from giving up on life. I want to recover from the challenges posed by the pandemic and again spread smiles."

Acid Attack and its impact on Anshu's life
The brutal attacker that tried to destroy Anshu's life was a 50-year-old man who took his cruel revenge by pouring acid onto the face of Anshu. She was just 15 when the attack happened, and was already having a hard time dealing with the fact that a man of her grandfather's age had undesired intentions towards her. But never in her worst dreams she would've thought that she would get a punishment so devastating for declining his proposal. The horrific memories of acid melting down her skin, and the unbearable pain that she suffered still haunts her. For one hour, Anshu endured this agony until she was admitted to the closest hospital. The attacker was also reported. However, the hospital lacked adequate facilities, so she had to be transferred to another hospital where she spent 12 days in treatment. Yet, she was unable to make a full recovery. Her face, hands, and neck were adversely burnt. Her nose was completely scorched and one of her eyes was fully destroyed in the attack, with the other one majorly impaired. She couldn't see anything for 6 months, and her parents feared that she would die. Treatment from a better doctor restored the partial eyesight of Anshu.

Even years after the attack, many of Anshu's problems still persist. She can't open her mouth entirely while eating and cannot eat with her own hands. She experiences intense burning sensation on her face when she is in the sunlight. The depression and mental trauma from the attack is also something that she fights to recover every day.

But as the fighter she is, Anshu refuses to give up. She wants to complete her education, but her impaired vision makes it difficult for her to do. Despite that, she has enrolled in online classes during the pandemic through Chhanv. The crowd-funding campaign by the foundation and her job at Sheroes Hangout- a café run by acid attack survivors, makes her financial burdens a little less. Her hard work and bravery keep her from surrendering to whatever turmoil life throws at her.

Statement of need
Anshu understands the amount of courage it takes to continue living after experiencing something as traumatizing as an acid attack and this is why she wants to assist others like her. Unfortunately, The pandemic put a halt to the medical treatment, rehabilitation, and empowerment of many survivors. With your support, she can restart her endeavor to help them and in the process regain her happiness and purpose.