"If you can't feed a hundred people then then feed just one." - Mother Teresa
I Girisha, I am interning with Humari Pahchan NGO, and I am working on the project 'Hunger'. You all know food is the basic necessity to live, food is right of all the persons who are born into this world, but do you know millions of the people sleep with empty stomach, they even don't get the meal of one time. They do not enjoy this right, and to help these people I have chosen project 'Hunger'.

According to Food and Agriculture Organization of the United Nations in the year 2020 between 720 million and 811 million people faced hunger. Around 660 million people may still face hunger in 2030. According to Global Hunger Index, 2020 India ranked 94th out of 107 countries, and has serious level of hunger. With nearly 195 million undernourished people India shares a quarter of the global hunger burden. By project 'Hunger' we can contribute in eliminating world hunger, by providing food and other basic necessities to people who can't manage it. The main aim of this project is that no one can sleep with empty stomach.

To eliminate the world wide problem of hunger everyone has to contribute by feeding the people or by donating for the food. If you can pray for the hungry, you can feed them, this is how prayer work. In India food is called 'aandevta' but people generally make more food than the necessity, and throw the remaining food into dustbins. Instead of throwing extra food people can give this to needy people, by doing this simple thing they can make a big difference. You can give food and other basic necessities to the needy people, it will not cost much. Donation doesn't mean donation of thousands of rupees, you can donate just 1 rupee. This will not make any difference to you but can make a difference in eliminating hunger. Even by the donation of 1 rupee by everyone can eliminate the problem of world hunger at large extent, and you will become the reason of many people's smile.

Kathy Calvin once said, " Giving is not just about making donation. It is about making a difference.", so by donating for this noble cause you can also make a difference.

'We cannot help everyone but everyone can help someone'
हम हर किसी की मदद नहीं कर सकते लेकिन हर कोई किसी की मदद कर सकता है.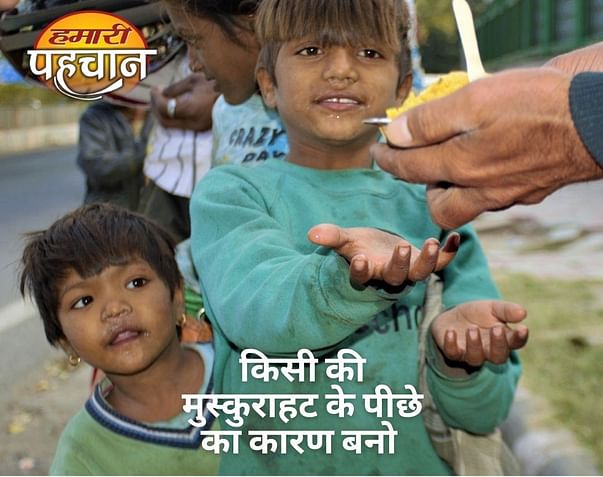 The major cause of hunger is inequality due to social status and lack of access to facilities. India is one of the highest-ranking countries in the world for the most number of people suffering from hunger.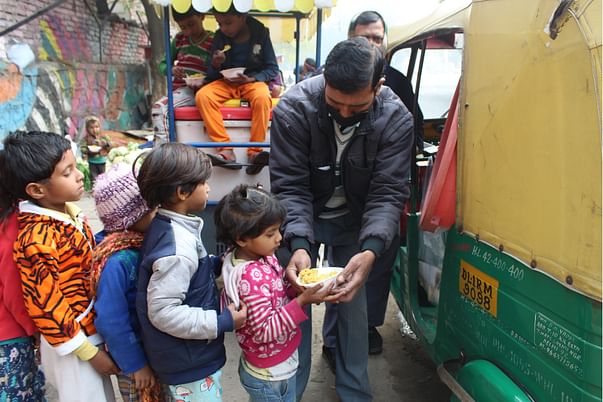 Today, 690 million people around the world go to bed on an empty stomach. Often, one meal at the right time is enough to make a difference between life and death.

I, Shruti Diwan have been working with Hamari Pahchan NGO as a Volunteer and have witnessed various problems that society has been going through. My goal is to let everyone have a meal before they sleep.
Recently, I went to Bhanwar Singh Camp, Vasant Kunj, New Delhi where I witnessed 2 major problems, one was gender discrimination and another one was HUNGER. So, I have decided to help them with the monthly distribution of Ration.

Basic necessities for 1 family: Rs.2199/-
Basic necessities for 10 families: Rs.21990/-
Basic necessities for 35 families: Rs.76965/-

Ration for 1 family includes:
( Three types of Pulses, Rice, Atta, Eggs, Tea, Sanitary Pads, Soap, Shampoo, Cloth, and Utensils washing powder)

No amount is big or small, it's the contribution that matters! You can donate for a one time meal i.e. Rs.50/-
If you have any queries then reach out to me: shruti.hamaripahchan@gmail.com
You can check out the social media channels of Hamari Pahchan NGO: